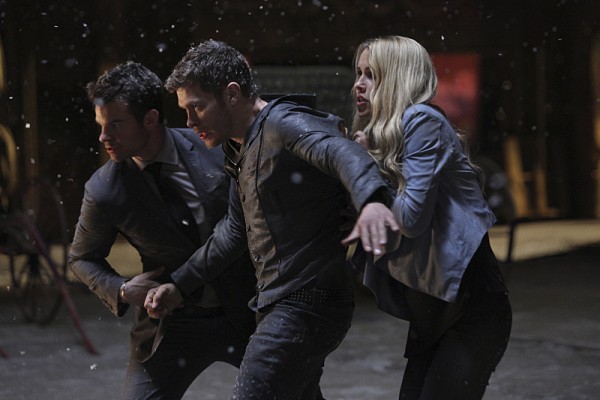 By: Kristin Marie (@kristin0409)
Our Season 2 Finale begins with Klaus rushing Dahlia to begin the spell that will link them. Once they're linked, she'll no longer have to sleep for a century, thus allowing her to focus on Hope. She only needs a single drop of Hope's blood so her power will become Dahlia's as well. He asks what she wants to do about Freya (who is out cold in the back of the truck), and learns that Dahlia plans on ending her life at the moon's apex.
While Dahlia begins her spell, Cami is still trying to convince Elijah to trust Klaus' plan. This proves to be a hard request seeing as he's covering the body of poor Gia with a sheet. Cami tells Elijah when Klaus entered her mind, he told her their plan wouldn't work against Dahlia. He has to convince her to trust him so she'll link herself to him. Elijah seems confused as to why he would link himself with their enemy, but Cami knows the ingredients they collected to defeat Dahlia were incorrect and Klaus needs to buy time so they can find the correct ones. Once the link is complete, Dahlia can feel Klaus' strength. What she doesn't know is that his plan involves driving a dagger through his own chest in order to incapacitate them both. As they fall to the ground, Freya sits up and gasps for air.
After Rebekah's stunt in last week's episode (when she stabbed herself in the neck in order to kill Eva's body, allowing Rebekah to return to her own), Marcel frantically paces the room waiting to see if her plan worked. He grows frustrated when nothing happens, but the original Rebekah (welcome back Claire Holt!) sits up in her coffin and grabs her phone from Eva's body; it's Klaus.
Elijah is rightfully not over his brother's recent actions, despite Cami's attempts at getting him to understand. He tells her Klaus will do what's right for Klaus and no one else, and demands to know what he's done with Hayley since she refuses to answer his phone calls. Rebekah and Marcel arrive to inform them of the phone call they just received, and of what Klaus actually did to Hayley and the other wolves. Elijah is beyond angry, but Rebekah reminds him Hayley will be human once a month and they will find her and help her. The person who called Rebekah from Klaus' phone wasn't Klaus, it was Freya. Elijah vamps to the clearing and finds Freya holding Hope. She learns that when Klaus infiltrated Dahlia's mind, they discovered Freya was not the witch who broke her heart, it was their mother. Elijah tells her their mother is buried in New Orleans and Klaus wants them to revive her original body.
As the newly appointed Regent of all nine covens, Davina is working with earth magic in order to bring Kol back to life. When Vincent walks in and finds her, he reminds her that in accepting the position of Regent, the ancestors are only giving her one time access to their power. He wants her to be sure she wants to use that opportunity to bring back another Mikaelson. She insists Kol isn't like his brothers, but Vincent says when push comes to shove, a Mikaelson will always back another Mikaelson. He urges her to watch her back and leaves her to her spell.
The Mikaelson siblings seem to have a difference of opinion as to what the next plan of action should be regarding Klaus and Dahlia. Rebekah doesn't like the idea of switching Kol's ashes with Esther's because they'll lose Davina as an ally. Elijah thinks they should dig a hole and leave their bodies at the bottom of it. Freya wants something more permanent… to use the white oak stake on Klaus, which will kill them both. Marcel doesn't like this idea, however, because that would mean all vampires Klaus has turned will die as well, including himself. No one can agree, but they're distracted when the dagger in Klaus' chest begins to melt. They realize they have no other option but to finish the task he left for them.
First move? Dig up Esther's body so they can burn it and save the ashes. Rebekah feels like a traitor because she promised to stay in Eva's body to help Davina bring back Kol. Now she's conspiring to sabotage Davina's one chance at bringing him back in order to bring Esther back instead. Her and Elijah discuss how Klaus has robbed them of their happiness yet again.
Marcel and Freya are at the compound searching for Kol's ashes. As he looks for a blue urn, Freya tosses a toothpick into a glass and waves her hand. The toothpick spins and points in a certain direction. She walks over to the area and pushes a button, releasing a hidden compartment carrying the white oak stake. She secretly puts everything back as Marcel finds the blue urn, but it's empty. He realizes Davina must've taken it beforehand, which poses a problem.
In the cemetery, Davina holds a crystal urn holding Kol's ashes. Just as she's about to pour the ashes into her earth magic mud, Rebekah walks in and draws Davina outside. She's not happy Rebekah is back in her original non-witch body, but Rebekah still claims she'll do whatever it takes to help bring Kol back. She tells Davina what happened with Klaus and asks for her help. She's honest about needing to bring Esther back instead of Kol, but Davina refuses and uses her magic to break Rebekah's legs.
Freya sprinkles sand onto Klaus to try and stop the dagger from melting any further, but nothing seems to work. Even though they're incapacitated, Dahlia is able to use her magic to grow dahlias throughout the compound. Freya takes the opportunity to take out the white oak stake and threatens to kill Klaus. She uses magic to keep Marcel away from her and holds the stake above her brother's chest. She insists she doesn't want to kill Marcel by killing Klaus, and she doesn't want to kill Klaus either. Just as she's about to drive the stake into his heart, he grabs her hand and calls her his sister.
Davina pours the ashes into the mud and performs a spell that lights the mud on fire. The mud hardens and a hand reaches through and up sits Esther! At the same time, Dahlia sits up in the compound with a look that could kill. When Rebekah led Davina out, Elijah slipped in and swapped Kol's ashes for Esther's. Davina is beyond pissed at them for crossing her (again!), but Rebekah puts her in a sleeper hold.
Klaus leans on his newly accepted sister and realizes Dahlia now holds the white oak stake. He reminds her that they're linked, so if she kills him with the stake, she'll die as well. What he doesn't know is that she made sure their link would melt away along with the dagger. She uses magic to pull him closer, but Marcel jumps in and knocks him out of the way. When the two stand up, they realize Dahlia has taken Freya. Klaus' vampire hearing allows him to hear Hope crying upstairs and rushes to her. The dahlias that have grown over the compound are in Hope's room as well. One of the branches pokes Hope's hand, taking the drop of blood Dahlia needed. Marcel offers to go off in search of her.
Vincent checks up on an angry Davina. She wants to wage war against the Mikaelson's for ruining her one chance to bring Kol back, but Marcel arrives and asks for her help in finding Dahlia. She doesn't want to help them after what they've just done, but Marcel reminds her that if Klaus dies, Marcel and Josh die also. This just might be enough to convince her!
With his daughter in tow, Klaus meets Cami at the jazz club. She storms in and sarcastically tells him her neck is fine and thanks him for leaving her responsible to convince his angry siblings to trust his plan after what he'd done. He said he had to make it seem as though he cared for nothing and no one. He clearly feels bad for hurting her, so he apologizes and promises to make it up to her.
Esther is being held hostage by Elijah when the two brothers finally see each other after their recent fight. According to Klaus, he needs Esther as psychological warfare against Dahlia before he slaughters both of them. Rebekah arrives and makes her anger towards Klaus very clear. He insists that the two of them undermine him at every chance, forcing him to act alone. When Elijah asks about Gia and Hayley, Klaus smirks and says they were collateral damage. Elijah punches him and claims that his actions towards Gia and Hayley were punishment towards him. He says in breaking his enemy, he broke their family and, whatever the outcome, Klaus will no longer see him standing by his side. Elijah grabs the shackles around Esther's wrists and leaves the room with her, leaving Klaus alone.
Vincent meets with Cami (and Hope) at the bar and tries to convince her that hanging around the Mikaelson's isn't good for her. While using the fact that he's walking away from magic as a way to prove his point, Cami calls him out on dumping his responsibilities on Davina when she's not mature enough to handle them. He admits that without guidance, Davina will become the most wicked of them all. Cami finally confesses to having feelings for Klaus and believes he has feelings for her as well.
At an old warehouse, Dahlia drags Freya to what she claims will be her slaughtering ground. She drops Freya to her knees and creates a circular magic barrier around them. As she threatens to kill Freya and all of Esther's children, those "children" arrive on a mission. Rebekah calls her a hypocritical bitch and their aunt is stunned when Elijah drags Esther out from the shadows. Dahlia laughs and asks if she's a gift to buy their freedom. She reveals she's still in possession of the white oak stake, but Klaus knows she can't kill all three of them with one stake. She agrees and holds it into the air before the stake bursts into ashes. She waves her hands and the three siblings inhale the ashes of the white oak stake, which begin to kill them slowly. Freya pleads for her to stop, but she doesn't listen. Esther watches as her children writhe in pain and quickly devises a plan to try and reason with her sister. Dahlia tells her to watch as her last child dies and Freya begins to gasp for air. Esther looks at all of her children struggling and pleads for her sister to allow her to make amends. She quickly wraps the shackles around Dahlia's neck, allowing Freya to break the circle surrounding them. She reaches out her hand and uses magic to remove the white oak ash from her siblings. Esther calls out for Elijah, so he tosses Klaus the knife. Klaus drives it into Dahlia's heart and the two sisters are reunited in a vision of their younger selves. Esther apologizes to Dahlia for abandoning her all those years ago. Klaus, Elijah, Freya and Rebekah look on as the two hugging sisters have now turned to stone.
In the aftermath, Marcel and Elijah mourn the loss of Gia while Klaus prepares a family meeting. Only Rebekah has come and throws some jabs about his forcing her back to her original body. He wants to give Marcel back the keys to the city and focus on raising his daughter with his sisters. She asks what Hope's mother will be doing while they raise her and says this is not what happiness looks like. With that, Rebekah leaves Klaus alone to drink.
Freya requested that Rebekah meet with her to tell her she should be able to choose her own fate. She opens a casket and reveals that she's healed Eva's body and is giving Rebekah the choice to remain a vampire or go back to being a witch. She feels Rebekah deserves a sister to look after her. Marcel gets a phone call and asks what her decision was and we see Eva's body arrive to tell him she decided not to choose just yet. She'll use the benefits of being a witch in order to continue searching for a way to bring Kol back and then she'll decide. He promises to try not starting a war with Klaus and then kisses her goodbye.
Klaus surprises Cami at the bar when he asks her to stop and have a drink with him. She tells him to stop compelling everyone because she needs the tips. He places a hundred dollar bill on the bar as she asks what would've happened if they hadn't met there. In response, he tells her if it hadn't been there it would've been at the numerous other places where they've had moments (he lists Jackson Square staring at a painting, Frenchman Street listening to jazz). No matter where they met, he says he would've found her. With their faces inches apart, he thanks her for the drink and leaves.
In the bayou, Elijah waits alone as Hayley appears in human form. The two hug and she asks how Hope is doing. According to Freya, Hope is doing well and Elijah promises to find a way to release Hayley from the curse keeping her in wolf form. She asks him to promise to be there for Hope so Klaus is not the only thing she knows.
Klaus tells Hope a fairy tale about a wolf who fought a war for the most precious treasure in all the kingdom; his beautiful princess. The wolf's victory came at a price though; lost allies and new enemies. We see Davina working on spells as Vincent looks on from a distance, worried for what might become of her. Klaus continues on about the wolf standing alone and that sometimes the worst of endings aren't endings at all. The episode ends with Elijah following through on his new promise to Hayley by joining Klaus for a drink. The end of the fairy tale is about how, when everything seems to turn to ash, in their family…there's always another chapter to tell.
And just like that, Season 2 is officially over! Tune in this Fall as The Originals returns with another chapter! The CW has also announced that The Originals will be switching it's air date/time to Thursday nights at 9/8c following The Vampire Diaries. Which basically means that Thursday nights will be even more amazing than they were before! See you then!
Twitter: @TheVRO
Facebook: Variety Radio Online
Tumblr: Variety Radio Online
//