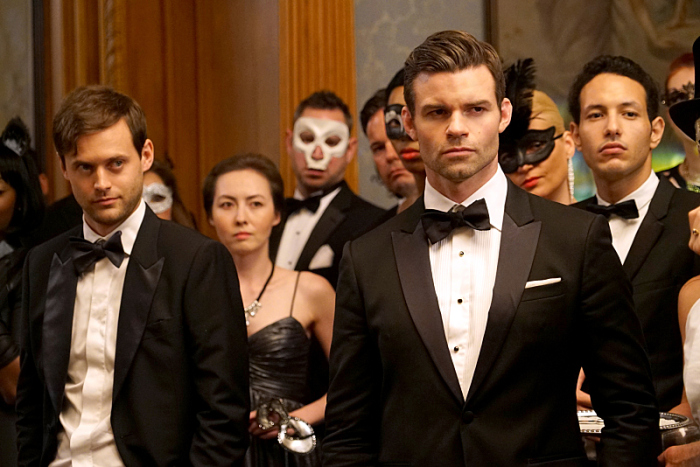 By: Kristin (@kristin0409)
This week's episode begins with Marcel running through the streets of New Orleans. He comes home to find a glass with lipstick stains on it, a pair of owl cufflinks in an empty carafe and a suit hanging neatly against the wall. When he toys with the masquerade mask hanging on the suit, he receives a phone call from an unknown number and assumes it's Aya. Instead, he finds Tristan on the other end, inviting him to a party hosted by the Strix. He's trying to recruit Marcel to join the elite group of vampires, and Marcel seems to be considering it.
Elijah (out of a suit for once) is boxing at the gym when Hayley arrives with an invitation for him from Tristan and the Strix. He tells her it's not her concern, but she insists that she's part of the family too. After they both slam each other into the cage, he asks her what she wants to know.
While Freya is practicing her yoga, Klaus walks in and Hayley and Elijah soon follow. Between the bickering comments between Klaus and Hayley, he fills her in on the prophecy, and the witch who delivered it.
Klaus pays Lucien a visit at a Halloween party in the quarter and requests another meeting with Alexis, the witch who delivered the prophecy. Lucien agrees and the two head to his penthouse. Unfortunately, they find the penthouse empty. Lucien tells Klaus that Alexis doesn't go outside because she's too sensitive, so if she's gone, it means someone took her. In order to locate her, Klaus calls Freya and asks for her help in performing a locator spell.
Back in his usual attire, Elijah prepares to attend the Strix party with Hayley. Marcel arrives and is immediately greeted by Aya, who offers to introduce him to other members. In trying to convince him to join them, Aya tells Marcel he would be the first member sired by Klaus as opposed to Elijah, which could bridge the gap between sire lines, thus ending the sire line war.
Freya arrives at the penthouse to perform the locator spell and finds that Alexis has been taken to the very spot where Tristan lured Elijah. The two are worried that Tristan will torture Alexis into sharing her visions with him, so they contemplate crashing the party to get her back. Luckily (or not) Klaus has a plan.
While Aya continues to explain the benefits of joining the Strix to Marcel, he notices Hayley and Elijah dancing together across the room. Elijah simultaneously notices Marcel and realizes this isn't a party…it's an initiation. Tristan makes his presence known and informs Marcel that he must prove his worth in order to join the Strix. Someone at the party has discreetly taken Marcel's daylight ring, so it's now his mission to uncover who took the ring, and take back what's his. If he wins, he becomes a member of the Strix, and if he loses he meets his death. Hayley expresses concern over Marcel going up against ancient vampires, and stands her ground when Tristan approaches to introduce himself. As she reluctantly accepts his request for a dance, Marcel has a word with Elijah. He admits to feeling uneasy that the Mikaelson's don't view him as an equal, but insists he has the situation under control. Elijah hopes he does, so he won't have to intervene and ruin his suit.
Marcel vamps upstairs with Aya and pins her against the wall. He questions their way of doing things and tells her she may not think much of what he's established in New Orleans, but at least they have loyalty and don't kill each other. She turns and pins him against the wall criticizing his belief, and the two begin to kiss. She quickly realizes he's trying to find out if she has his daylight ring and insists she doesn't before walking back downstairs.
Elijah watches as Hayley dances with Tristan when a group of drunk partygoers arrive. Said drunk partygoers include Lucien, Klaus, Freya and three other girls that were at the Halloween party in the quarter. They deliver a distraction by summoning Tristan, while Freya sneaks off to find Alexis. She finds her, and discovers that she's not being held against her will. Instead, she tells Freya she had another vision where she saw Lucien and everyone Klaus ever sired die. She knows exactly how Klaus is killed, and refuses to leave with Freya. When Freya threatens to use a blinding spell to make her leave with them, Alexis reveals she'd already cast a spell to prevent it. Freya begins to choke, and Alexis kisses her to cause a vision. Freya punches her and knocks her unconscious after reminding her that she IS a Mikaelson. At the party, Tristan requests that Klaus, Lucien and their guests leave immediately. Klaus continues to make snide comments, prompting Elijah to back Tristan up, asking his brother and his "play things" to leave as well.
Aya requests Marcels presence, where the decision will be made as to whether or not he will be joining the Strix. Despite the fact that Tristan has cut Marcel's time short, Marcel claims Aya took his ring. She denies having it, but Marcel knows that. When she took his ring, she handed it off to Mohinder, who reveals he does actually have it. Tristan reminds him that this was only half the task. He now has to take the ring back by fighting to the death. After an intense fight, Marcel seems to lose when Mohinder feeds from his neck. He asks him to surrender, but Marcel has a different agenda. He asks Mohinder if he tasted the werewolf venom in his blood and holds up his arm to show a werewolf bite. Apparently, while Marcel spoke with Hayley during Klaus and Lucien's distraction, she bit his arm to poison his blood in anticipation for this very moment. Marcel tells Tristan, Aya and the rest of the Strix that Aya gave him hints about Mohinder's habits all week, thus allowing him to defeat him. All he had to do was be observant. He refuses to end Mohinder's life, so Tristan walks over and rips his heart out himself, accepting Marcel as a member.
Back at the compound, Marcel asks Klaus for help with healing the werewolf bite. Klaus is not pleased at the idea of Marcel joining the Strix, and definitely doesn't hold back in telling him so. Marcel responds by telling him that his interest in the Strix is because of him because whoever comes for Klaus, comes for him as well. Klaus gives Marcel his blood and tells him to be careful because whoever comes for Klaus might come through Marcel. Freya walks in and tells Klaus that Alexis is awake. She's apologizing to Lucien and informs them all that she saw Klaus die in one of her most recent visions. He asks if she saw the weapon, but she insists they see it for themselves. She offers her wrists to Hayley and Elijah, who feed on her before realizing she's been poisoned. Alexis begins to bleed from her nose and mouth before passing out in Lucien's arms.
Elijah and Tristan meet in the quarter, where Tristan admits Lucien having a witch who hands out prophecies was a threat to them, so he eliminated that threat. Elijah tells him he wants proof, and walks away.
Hayley and Elijah have a conversation from across the street, and she asks what she's supposed to tell Hope about their family when she gets older. He smirks when she says the first thing she'll tell her is…"Always and forever." Elijah asks what she thought of Tristan, to which she responds that he seemed incomplete. He tells her Tristan has a sister, Aurora. At the same time, we see a flash of Aurora poisoning Alexis's drink at the party and of her walking through the empty streets of New Orleans!! UH OH!

Tune in to The CW on Thursday, November 5th at 9/8c for more of The Originals!
Twitter: @TheVRO
Facebook: Variety Radio Online
Tumblr: Variety Radio Online
//