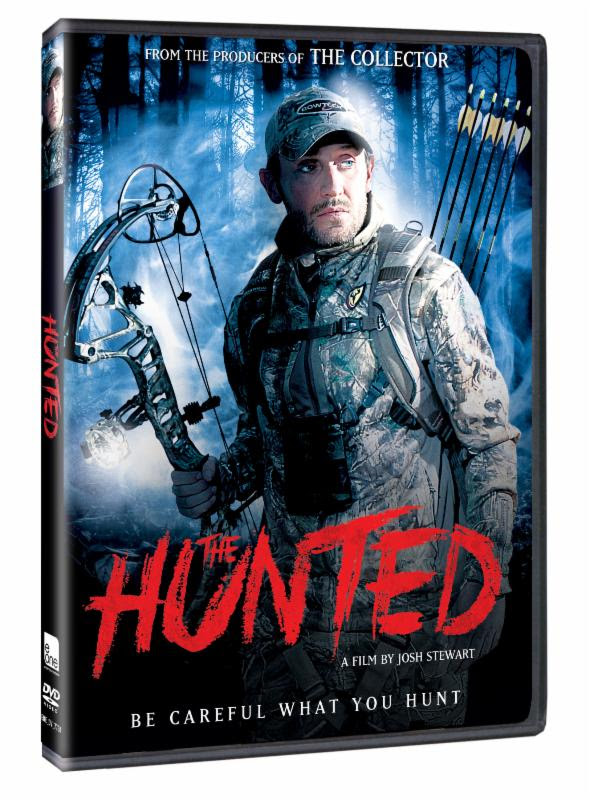 "The Hunted pulls it in close. Scary close."
-Dave Hurteau, Field & Stream
BE CAREFUL WHAT YOU HUNT…
FROM THE PRODUCERS OF THE COLLECTOR COMES THE TERRIFYING 2014 THEATRICALLY RELEASED,
DIRECTORIAL DEBUT BY ACTOR JOSH STEWART
THE HUNTED
Arriving on DVD & VOD September 9, 2014
The Hunted – Official Teaser Trailer [HD]
THE HUNTED follows family-man, hunter, Jake, played by Josh Stewart, alongside his best friend Stevie (Ronnie Gene Blevins) as they journey deep into the Appalachians of West Virginia on the hunt for a legendary buck. Chasing their dream of landing a television hunting show, the duo head into the dense, secluded mountains armed with only their bows and camera equipment. The friends quickly realize there is something else that stirs within the woods. Something that, turn by turn, begins to hunt them…
Written, directed and starring Stewart, THE HUNTED was inspired by the actor's desire to spark his creativity and bring home his talent after spending months on the high-budget set of The Dark Knight Rises. Growing up in rural West Virginia, Stewart spent much of his youth fly-fishing and hunting in the sprawling woods where the film is set. An outdoorsman at heart, the first-time director made every effort to ensure the film would feel as authentic as possible to fellow hunters. Everything from the equipment, apparel and even safety measures were true to form – a quality only found on hunting shows, not in fictional work.
Director Josh Stewart said, "Anyone who's ever spent any amount of time in the woods has come across something you can't explain. especially after dark. Every hunter I know has a story. This is mine."
Before shooting began, the filmmakers reached out to the most respective hunting brands in the industry. Moved by Stewart's passion and dedication to the sport, brand leaders Realtree, BowTech Archery, Scentblocker, Trophy Ridge, Leupold and Cabela's quickly signed on to be a part of the project.
CAST
Josh Stewart (The Dark Knight Rises, "No Ordinary Family")
Skipp Sudduth ("The Third Watch", Ronin)
Nikki Deloach ("Awkward" Love & Other Drugs)
Ronnie Gene Blevins ("Kingdom", "Criminal Minds")
BONUS FEATURES
Audio commentary with Josh Stewart and Producers
"The True Story" Featurette
For the latest breaking news on THE HUNTED other releases, follow Entertainment One on Twitter: http://twitter.com/eOneHomeVideo
Twitter: @TheVRO
Facebook: Variety Radio Online
Tumblr: Variety Radio Online