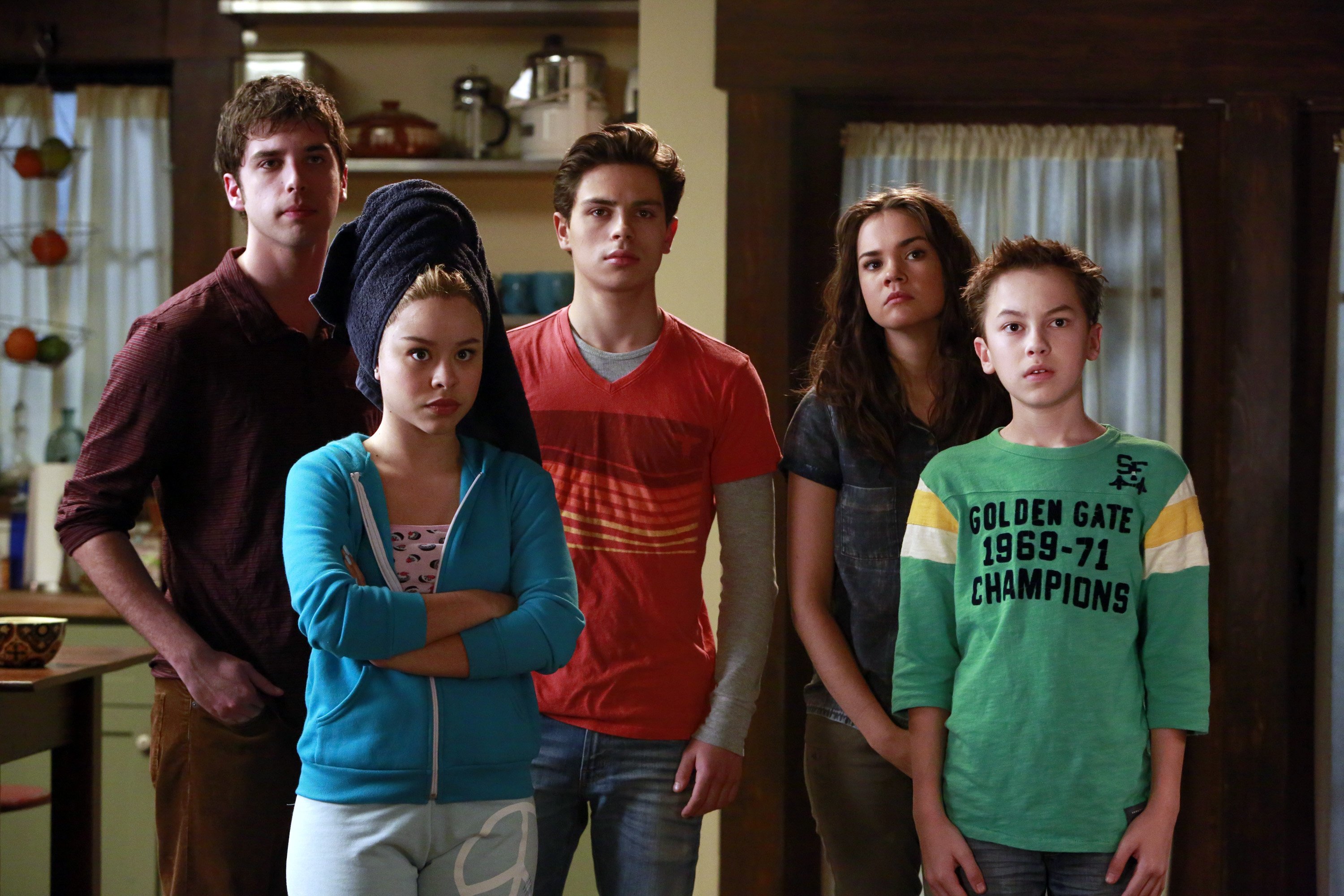 The Fosters—Season 2 Episode 1 "Things Unknown"
Lexie Gerson—June 17, 2014
Last night, The Fosters returned with its season 2 premiere entitled, "Things Unknown."
In the season 1 finale Lena and Stef rejoiced over the news of Lena's pregnancy while Mike resorted back into his old habits. Jude was officially adopted while Callie's adoption was put on hold after learning that her biological father was a man named Robert Quinn. Brandon was seduced by his father's ex-girlfriend Dani and later attacked by Vico. And Mike was found drunk and bloody, possibly due to an altercation with Ana.
In last night's premiere we see how Brandon (David Lambert) is coping with the aftermath of his attack and how Callie's (Maia Mitchell) anticipated adoption takes its toll on the family.
The episode begins with a flashback in which we see Brandon the night of his attack.
The family gathers for breakfast where Jude (Hayden Byerly) receives his birth certificate naming him a Foster.
Meanwhile, at school Dani (Marla Sokoloff) approaches Brandon and tells him that Mike (Danny Nucci) asked her to move in with him. She proceeds to tell Brandon about the night she found him drunk with bloody fists.
Callie begins the day, and the season, by going back to court. Mr. Jacobs (Jamie McShane) testifies to the fact that he always considered Callie his daughter despite not being her biological father. He goes on to say that Callie's mother was once married to Robert Quinn, but that Quinn abandoned Callie and her mother when he found out Callie's mother was pregnant. Although the judge agrees that Jacobs has served as Callie's father he explains that since Robert Quinn never signed the birth certificate, he may have never known about Callie. Thus, he never willingly abandoned her. Until they receive Quinn's signed consent, Callie is unable to be adopted by Stef (Teri Polo) and Lena (Sherri Shaum).
Through a flashback, we learn that Brandon's brutal attack resulted in several compound fractures in his hand and he had to have surgery to fix it. Brandon has now regained 90-95% function back in his hand. The doctor says that they can operate again but that its best not to risk causing any further damage. The doctor says that Brandon might be able to play the piano like he used to but they will not know until he tries.
Back at school we see that Mariana (Cierra Ramirez) has joined the dance team and dyed her hair blonde. When Mariana beat out several other girls for a spot on the school's dance team, she overheard one of the girls say it was only because Mariana fit their diversity quota. This could potentially be the reason for her recent change in hair color. Meanwhile, Jesus (Jake T. Austin) and Emma (Amanda Leighton) have continued their relationship but we soon learn that it does not come without some problems.
Stef and Mike discuss Brandon's attack. During the conversation another officer interrupts and proceeds to tell Stef that no one has seen Ana (Alexandra Barreto). Stef has people out looking for Ana and Mike thinks that is a bad idea. He claims they should just be grateful Ana is gone and leave it alone, but Stef does not want Ana taking them by surprise again. Mike gets annoyed and asks Stef to drop it.
Callie returns home from school and has a discussion with Brandon about his hand and her adoption. Shortly after, Wyatt (Alex Saxon) arrives to pick up Callie for work.
At work, Callie tells Wyatt and Daphne (Daffany McGaray Clark) that she does not want to go looking for Robert Quinn; she's had enough surprises and unknowns to last a lifetime. Callie has decided that she will just wait a few years until she turns 18 and does not need anyone's permission to get adopted. Daphne goes to help a customer while Wyatt and Callie share a kiss.
Jesus and Emma study for their algebra test. During their study session Jesus lies to Emma and tells her that he has a family thing on Saturday and wont be free to study with her. But the truth of the matter is that the guys on the wrestling team invited him to play paintball but insisted that it be guys only.
The Fosters sit down for a typical family dinner, which quickly becomes interrupted by the doorbell. A social worker arrives and explains that Stef and Lena's foster license has expired. Since Callie has not been officially adopted and their license is no longer valid, Callie has to be taken out of their home and placed in another foster home until things get straightened out. As Callie goes to leave Jude appears on the stairwell with a backpack and announces that he is going with Callie, Callie tells him not to worry and that she will be back in time for his award at school.
Emma returns to help Jesus study some more. Jesus confesses that he doesn't have a family thing on Saturday and that he is going to play paintball with the guys from the wrestling team. Emma admits that ever since they entered a relationship she's felt alone. Since her friends on the wrestling team are now treating her differently Emma feels as though she has no one. When Jesus attempts to quit the team to make things easier for Emma, Emma tells him that she does not need him to fix her problems and she will talk to the guys herself.
Stef goes to tell Brandon goodnight. During their conversation he lets it slip that Mike was drunk the night Ana disappeared and that he got into a fight with someone. This causes Stef to become even more suspicious of Mike.
Callie is forced to a few days at a new foster home where she is locked in a bedroom at night. This causes her to miss Jude's award for an essay he wrote about Anchor Beach that is really an essay he wrote about finding his forever family. Luckily, Stef manages to talk to a judge and gets the go-ahead to bring Callie back home. Stef and Lena now have 30 days to get re-certified as foster parents.
Upon Callie's return, Jude reads his essay on Anchor Beach to his family. Jude's essay causes Callie to reevaluate her decision to find Robert Quinn so she can become adopted.
Brandon pays his father a visit. At first he is ready to tell his father what happened with Dani. That is, until Mike explains that Dani saved his life and that he believes she is good for him. So instead, Brandon confesses his own fears about his hand. Brandon still has numbness in some of his fingers, and he is terrified that if he will not be able to play piano ever again. He believes that if he cannot play the piano as well as he used to, he will lose who he is. Mike convinces Brandon to give it a go and Brandon plays but it is done poorly. Brandon then breaks down and says he cannot play anymore because he cannot feel the keys.
Stef tracks down the witness who saw Ana fighting with a man shortly before she disappeared and gets him to confirm that Mike was the person he saw Ana fighting with.
The season premiere ends with a man paying a visit to the restaurant where Callie works. Callie's father, Robert Quinn (Kerr Smith), has tracked her down and stops by to check up on his daughter. After leaving her a tip he returns to his car where we soon learn that he has another daughter, Callie's half-sister (Bailee Madison).
Tune in to season 2 of The Fosters Monday's 9/8c on ABC Family
Twitter: @TheVRO
Facebook: Variety Radio Online
Tumblr: Variety Radio Online