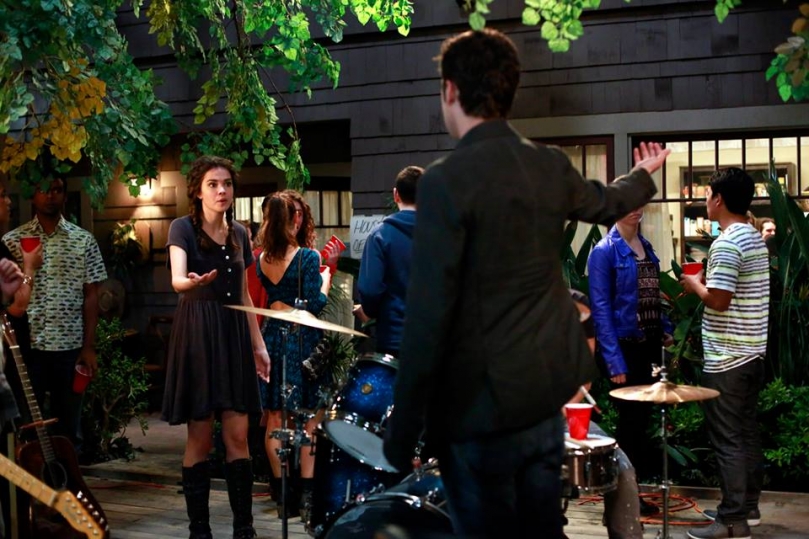 By: Lexie Gerson
Last night, The Fosters returned with a new episode entitled, "The Play."
In last night's episode we see that Mariana (Cierra Ramirez) continues to feel insecure about fitting in with the other girls on the dance team. She feels avoided from the young ladies' social occasions. Meanwhile, Lena (Sherri Shaum) and Stef (Teri Polo) reminisce about their youth and contemplate babymoon plans. While Stef is hesitant to leave the kids home alone for Lena manages to persuade Stef to leave Brandon (David Lambert) and Callie (Maia Mitchell) in charge so they can have time to themselves.
In the garage, Brandon practices with the band. During their practice, Brandon is very forward with his assessments about the music however the lead vocalist, Lou (Ashley Argota), has some difficulty relinquishing control. Lou tells the band that they have a gig but Brandon says he is unable to attend since he has to watch his siblings while his moms are away. Lou persuades Brandon to let the band play at the house while Stef and Lena are away.
At school, Mariana finds out about the band playing at their house. While trying to fit in, she invites the girls from the dance team and tells everyone that they are having a party. Callie overhears the news about the party and tries to deal with the situation yet is unsuccessful. She refuses to have any part in the party and chooses to stay out of it, asking Wyatt to help her keep the partiers out of the house.
Connor (Gavin MacIntosh) and Jude (Hayden Byerly) discuss what happened with Connor's dad. Jude tells Connor that he does not want to place a label on himself. When Connor tells Jude that they can still be friends, he just wont tell his dad, Jude tells him that he doesn't want to be anyone's secret.
Lena and Stef begin their babymoon yet Stef instantly finds a reason to complain. Stef's financial concerns put a damper on the mood. During their couple's massage, Stef appears to be more intrigued with talking to the masseuse (who is judgmental of their lesbian relationship) than Lena. Later, Lena puts in her earnest attempts to set the mood for Stef yet Stef is still not amused. To exacerbate an awful circumstance, the couple attempt to discuss their correspondence issues yet don't find any resolutions. That night, the two discuss how far they've come since their wedding night. They both vow to improve their relationship.
At the party, the girls from the dance team inform Mariana of the group's "code of magnificence." According to the code, you can't have more than one alcoholic beverage, you are not allowed to dress like a skank or hookup with random guys or use their patent moves when dancing. But before the night is over the girls end up breaking these rules. Meanwhile, Jude and his two girl friends try to come up with a game to play. They then decide on spin the bottle.
While in the garage, Jesus (Jake T. Austin), runs into one of the girls from Mariana's dance team. They both confide in one another about their most recent breakups, which prompts a hookup. Upstairs, Connor has arrived at the Fosters and they kids have begun to play spin the bottle. Downstairs, Connor's father has come to the house to look for him. Connor admits to Jude that he snuck out to Jude's house. Meanwhile, one of Mariana's teammates is drunk. She eventually wanders off from the bathroom and falls asleep in Lena and Stef's room. After puking in their bed, Callie takes matters into her own hands.
Lou arrives late to the party and discovers an upset Brandon. The two get into it and Lou storms off. Callie finds Lou in Brandon's room and tells with her about Brandon's past. Lou learns more about Brandon's music ability and how his life was changed after he was attacked. Outside, the band is starts to play without their lead artist. Brandon starts to wing it and is eventually joined by Lou minutes after the fact. The two put on a performance and make a connection on stage.
As the night comes to an end, Jesus inadvertently butt-dials Lena's telephone. The kids group together to lie about their night. Just as they think they're in the clear the porch swing flies through the window and breaks the glass. Wyatt tries his best to fix the window the next morning before the moms return. However his poor occupation is clearly shown when the glass comes crashing to the floor just as Stef and Lena arrive home.
Tune in to season 2 of The Fosters Monday's 9/8c on ABC Family
Twitter: @TheVRO
Facebook: Variety Radio Online
Tumblr: Variety Radio Online
//