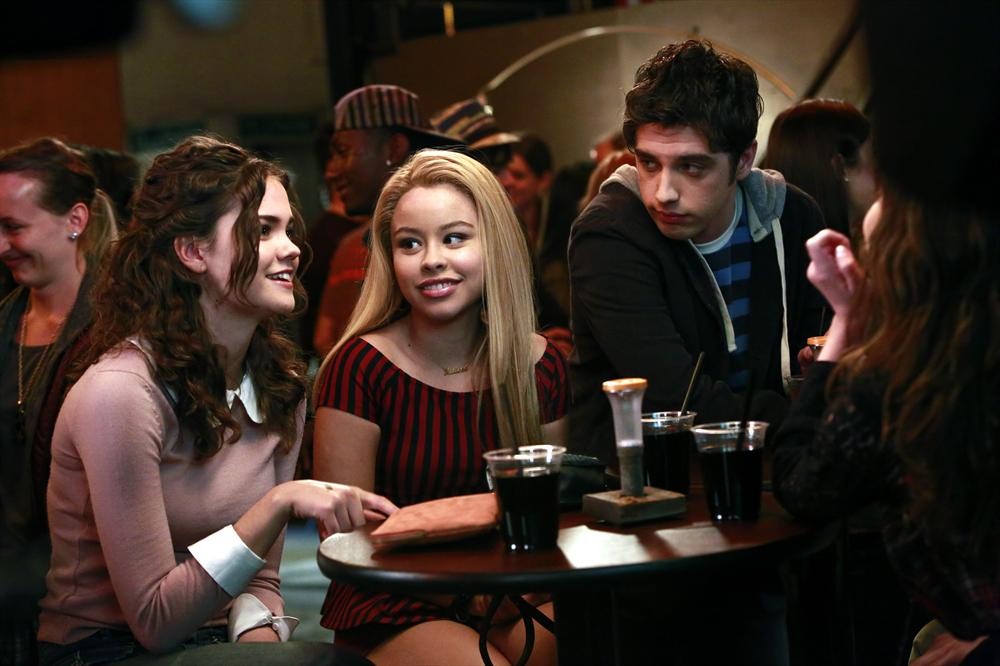 The Fosters —Season 2 Episode 2 "Take Me Out"
Lexie Gerson —June 24, 2014
Last night, The Fosters returned with a new episode entitled, "Take Me Out."
In last night's premiere we see Stef (Teri Polo) and Brandon (David Lambert) share a cute mother-son moment. During the scene Stef encourages him to keep pursing his dreams, no matter what.
At family breakfast Brandon tells everyone that he has decided to get the surgery to possibly restore his hand to full function. Stef immediately expresses concern about the possible damage may come if the surgery is unsuccessful. But she agrees to talk to Mike (Danny Nucci) about it.
Stef pays Mike and visit. Without consulting Lena (Sherri Shaum), they decide that Brandon should not get the surgery. Before leaving Mike's place Stef asks Dani (Marla Sokoloff) a few questions regarding the night she found Mike drunk and bloody. Dani tells Stef that if she wants to know about Mike's sobriety she has to ask him herself.
Connor's dad takes Jude (Hayden Byerly) and Connor (Gavin MacIntosh) to the batting cages. During the outing, Connor's dad demonstrates aggressive behavior towards Connor. After the boys finish up, Jude comforts a distraught Connor. After witnessing this moment between the boys, Connor's dad bans Connor from sleeping over at Jude's house because he thinks that Jude is gay. Later on at school Jude asks Connor if things would change between them if Jude is gay. Connor doesn't answer.
Robert Quinn (Kerr Smith) continues to secretly visit Callie (Maia Mitchell) at work. He asks her about her job and she mentions having two moms, which he thinks is cool. He also leaves her a $100 tip just for a vanilla milkshake.
Callie returns home after work to find Stef, Lena and their lawyer in the kitchen. Stef and Lena proceed to tell her that Quinn will not sign away his rights until they do a DNA test to prove that Callie is his daughter. He also wants Callie to sign an agreement saying she will not sue him. To make matters worse they must both be present for the court appointed meeting to ensure that there is no mix up with the test.
At dinner, Stef tells Brandon that Mike and her have decided that it is not a good idea for him to get the hand surgery. This upsets Brandon and causes Lena to get frustrated with Stef for not consulting her.
Seeing that Brandon is upset Callie attempts to talk to him about the surgery. The two share a moment and Callie tells Brandon about the DNA test.
Back at Anchor Beach, Lena officially decides to try to become the new Principal of Anchor Beach. Timothy adds stress to this by being on the board to elect a new Principal.
During the court appointed meeting between Callie and Robert, he doesn't show up. Upset with situation Callie confides in Mariana (Cierra Ramirez) and the two share a moment in their room.
To cheer Brandon up, Callie, Jesus (Jake T. Austin), Emma (Amanda Leighton), and Mariana trick him into attending a concert with them. Lucy "Lou," who captures Brandon's attention immediately, fronts the band, Someone's Little Sister. Jasper and Matt finish out the band's trio. Because they took classes together in the 7th grade, Matt's familiar with Brandon's musical background. He asks him for honest input on the band. Lou instantly gets confrontational with Brandon when she hears his feedback.
Back at home, Lena informs Stef that she has decided to go after the Principal position even though the timing is not great. After there conversation, Mike pays Stef a visit to talk to her about her questioning Dani. The two discuss his slip up and Ana. Mike tells Stef that he did not hurt or kill Ana but upon his departure his facial expressions tell otherwise.
Jesus and Emma's relationship continues to be rocky during last night's episode. Emma continues to be controlling within their relationship. This bothers Jesus. The final straw for Jesus is when Emma gets aggressive about how she wants their first sexual encounter. She wants it in the backseat of her car while giving him instructions. He declines. Later, Jesus opens up to Emma about her being so bossy with their relationship. Emma decides to break it off instead of listening to criticism.
Brandon continues to listen to more of Someone's Little Sister's music on his computer. Lena enters his room and tells him that she thinks the surgery should be his decision.
Stef overhears Lena undermining her, which causes an argument. Lena feels excluded from the conversation about Brandon's life. Eventually, Stef and Lena discuss Stef consulting Mike and not Lena about Brandon's surgery. After they talk, they approach Brandon and tell him that the decision is his. Brandon decides to wait to get it.
After Quinn fails to show up at the court appointed meeting Callie gets curious about what he looks like so she googles him. At the restaurant, Callie confronts Robert Quinn about being her dad. He tells her that he never knew she existed and gives her a letter.
The episode concludes, with Callie reading the letter Quinn gave her. The letter is from her sister Sophia (Bailee Madison), who wants to meet Callie.
Tune in to season 2 of The Fosters Monday's 9/8c on ABC Family
Twitter: @TheVRO
Facebook: Variety Radio Online
Tumblr: Variety Radio Online
//