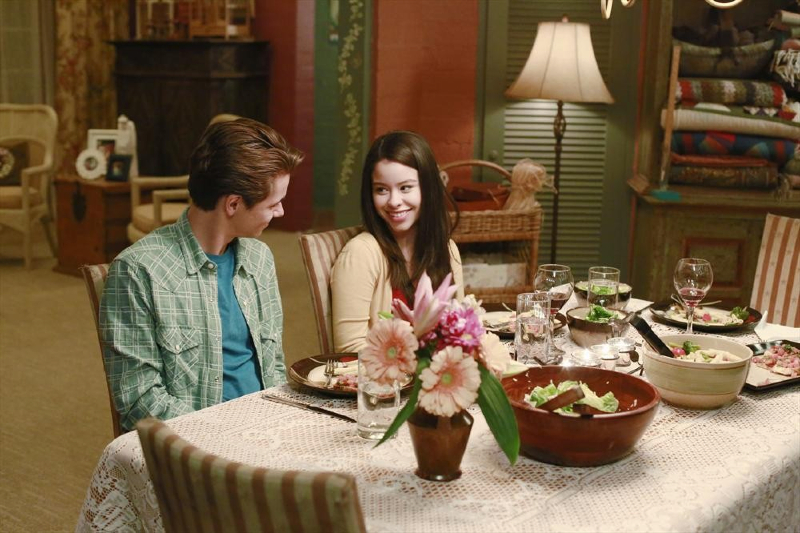 The Fosters —Season 1, Episode 19 "Don't Let Go"
Lexie Gerson —March 10, 2014
The Fosters season 1, episode 19, "Don't Let Go," aired last night on ABC Family.
Last night's episode begins with Callie (Maia Mitchell) visiting her dad (Jamie McShane) in order to figure out what he is going to say to Jude (Hayden Byerly) when he visits him. Her dad says that he wanted to wait until he was stable before reaching out and communicating. This makes Callie worrisome and scared for what is to come. When she returns home she asks Jude how he would feel if their dad asked to get back custody of them. Jude says that he does not know but "he is our dad." Callie is nervous that that they will end up getting hurt.
Brandon (David Lambert) is still getting used to living at his father, Mike's (Danny Nucci) home. Although, he has drifted away from playing the piano, he is persuaded to get back to playing.
Meanwhile, Jesus (Jake T. Austin) is struggling to understand his schoolwork, particularly math, without his ADHD medication.
Marianna (Cierra Ramirez) talks to Brandon about when he is going to move back and how he likes living with his dad. He tells her that he is going to be moving back home, in a matter of time. As their conversation comes to an end, Marianna is approached by Zac's mom (Romy Rosement) who invites her over to dinner.
Stef (Terry Polo) and Lena (Sherri Saum) meet with Timothy (Jay Ali), a teacher and colleague at the school, to discuss using him as a sperm donor so Lena can get pregnant. Lena is confident in this decision, however, it appears that Stef has some concerns even though she consents.
Stef leaves the school and goes to Mike's house to reprimand him for grounding Brandon without consulting with her first. She reminds him that she still has custody and that he needs to consult with her, at all time.
Callie discusses her feelings surrounding her dad with one of her friends from the juvenile detention facility.
Marianna heads over to Zac's (Julian De La Celle) home for dinner. She soon learns that Zac's mom is a bit crazier and forgetful. Marianna learns that Zac did not call her back the day they kissed because he was embarrassed of his mother.
Brandon consults with his dad's girlfriend Dani (Marla Sokoloff) about their living situation. He tells her that he probably won't be staying for long. He wants to return to his mom's.
Once again, Callie revisits her dad and asks him why he abandoned her and never wrote to her. He said that he felt guilty and was afraid but he has returned and wants them back.
At breakfast the next day, Jude says that he does not want to see his father after all. The Fosters tells him that if he doesn't go he may end up regretting his decision. Jude agrees to go if Callie goes too, and she agrees.
On the beach, Brandon and Callie talk about her and her dad. They argue about why Callie still has feelings for him. Even thought they are no longer together, they still have strong feelings for one another.
Timothy, the potential sperm donor arrives at Stef and Lena's to provide his sample. He finishes and leaves the bathroom causing Jesus to be suspicious.
That night, Stef and Lena tell the entire family about their plans to have a baby the natural way.
The episode ends with Callie and Jude's dad showing up and telling them that he loves them but that he is signing away his rights. When asked why he says because it was the truthful thing to do, and that he could never provide for them the way that Stef and Lena have. Therefore, Callie and Jude are finally able to be officially adopted by Stef and Lena, the Foster family.
Tune in to The Fosters Mondays at 9/8c on ABC Family.