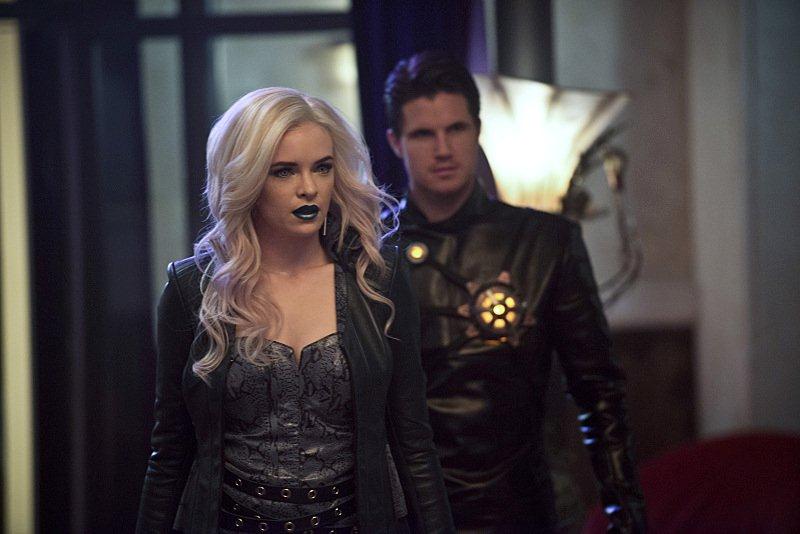 By Anna B (@traveller15)
Barry, Cisco and Harry prepared themselves to journey back to Earth2 to save Harry's daughter, Jesse while back on Earth1 Caitlin, Joe and Jay deal with a meta-human.
We begin at S.T.A.R Labs where Harry makes an entry into his journal that he became distracted on Earth1 but he never forgot Jessie and that he is coming for her with help. Barry has been successful to close all the breaches except for one which will take them back to Earth2.
Barry goes home for dinner with Joe and Iris before heading to Earth2. Iris is concerned he is going to Earth2 as he has nothing left on Earth1. Barry tells her it isn't about Patty and that he loves his life on Earth1.
Harry, Barry, Cisco prepare to make the jump through the breach to Earth2. If they don't make it back to Earth1 it will mean that Zoom has them and the breach should be closed. Caitlin and Jay are staying behind. Along their travels to Earth2 they images of The Flash, Supergirl, Grodd, Arrow, etc. There is an energy surge through the breach and a piece of the speed cannon breaks off making it unstable and could cause Barry and Cisco to be trapped. They arrive on Earth2 where everything seems futuristic but they dress in the past. Cisco and Barry are getting carried away with sightseeing at S.T.A.R Labs. They meet Henry Hewitt aka Tokamak but on Earth2 is a friend of Harry. They need to find Zoom as he has vamped up his reign of terror on the city. Cisco puts in his vibe goggles to vibe but on Earth2 he cannot see anything as the frequency is different to Earth1.
We see on Earth2 that the doppelgangers have different lives. Barry still works as CSI but wears glasses and a suit. Iris is Detective West and is married to Barry. Barry doesn't get on with his father-in-law Joe who is a jazz singer. Caitlin is a meta-human villain known as Killer Frost and Ronnie who has Firestorm powers is known as Deathstorm who are lackeys for Zoom.
Barry rushes off and kidnaps his Earth2 self. Barry doppelganger is so excited to meet Harrison Wells, Barry ends up putting a taser to him. Barry is to become his Earth2 self to find out what is going on at CCPD. Captain Singh is a criminal. Floyd Lawton aka Deadshot is a copy and is the worse shot in the department.
Barry is pulled away by Iris into the hallway where she begins kissing him as they are married. Her meta-human app goes off as it thinks Barry is one. The two head home. Barry's mum called so he returns the call. He can't believe he is hearing his mother's voice and that she is so happy.
Killer Frost stops three criminals who have robbed Central City Bank as she works for Zoom. She kills one of the criminals by freezing him to death. As the other criminal tries to attack her, Deathstorm intervenes. Deathstorm tells her that some breaches came through from another Earth.
Cisco is trying to locate Zoom but cannot pin him down. Cisco is curious where his doppelganger is and what is does.
Barry and Iris head to Jitterbugs nightclub to hear Joe sing. Joseph and Bartholomew as they are known on Earth2 do not like each other. Joseph doesn't like it that Iris is a cop who paid for Bartholomew's internship as a CSI agent. The meta-human warning app goes off on everyone's arm and Killer Frost and Deathstorm walk in. They are seeking out the visitor from another Earth. Iris pulls her gun out on them and tells all the patrons to run. Iris makes a run for it but Deathstorm throws a fireball at her and Joseph gets hit taking the full force and severely injuring him. Flash brings Killer Frost and Deathstorm to the roof where they fight it out.
Back on Earth1, Jay and Caitlin are trying to fix the speed cannon. They also have another problem that a meta-human Adam Fells aka Geomancer is causing havoc on the city by causing earth tremors. Joe wants Jay to take Velocity 6 to catch the meta-human to help protect their world while Barry is off on Jay's world to destroy Zoom. Jay won't take Velocity 6 as it took it on his world after he became the speedster to make him go faster but there were side effects which are killing him. Caitlin tells Jay that he has her to figure things out.
Barry heads back to S.T.A.R Labs where he tells Harry and Cisco about Caitlin and Ronnie's doppelgangers. Harry is concerned that they will tell Zoom about them being on Earth2 and he will kill Jesse.
Joseph is in the hospital and says his farewells to Iris and Barry. He doesn't make it and dies.
Iris and Lawton are going after Killer Frost and Deathstorm. Cisco has built a weapon which will neutralize them and goes along with them. Cisco tells Iris that he can handle himself that he "has seen fire and seen rain". They head to the warehouse to go up against Killer Frost and Deathstorm and are greeted by their boss, Cisco's doppelganger aka Reverb who works for Zoom. Reverb has the same powers as Cisco but stronger and more in control. He tells Cisco that he can train him. Flash rushes in and Killer Frost is shot in the shoulder and Deathstorm firebombs the Flash. Lawton comes out shooting Reverb but misses every shot. Zoom arrives and is unhappy that Reverb and Firestorm didn't obey his commands hurting the Flash so he kills them. Zoom leaves Killer Frost. Zoom then takes off with the Flash. This is not good for Barry being in the hands of Zoom who will take his speed.
On Earth1 Joe goes after Fells. Fells is looking for the Flash and Jay arrives as the Flash after taking Velocity 7. Caitlin was able to make a new serum but it doesn't work long and wears off him. Caitlin patches up Jay back at the Lab. Jay needs to destabilize the breach so that Barry and Cisco can come home to Earth1 or they will be stuck on Earth2 forever.
We end with Barry locked up in prison by Zoom. Jesse is locked up there too and he tells her that they will get her out. Zoom tells Barry that his prison will be the last place he will ever see.
So it will now be up to Harry and Cisco to find Zoom's location to save Barry and Jesse. Plus, Jay needs to stabilize the breach to bring them home.
Variety Radio Online – – Bringing you all things Entertainment including News, Reviews and Interviews. Check out our website, like us on Facebook ,follow us on Twitter ,Tumblr and Instagram
//