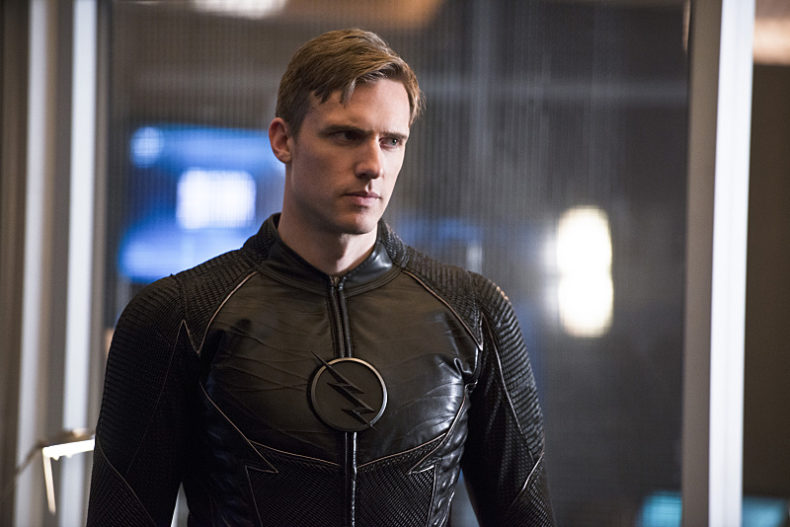 Barry believes he is ready to take on Zoom and has the speed to do it with the help of the tachyon device.
We begin with Barry relieving the events 15 years ago when his mother was killed and the support he was given by Joe and his family. We then flashback many years ago on Earth2 where we see James beating his wife and a young Hunter Zoloman watching on and then witnessing his mother being shot by his father. Hunter is then placed in a foster home.
Back in the present Barry is trialing the tachyon device to test his speed. Barry now has the speed faster than Zoom. Barry wants to open the breaches so he can get Zoom. Harry is against opening a beach as he is afraid of Zoom for his family. No one wants Barry to go back to Earth2.
Iris was supposed to go on a date with her boss. She had to cancel as she feels like she should be with Barry. Iris feels it is her destiny.
Joe and Barry are at home having pizza. Wally has moved off campus as he can't afford the rent. Joe would like to help him out with the bills but he declines any offer. What Wally would like is for Joe to offer him a place to live. So Joe offers Wally a room to live at home with him. Wally is happy.
Cisco and Caitlin are trying to work out how to open a breach. Barry wants to know about Cisco's doppelganger, Reverb. His powers could tap into the multi-dimensional energies between earths being able to open breaches. So if Reverb could do it then so can Cisco. Cisco tries to challenge his energy to open a breach.
Harry pays a visit to Joe to see if he has been able to locate his daughter. Harry also would like him to talk Barry out of opening a breach. Joe says he won't be able to change Barry's mind as once it is made up there is no changing it. Joe would like Harry to help him as it would be a better chance for Barry to defeat Zoom.
Barry and Cisco head to an abandoned hospital to try and open a breach. Harry decides to help them. So with his goggles readjusted Cisco is able to use his energy to open a breach but doesn't go ahead with it. Back on Earth2 Jay is waiting for them. Harry adjusts the tachyon enhancer upgrade to stop Zoom stealing Barry's speed.
Cisco doesn't want to open the breach. He feels like he is Anakin Skywalker that the force within him is strong and he will go over to the dark side like Vader. Barry convinces Cisco that his family is here to support him. So Cisco decides to give it another try. Caitlin is concerned that she doesn't want to meet Jay again. She tells everyone that Jay's doppelganger is Hunter Zoloman who apparently is a convicted serial killer back on Earth2. So when the particle accelerator exploded on Earth2 it created Zoom who is actually Hunter Zoloman. So Cisco opens a breach and Zoom jumps to Earth1. Barry takes off and Zoom chases him through the streets. Barry lures Zoom back to S.T.A.R Labs. To play with Zoom's mind they have images on his parents allowing Barry to trap him. Zoom tells Barry that he can't lock up the darkness and escapes from his restraints. So Zoom is on the loose on Earth1.
Barry, Joe and Iris head home only to find that the house has been trashed and a sign on the wall saying "Your speed for Wally". Zoom has kidnapped Wally and taken him back to Earth2. Joe is taking it hard. He just found Wally, his son, only to be taken away. Barry is prepared to give up his speed to save Wally. Cisco vibes to see Wally alive. Cisco tells Zoom that Barry will give him his speed.
So Zoom brings Wally back to Earth1 at the Lab in exchange to Barry's speed. Jay went back to another universe to get his time remnant and bring him to Earth1 so that he could continue to be on Earth2. So when Zoom killed Jay on Earth1 it was another version of him. So Barry runs to give Zoom his speed. Zoom becomes more powerful. Zoom almost kills Barry if not for Caitlin talking him out of it. Unfortunately, Zoom speeds off taking with him Caitlin. So what will the Team do now to get Caitlin back as Barry has no speed?
Variety Radio Online – – Bringing you all things Entertainment including News, Reviews and Interviews. Check out our website, like us on Facebook ,follow us on Twitter ,Tumblr and Instagram
//