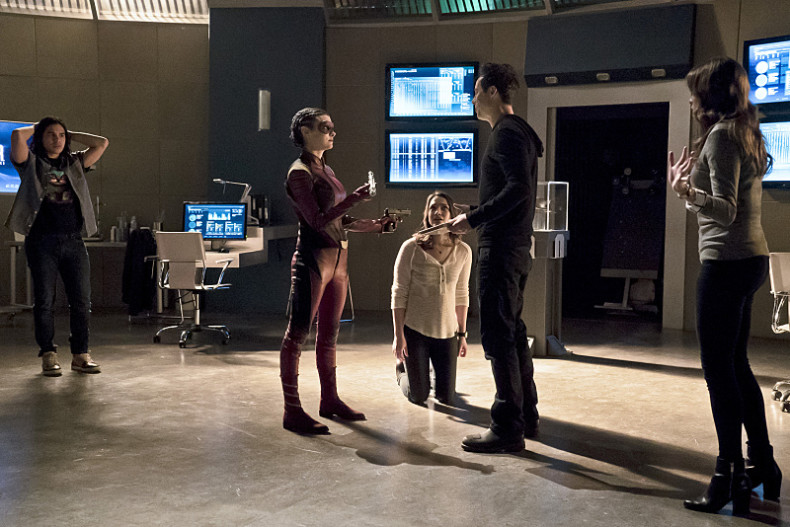 By Anna B (@traveller15)
Can Barry deal with a new speedster in town causing trouble?
The Flash Team is working on Barry's speed so they can beat Zoom. So Barry tries to jump across a canyon. Unfortunately, he is not fast enough and drops to the bottom on the gorge but Cisco brought the drones along which scooped Barry up in the net saving his life.
Back at S.T.A.R Labs the Flash Team are tired and so they agree to have some down time and have fun at the club. Harry reluctantly lets Jesse go with them but puts a security bracelet on her for her protection. The club is swinging and the Flash Team is joined by Iris and Wally and they let off steam. All of a sudden a flash of light streaks through the club and the patrons' purses and wallets are stolen by a speedster. So the people of Central City think that the Flash has gone rogue.
At Central City Picture News, the new editor wants Iris to do a story on the Flash.
Jess confronts her father regarding the recording in the security bracelet that Harry would kill anyone that got in his way to save his daughter. She is upset with her father as he is going dark just to protect her.
Caitlin confesses that she made a formula called Velocity 9 "V9" which is a speed drug which Jay took to save the city from a meta-human when the Flash Team were on Earth 2. The reason why they didn't want Barry to know about the drug is that it made Jay sick and caused cellular degeneration and was killing him.
The speedster is robbing people in the streets, but Barry is not fast enough to catch her. They learn that this speedster is a female. Cisco wants to know if she is good looking. So the question remains who is she? She wears a suit very similar to Barry's. When Caitlin was developing V9 she called upon a colleague a Mercury Labs, Eliza Harmon aka speedster, (Allison Paige) to assist her.
Joe and Caitlin pay Eliza Harmon a visit at Mercury Labs. They question her about the speedster. She is very vague in answering their questions. Later in the Lab Eliza begins to hallucinate with her dark side and takes another dose of V9.
Iris is struggling with her story about the Flash. Iris takes her editor to Jitters for coffee to convince him that The Flash is not gone rogue and is a hero. Her editor thinks they are on a coffee date making things more awkward.
Barry wants to take the V9 to increase his speed to be able to stop Zoom. Harry says he can't take it as he will lose a chunk of his humanity every time he compromises his values. Harry wants him to be better than him. Barry drops the V9 on the floor destroying it. They are all a sudden paid a surprise visit from the speedster who jumps Barry and locks him in the pipeline. Before the Flash Team can do anything Eliza aka Trajectory wants another fix of V9. Trajectory threatens to shoot Jesse if they don't make more V9. As there is none left the Flash Team agree to make some more. As a precaution Trajectory injects the V9 into Jesse to make sure it is not laced with a sedative. Caitlin has put a tracker in the V9 so that can track her down. Jesse goes into shock as the V9 is too strong for her body and needs a blood transfusion. Harry is the only person on Earth1 who can give her blood type. Luckily she survives. Barry is released from the pipeline.
Every time Cisco touches the glass case or is near it displaying Jay's flash helmet he vibes seeing Zoom. Is this because Jay could be Zoom?
Trajectory is causing friction on Central City Bridge to destroy it and everyone on it. The Flash goes after her. The bridge has collapsed and the only way across is to jump. The Flash needs to make the jump this time. He does and knocks Trajectory down. Barry tries to talk her out of injecting herself with another dose of V9 but she goes ahead. She races off but her speed turns blue and she evaporates herself.
Iris finally is able to write her story about the Flash how he stopped the female speedster and that he is the hero.
Harry looks for Jesse and finds that she has taken her security bracelet off. She leaves S.T.A.R Labs and goes off into the world and catches a bus to Opal City to begin a new life on Earth1.
The Team concludes that the V9 causes their lightning speed to turn blue. Zoom must be on V9 and he is dying this is why Zoom needs the Flash's speed. So is Jay zoom? Cisco tells the Team that every time he vibes it is near Jay's helmet. So Cisco holds Jay's helmet and vibes seeing Jay unmasked as Zoom. Barry has been hurt again, another mentor to him has deceived him.
Variety Radio Online – – Bringing you all things Entertainment including News, Reviews and Interviews. Check out our website, like us on Facebook ,follow us on Twitter ,Tumblr and Instagram
//