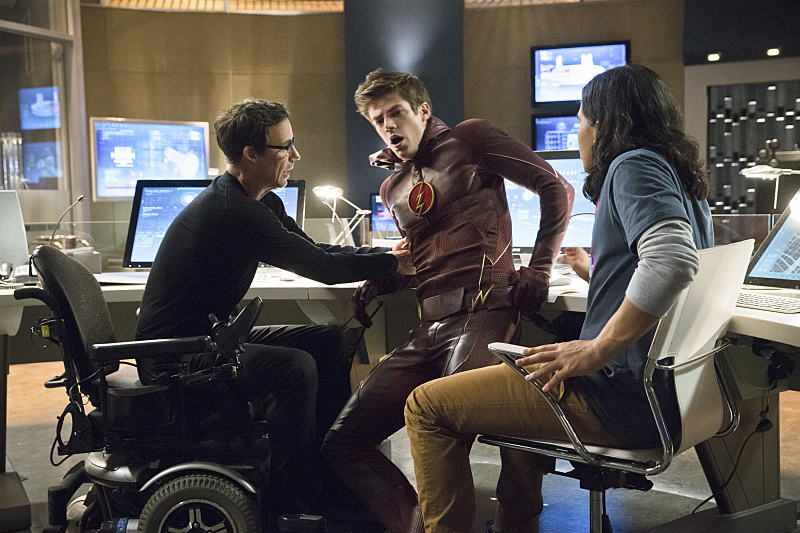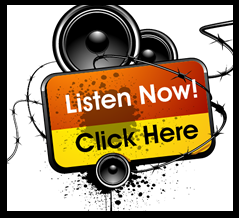 By Anna (@traveller15)
The Flash has a new meta-human with gas powers to capture this week and we learn how Caitlin's fiancée Ronnie was killed the night of the particle accelerator.
As Barry says it doesn't matter if you are the slowest kid in gym class or the fastest man alive, every one of us is running. Being alive means running, running from something, running to something or someone and no matter how fast you can run there are some things you can't outrun. Some things always manage to catch up to you.
Barry has just left the movies with Iris who appears to have gone to see a zombie movie and goes nerdy on her over the movie. Iris says she is more interested in the streak who is out there as people are talking about him. While Iris is chatting on her cell to Eddie, Barry receives phone call from Cisco to go after an armed getaway driver. So while Iris is on the phone to Eddie, Barry goes to apprehend the assailant and places him in the police car to the police surprise. Barry is back before Iris knows he was gone. Now he is famished burning up those kilojoules.
The Darbarian crime family are meeting in a restaurant when a mist with a toxic gas kills the family one by one.
Joe has a box of evidence from Barry's mum case brought up from archives for him to go through. Joe wants to go through it all piece by piece and to take their time. They are interrupted with a multiple homicide. Barry is at the crime scene investigating determining that it was toxic gas they killed the family. The gas came in on its own. Joe realises that Barry and him will need backup to solve this case.
Joe is at S.T.A.R Labs with Barry as an excited Cisco and Caitlin discuss with Dr Wells about a meta-human who has toxic gas powers. Lucky for them so far all the meta-humans they have encountered are deceased but Joe says they will need somewhere to hold them – a meta-human prison. Cisco suggests where the particle accelerator is located.
This brings memories back for Caitlin 9 months ago, when the particle accelerator is to be turned on. Caitlin and her fiancée Ronnie Raymond (Robbie Amell) are discussing where to go on their honeymoon. As the particle accelerator is turned on there is a large bang. Back to present day Caitlin is zoned out and Barry wants her to help with the toxic gas rather than re-live going down to the particle accelerator.
Barry takes Caitlin to CCPD.
Back at home, Joe watches a video of evidence of Barry's father testimony. An unexpected surprise when Eddie turns up at Joe's home to see Iris. Joe was not meant to be home. So Eddie makes an excuse to go revisit a crime scene with Joe. Iris doesn't won't her father to know about Eddie and her yet.
Down at the particle accelerator Dr Wells and Cisco go down to see how they can refurbish it for a prison for the meta-humans.
Flashback to the particle accelerator collapsing and Ronnie agrees to go and shut down the valve. So he and Cisco go down but he has to go into lockdown shutting the door on Ronnie.
Back in Barry's Lab, Barry asks Catlin about Ronnie. So she tells him that they were totally different but he made her laugh and that they were like fire and ice. He was not meant to be at the launch that night but was only there for her. An analyse comes back that there are two DNAs in the victim lungs from the toxic gas. They figure out that what if the meta-human becomes the gas.
The Mist has found his next victim, Judge Howard, who sentenced him to death. So he kills her in an elevator becoming the mist. Barry hears the attack over the police radio and goes as the Flash to find the Mist. He goes after him and is no match. The Mist has one more name on the list. Barry inhales to the toxic gas but makes it back to S.T.A.R Labs but barely breathing. Dr Wells has a sample of the poison so they can analyse to see what it is. Barry lives because of his super-fast metabolism.
Barry goes back to the Police Station to talk to Joe to tell him that the meta-human can transform himself into poison gas. He feels guilty for not being able to save the Judge just how he couldn't save his parents with he was a child. Barry wants to break his father out of prison as the Flash. Joe talks him out of it as for every person he wants to save, you can't save everyone. Together they will get his father out of prison.
Iris is at CCPD and over hears Eddie talking on the phone about the red streak at the Mall crime scene. She is intrigued. Iris is ready to tell her father about Eddie and her.
Barry finds Caitlin upset after he left suddenly and that nobody will ever know what Ronnie did. Barry tells Caitlin that Ronnie was a hero. Caitlin is terrified to go down to the particle accelerator and Barry takes her down. Flashback to Ronnie trapped in lockdown. Ronnie and Caitlin say their farewell.
Dr Wells has identified the toxin as hydrogen cyanide mixed with a sedative. They find out that it is Kyle Nymbus aka The Mist (Anthony Carrigan) who was put away by the Judge and the detective was Joe West.
Joe goes to visit Henry Allen at Iron Heights Prison. Joe tells Henry that he knows he didn't kill his wife, Nora Allen and that new evidence has come to light and will get him out. The Mist has gone to the Prison to kill Joe. Can the Flash get there in time to save Joe? Henry watches as the Mist attempts to kill Joe but the Flash injects Joe with an antidote that Caitlin gave him to save his life. As the Mist goes after the Flash, the Flash makes him chase after him so he will have to return to his human form. The Flash knocks the Mist out when he comes back to his human form.
Joe is in hospital recouping. Iris visits her father with Eddie and tells him that they are dating. Joe already knew and that they are lousy liars. Joe says "he will do his best not to shoot him".
The Mist is locked up in the particle accelerator prison. Cisco and Caitlin go off to have icecream or a drink.
Barry goes to see his father in prison and his father tells him when he was little that he was slow to learn to walk. His mother used to say that when he has some place to go his first steps would not be walking but he ran straight to his mum.
No-one can outrun pain, life is tragic but it is also precious, sweet and extraordinary and the only way for Barry to honour his mum's life is to keep running.
We end with Dr Wells looking at the Flash suit where he flashbacks to the night of the accident. He goes to his secret room and watches a video of Barry in his Lab when he is struck by the lightning. He says "see you soon Barry". He knows what was going to happen.
Twitter: @TheVRO
Facebook: Variety Radio Online
Tumblr: Variety Radio Online