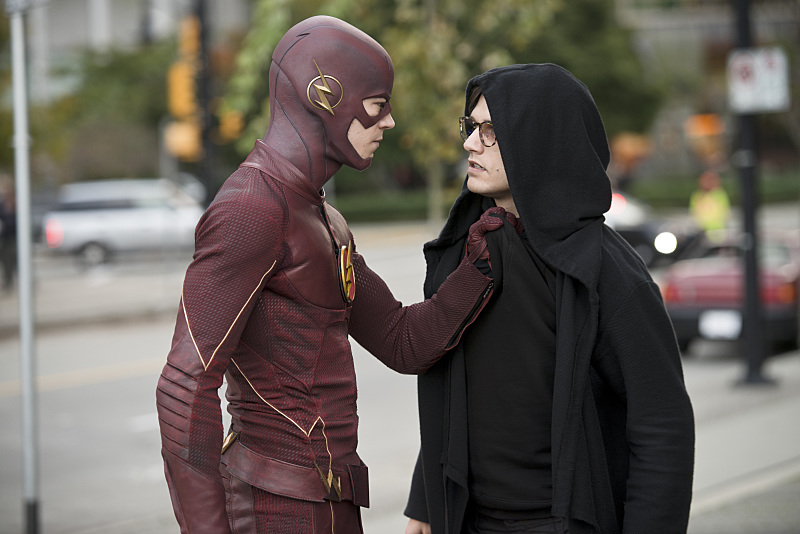 By Anna (@traveller15)
The Flash has to deal with Wells' former protégée, Hartley Rathaway, who wants revenge on him.
The Flash is chasing some members of the Royal Flash Gang with the help of the Flash team. When Barry arrives back at S.T.A.R Labs he is over cocky about being the hero. Cisco wants to take a photo to document the event for the future so Barry takes a selfie of all of them.
Barry finds Iris back at the house collecting a few items. Iris just got offered a job as a reporter at Central City Picture News. The editor is apparently a fan of her blog.
Wells arrives at his home where he can walk around freely without the use of the wheelchair when he receives an anonymous call which says it is time to pay the piper. His home is surrounded by glass walls and ceiling which all of a sudden shatters and with a flash of red and yellow he escapes the falling glass. When the police, Joe and Barry arrive to investigate he is back in his wheelchair.
We flashback 2 years ago when Wells is playing chess with Hartley Rathaway aka Pied Piper. Hartley is a genius who worked at S.T.A.R Labs with his mentor Wells until the particle accelerator took away his hearing. He has created sonic weapons as revenge on Wells.
Eddie investigates the scene and tells Joe that he is suspicious of Wells as there is not a scratch on him with all that falling glass if he was in a wheelchair right under it. Barry investigates and cannot find anything but Wells already knows who the person is who invaded his home, Hartley Rathaway – the prodigal son. They had a falling out but he is not keen to discuss it with the Team.
Flashback, Cisco is hired to work at S.T.A.R Labs and is assigned to work with Hartley. Hartley is not impressed having Cisco working with him. Caitlin is pleased as she thinks Hartley has finally met his match in Cisco.
Iris starts her first day of work at Central City Picture News. The Editor (Larkin) is more interested in Iris writing a piece on the Flash instead of a story on battered women.
Barry detects that sonic technology was used to break into Wells' house. Joe believes Wells has secrets. A call comes through that Rathaway Industries is under attack. Rathaway is blowing windows out of buildings and the police cannot stop it. The Flash arrives to intervene. Rathaway can hear the radio waves through the Flash's suit that Caitlin, Cisco and Wells are listening in. Flash is going to kick his ass but Rathaway says he knows Wells' secret.
Hartley knows Wells' secret. The Flash takes him back to S.T.A.R Labs. Hartley wants to call himself the Piped Piper but Cisco says he assigns the names not him. They locked him up in a cell. Wells wants to know why Hartley is tracking the Flash? Hartley says the Flash shouldn't trust Wells as he will leave you "in a flash". Hartley threatens Wells with the knowledge of his secret. Wells tells the Team that he hasn't been honest with them that Hartley had said there would be a risk with the particle accelerator exploding and he made the decision to carry on knowing the risk. Caitlin is not happy that he took that risk with everyone's lives knowing the effects it had on Ronnie.
The Editor asks Iris to look into another incident of the Flash downtown. Mason Bridge who Iris admired is her mentor doesn't believe she can be a journalist. Iris meets Barry at Jitter to vent about why she was hired to obtain stories on the Flash. Barry says "the people who we admired are not always the people we would like them to be". Barry will always believe in Iris that she can be a good journalist.
Cisco examines Hartley's gloves and finds out that he was using the slowest frequencies and could have brought down his father's building in one blast but he wanted to be caught. He has escaped his cell and Cisco is caught in the explosion and knocked unconscious while rushing to his cell. Wells uses his speed as Reverse Flash but collapses. This is the first time we see Wells use his speed not in the suit! Hartley knocks Caitlin out, transfers data from the Lab's computers, takes his gloves and escapes.
In a flashback Hartley's position at S.T.A.R Labs is terminated due to his accusations on the particle accelerator being unsafe and is escorted out of the Lab.
Wells holds a press conference at CCPD regarding the explosion of the particle accelerator. He failed the city and is hoping to gain the trust of the people by admitting his guilt to the explosion. The question is asked whether he wants to rebuild the particle accelerator now or in the future to which he replies "of course not". They hope it lures Hartley out.
Cisco is feeling like he has something to prove to Wells. Cisco believes he was hired because he Wells saw something in him but it was because of his humanity not because he and Hartley were brilliant. Wells says there was never a chosen one just the Team. Hartley wants to play one last game of chess with Wells and the Flash.
Hartley is at the Keystone Cleveland Dam causing sonic damage to the toll booth and causing a traffic hazard. Hartley needs to be disarmed. Cisco figures out that Hartley stole all the data on Barry's molecular scans to get his internal frequency. The Flash activated this frequency when he disarms Hartley which he calls a "discovered attack" and is killing him from inside out. Wells uses the car satellites to cause a frequency that will destroy Hartley's gloves and knocking him out when he goes to pick them off the ground. Wells checkmates him. Barry survives except for some ringing in the ears.
Wells shares with Barry that it is difficult to admit he was wrong to an entire city but also to his closest friends. He hopes he can restore his faith and trust with Barry to which he has.
A hero is not because of the Flash's speed but because of how he learned to be a hero because of the people in his life, all of them.
Barry finds Joe at the CCPD and asks it must have been hard for Joe to raise him seeming he liked chemistry and maths. We have a sentimental touch between the two with no-one could ever replace Joe. Eddie is investigating Wells on Joe's authorities. Joe knows he is keeping secrets.
We end with Hartley locked up at S.T.A.R Labs. Cisco goes to visit him where Hartley says he will be freed soon because he knows where Ronnie Raymond is and what actually happened to him the night of the explosion and how to save him.
Wells is in his hidden chamber checking on his speed by wearing a tachyon device to his chest. He knew the tachyon device was only a temporary solution to maintain his speed force. The real end game has nearly arrived. What does Wells have instore?
Twitter: @TheVRO
Facebook: Variety Radio Online
Tumblr: Variety Radio Online