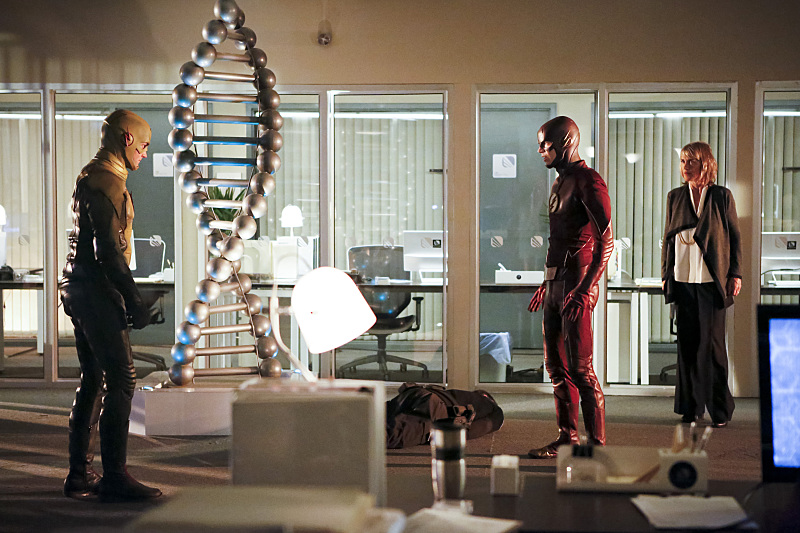 By Anna B (@Traveller15)
Reverse Flash is back and the Flash and team have to deal with him.
Barry feels like all he has been doing lately is running saving Central City. He is avoiding Patty at CCPD after she told him she was leaving. Harry just wants Barry to focus on getting stronger and faster to beat Zoom.
Barry goes after a runaway fuel truck and stops it before it crashes and explodes. It was all a setup by Eobard Thawne (Matt Letscher) to work out which time period the Flash is in for him to get home. This Reverse Flash has never been to this timeline yet and does not know anything of The Flash.
Cisco wants to use Turtle who is locked up in the pipeline to figure out how to stop Zoom's speed. Jay and Caitlin put a damper on that by saying Turtle is dead. Jay suspects Harry killed him.
Patty takes Barry some evidence for him to investigate. Barry is upset that Patty is moving and doesn't want to talk to her. She expected that things would be ok between them.
Iris overhears their conversation that Patty and Barry have broken up. Joe then enters to say that Francine hasn't much time left and Iris and he should say their goodbyes.
Harry is comparing the brain matter of Turtle and Flash for his own benefits. Cisco would like Harry to help him work out how he can use is vibe skills. Harry asks Cisco to meet him in the time vault where he dresses as The Reverse Flash. By scaring Cisco they learn that it is his fear that triggers his vibing. Cisco sees the real Reverse Flash at Mercury Labs.
The Reverse Flash goes to Christina McGee's (Amanda Pays) office to kidnap her but the Flash arrives to try and intervene. The Flash says that Eobard Thawne should be dead but he says "good to know and I know what time period you are from and that very soon the Flash will die". The Reverse Flash knocks the Flash down and takes McGee.
The Flash team is trying to come to terms as to how Thawne can still be alive. Harry figures out that he could have been in the speed force keeping him alive in timeline remnant which is a previous version of him before he killed Barry's mother.
Caitlin tells Barry that Jay is sick when Zoom stole his speed. She wants to exchange his dying cells with healthy ones by finding his Earth1 doppelganger. Barry investigates but cannot find any details of Jay's doppelganger. He suggests that Caitlin ask him about it.
Joe and Iris go to visit Francine in the hospital. Francine would like any anger Iris has towards her said but she has forgiven her now for leaving. Iris is really upset even though she barely knows her mother.
Patty tries to talk to Barry. Barry finds it difficult as everyone he loves leaves him and he would have said this to Patty if she would stay. Barry wishes Patty all the best but knows it won't work out.
At S.T.A.R Labs, Harry designs some goggles for Cisco to wear to help when he vibes and to find the Reverse Flash. Cisco sees the Reverse Flash kill McGee and leaves. The vision Cisco sees is in the future so they still have time to rescue McGee.
At the Precinct Joe says goodbye to Patty. Patty tells Joe that she went through some old files of Barry and realizes that all the cases have something to do with The Flash. Patty puts it together that Barry is The Flash and Joe tries to cover it by lying to her. She didn't buy it.
Iris finds Wally to tell him to go and see his mother before it is too late to say goodbye.
Joe goes to S.T.A.R Labs and tells Barry that Patty knows he is the Flash. Barry doesn't want to tell Patty as he doesn't want Zoom or Reverse Flash to get a hold of her and hurt her because of him.
Thawne wants to use McGee to send him back to his timeline by her building a tachyon machine. The Flash races off to Mercury Labs just in time to save McGee from being killed by the Reverse Flash. The Flash stops the tachyon speed machine so the Reverse Flash cannot return home. So the both of them race through the streets and The Flash stops him bringing him back to the pipeline. Barry wants to talk to Thawne but he can't find out that Barry is the Flash in this timeline.
Caitlin meets Jay at Jitters and tells him she can't watch him go through and lose his life and that she is trying to find his doppelganger to save him. The reason why they cannot find the doppelganger is that he is named Hunter Zolomon as his mother died when he was born and he was adopted.
Cisco visits Thawne in the pipeline and wants to know how he got his ring in the suit. He tells Thawne that he was the one that gave him his powers. Barry also goes to see Thawne to see why he hates the Flash. Thawne wanted to be the Flash but he couldn't. So he became the Reverse Flash. Whatever the Flash did to save people he did the reverse to take away from the Flash. Thawne kills Barry's mother because he couldn't become the Flash and by doing that he thinks he became better than the Flash. Thawne still doesn't know The Flash is Barry.
Back at CCPD Barry goes and sees Patty and she tells him that she knows he is The Flash. Barry won't admit to her that he is The Flash. If he did she would have stayed for him.
Cisco has a seizure from too much vibing and the time travel. He is having nosebleeds and phasing. The only way to save his life is to get the Reverse Flash back to his own timeline. By sending Thawne back to his timeline he will now know the time period of the Flash and everyone in their timeline and the origin of the Reverse Flash begin and what has happened previously will happen in time. So the Reverse Flash and Flash race through the particle accelerator and Barry at the right time will push Thawne through the wormhole sending him home. By doing this Cisco's life is saved.
Wally goes and visits Iris at the West home to ask her to go with him to the hospital to say goodbye to his mother.
Patty tricks Barry to thinking that there is a man on her train to Midway City and if he can get help. Of course, Barry goes as The Flash and there is no alarm. She wanted to confirm her suspicions of Barry. Patty tells The Flash she is ok and they say goodbye.
Variety Radio Online – – Bringing you all things Entertainment including News, Reviews and Interviews. Check out our website, like us on Facebook ,follow us on Twitter ,Tumblr and Instagram
//