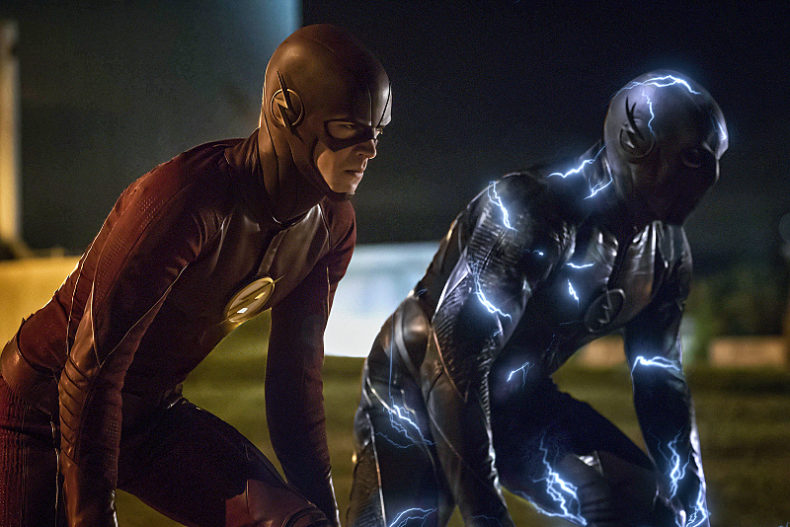 This is the season finale of season 2 for The Flash. Can The Flash stop Zoom once and for all?
We begin with Barry watching his father, Henry, being killed by Zoom. He is totally devastated as this is happening again, first his mum and now his dad. Zoom wants Barry to get angry to chase and fight him. Barry kills Zoom's time remnant and tells him he is "almost ready".
Henry Allen is buried alongside his wife, Nora Allen. Barry tries to give a eulogy but cannot do one at the moment. So Joe delivers it.
Barry is grieving and wants revenge. Back at home Wally approaches Barry acknowledging that he had no idea he was The Flash and offers his support. Barry asks his Team how are they going to defeat Zoom? Plus, Cisco keeps vibing Earth2 being destroyed and wants answers. Barry goes outside for air and Iris goes to console him. Barry needs to find peace within himself of the death of both his parents and it will rip him apart. Just then Zoom speeds past and Barry races off after him. Zoom challenges Barry a race to see who is the fastest man alive and if Barry wins will be the hero. If Barry doesn't race Zoom, then there will be more deaths.
At S.T.A.R Labs Barry tells the Team about the race. Apparently, the magnetar that Mercury Labs was developing can act as a pulsar which is a power amplifier which can be weaponized. The machine is powerful enough to destroy all Earths in the multiverse. So by cyphering Barry's and the machine's powers he will be able to conquer and destroy all the earths. Barry has no choice but to race Zoom and has to win.
Joe goes to talk to Barry in the pipeline and tells him not to race Zoom. Barry says he has to prevent more love ones being killed and also he wants to kill Zoom for all the suffering and deaths he has caused. As Joe cannot stop Barry, Harry comes into the pipeline and tranquilizers Barry locking him up in a cell. The Team is against Barry going up against Zoom. So the Team has a plan to take on Zoom.
Zoom is at an industrial park. So the plan is for Caitlin to distract Zoom, while Harry and Joe catch him with a boot and Cisco will open a breach pushing him through him as well as Harry destroying the magnetar to save the multiverse. Before Harry leaves the Lab, Jesse tells him that she is going home to Earth2 and is happy for Harry to stay on Earth1 if he wants to. The Team is in position to take down Zoom. Caitlin confronts Zoom to lure him closer to her. As Zoom gets closer to kill her it is a hologram of her. Cisco opens a breach and they manage to boot him. Joe's tranquilizer gun jams so he faces Jay to dart him. Harry pushes Jay through the breach but unfortunately it takes Joe as well back to Earth2.
Harry is unable to disable the magnetar. Wally turns up at S.T.A.R Labs and is told that Zoom took Joe. Wally wants to know why Barry hasn't gone after him. The Team agreed that all the breaches would be closed and not opened under any circumstances.
Zoom has Joe chained up on Earth2 in his lair. Joe is curious who the man in the iron mask is. Zoom says if we knew who he was it would just confuse us. So Zoom tells Joe about the Man in the Iron Mask. He got his speed through the dark matter and only wanted more and got it using V9 which enabled him to travel to other Earths. This is where he discovered another speedster. As V9 was killing Zoom he needed more speed and brought back this other speedster to Earth2 to take his speed but it wouldn't take. He tried manipulating the speed force and by doing so the Time Wraiths has been chasing him. Then he saw Earth1 when the breach opened and stole Barry's speed. He kept the Man in the Iron Mask as a trophy and decided to borrow his name which is Jay Garrick and his helmet and be the Flash.
Wally releases Barry from the pipeline and tells him that Joe has been taken to Earth2. Barry is so angry and is in no state to race Zoom. Barry is going to race Zoom with or without the help of the Team. So Cisco has Barry go into one of his vibes and Barry tells Zoom that he will race him on one condition that Joe is brought back to Earth1 and released.
The race is to take place where the magnetar is so Zoom can power it up and destroy the multiverse. Earth1 is apparently the center of the multiverse which is the access point to every other Earth in existence and wants to send a shockwave which will destroy all Earths leaving Earth1. One lap around the inside of the loop which is enough speed to power up the magnetar. If Barry loses the Team dies. So the race is on and the Team watches on as the magnetar is powered up. Barry creates his own time remnant which enables him to release Joe. Zoom knocks Barry out of the magnetar while the time remnant creates his own pulse to counter act the force of the magnetar and so doing sacrifices himself. Zoom is furious but Barry defeats Zoom and the Time Wraiths carry Zoom off into the breach.
Back at S.T.A.R Labs the Team has rescued the Man in the Iron Mask and Harry and Cisco work on taking his iron mask off the man. They discover that he looks identical to Henry Allen. Barry is in shock and remembers that his father told him that his mother's maiden name was Garrick. This man is the real Jay Garrick, Henry Allen's doppelganger. Zoom was Hunter Zoloman. Garrick has his powers back, dressed in his red suit, The Flash suit and takes his helmet. His home is Earth3. Cisco can open a breach for him to go Earth2 and Harry and Jesse are going with him home.
Everyone heads back to the West home to celebrate their victory. Barry sits on the porch and is still grieving the loss of his father especially seeing Henry's doppelganger. Iris joins him and tells Barry he has lost a lot but she is ready for them to give their relationship a chance, but he is not ready yet but is so broken and needs to fix himself first and find peace before he can be with her. Iris tells him that he waited for her for years and she will wait for him. Iris tells Barry she loves him and they kiss and Barry tells her he loves her too. Iris heads back inside.
Barry then says he is so sorry and has to do this. He goes back in time to save his mother from being killed by Reverse Flash and by doing this alters the timeline.
So what will be the repercussions of the timeline being altered? Will everything that happened in Season 1 occurred or not? We will see in Season 3.
Variety Radio Online – – Bringing you all things Entertainment including News, Reviews and Interviews. Check out our website, like us on Facebook ,follow us on Twitter ,Tumblr and Instagram
//