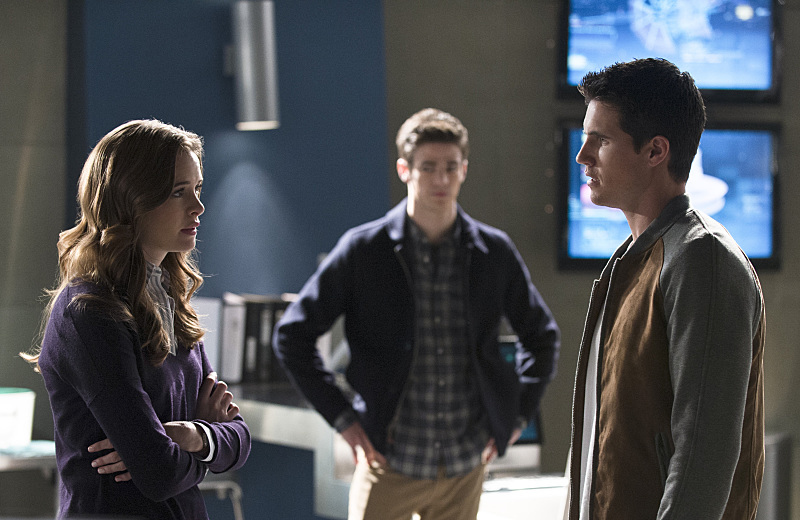 By Anna (@traveller15)
It's time to bring Ronnie home. We learn the mystery of Ronnie Raymond and Martin Stein of how F.I.R.E.S.T.O.R.M came together.
Barry is getting ready for a date with Linda Park (Malese Jow). Their first date is interrupted twice. Firstly, with a robbery and secondly with a jumper. Barry races off to the save the day before Linda even knows he is missing.
Martin Stein (Victor Gaber) is trapped in Ronnie Raymond's (Robbie Amell) body who locates an old school colleague, Quentin Quale, who he would like his help but accidently burns him in a critical condition. Ronnie is now a dangerous meta-human.
Barry meets Cisco and Caitlin at Jitters and brags about his first date and that he is going to go on a second date. Iris overhears and seems a little jealous. Cisco is called away by Joe to meet him at Barry's parents' house. Joe wants Cisco's help to re-examine the crime scene. The house is now owned by Sherry (Chase Masterton) who flirts with Joe.
We flashback, with Barry remembering seeing Stein on the train the day the particle accelerator exploded. We see the particle accelerator explode and Stein holding the project F.I.R.E.S.T.O.R.M and Ronnie in the pipeline chamber.
Barry, Caitlin and Wells visit Clarissa Stein to learn more about her husband. They ask whether she had seen a man looking like Ronnie. She explains that she has seen Ronnie who broke into her house and she called the police believing him to be an intruder. She always feels that someone is watching over her. So the Flash Team is going on a stakeout.
Cisco and Joe go over the house in detail and then Cisco finds silver nitrate on a mirror. Cisco believes that the mirror may have taken a photographic image of Nora Allen being murdered.
Wells and Caitlin stakeout the Stein house hoping Ronnie/Stein will return to the house. Wells is determined to bring Ronnie and Stein both home. Linda goes to meet Barry at his house. Instead of going out on their date they makeout. Barry is worried about moving too fast but Linda doesn't want to go slow. The date is once again interrupted and Barry rushes out to deal with Stein. The Flash confronts Stein and he ignites into flames trying to kill the Flash. As Stein goes to torch the Flash, Caitlin stops him reasoning with Ronnie and he takes off.
Back at Barry's parents' house, Cisco sets up a camera 3D hologram which shows images of Nora the night she was killed. They find blood splattered on the wall behind some new wallpaper. Cisco takes a blood sample.
Barry goes by to see Linda at her office. Barry has to prove himself to her that all the interruptions are work related. Linda asks Iris about Barry and his past dating. She tells her that he was hung up on someone who did not reciprocate.
Caitlin, Barry and Clarissa are able to locate Stein from the tracker device placed on Ronnie who is underneath a bridge. Clarissa and Stein have an emotional reunion and she tells him that there is help for him and Ronnie. At S.T.A.R Labs, Stein believes he can separate his body from Ronnie with nuclear fission. Stein is cleaned up and the Flash Team wants to run some tests on him.
Linda calls Barry to let him know that things between them are not going to work especially when he is still hung up on Iris. So Barry then goes off to see Iris to ask why she told Linda that he was not available. Barry tells Iris that he does not have romantic feelings for her anymore. Iris appears to not be happy over this whether it is true or not.
At CCPS Cisco runs an analysis of the blood sample and they find out that they now have two different blood samples. Joe wants to run the blood types against Wells. Cisco defends Wells that he is not a murderer and doesn't want to assist Joe anymore with his investigation.
Caitlin runs tests on Stein. Caitlin would like to talk to Ronnie but Stein can only remember memories from him, one in particular at Hudson Falls where he proposed to her. Stein/Ronnie's body temperature is rising and Wells fears that he could explode and go nuclear. If they try to separate the bodies there could be a nuclear explosion. Wells wants to kill them to save the lives of millions. He has a couple of hours to solve the problem. Barry talks to Stein where they recall their meeting on the train.
Barry goes back to see Linda to prove to her that he wants to date her and nobody else. He blackmails her into another date by saying he will eat a ghost pepper (the hottest spicy pepper). So he eats the pepper to prove a point. Linda gives Barry another chance and they kiss. From a distance Iris views all this and is so jealous.
Wells goes to his secret chamber to obtain a gun. He asks Gideon whether the Tachyon prototype can be converted into a quantum splicer. If he does this, Wells timetable will be out the window but he needs to save Central City from a nuclear explosion. Unfortunately, Stein has left S.T.A.R Labs and they must find him to attach the quantum splicer which Wells has built to split the two bodies. Caitlin wants to go with Barry as she can activate the splicer. So off they race to Stein to stop him from killing himself.
In the meantime, Cisco ran the blood samples and the results are in. Cisco phones Joe to tell him that it was not Wells but Barry's blood as an adult.
On the mountain Caitlin explains to Stein to use the quantum splicer to separate the bodies. Caitlin tells Ronnie that she loves him. As the splicer is placed on Stein's chest he starts to ignite into flames. Flash grabs Caitlin to get her out of the nuclear zone. The military led by General Eiling (Clancy Brown) have been monitoring F.I.R.E.S.T.O.R.M and have now been alerted and it is time to call in project F.I.R.E.S.T.O.R.M.
Twitter: @TheVRO
Facebook: Variety Radio Online
Tumblr: Variety Radio Online