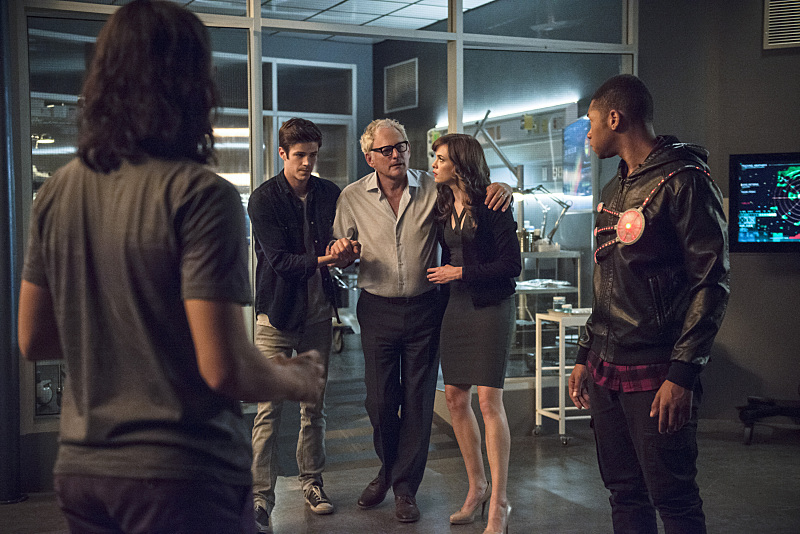 By Anna B (@traveller15)
This episode is about taking second chances at life, family and love and to embrace it so you can move on.
Prof Stein needs another Firestorm body if he is to survive. Can the Flash Team find a replacement?
We begin 2 years ago with Jefferson "Jax" Jackson (Franz Drameh) who is a promising football player for a scholarship at College. While on the football field the particle accelerator explodes knocking Jax unconscious and busting his leg up.
Back in the present day Prof Stein (Victor Gaber) is having another one of his seizures. He desperately needs another person to merge with to stabilize the reactor molecules in his body. So the Flash Team needs to find another tender to merge with Prof Stein. Caitlin has found two potential candidates who were affected by the dark matter from the particle accelerator explosion and have the same blood type – Henry Hewitt (Demore Barnes), a graduate from Hudson University with a double major in applied physics and bioengineering and Jefferson Jackson, a high school quarterback and 4 point student. Caitlin needs blood samples from each candidate so Barry speeds off and takes samples from them without them knowing. Caitlin is keen to go with Hewitt as he is a scientist but Barry thinks Jackson is physically more appropriate but Caitlin has reservations and would prefer Hewitt.
Iris is at home reminiscing over photos from when she was a baby with her mother. She has decided to meet her.
At the police station Patty (Shantel Vansanten) asks Barry to investigate some shark teeth in an alley that belong to a possible meta-human sharkman. She flirts with Barry and hopes he will investigate the meta-human but Barry tells her that meta-humans are not his thing. Joe calls Barry out on flirting with Patty.
Cisco has made a can for Prof Stein from a power source. Lurking in the corridors of S.T.A.R Labs is a walking Harrison Wells.
Barry and Prof Stein go and visit Jax who is a mechanic to ask him to go back to the Lab.
Joe and Iris meet Francine at Jitters and Iris wants to know why Francine now wants to be in her life! Iris doesn't want Francine in her life as she has lived separate lives for over 20 years without her.
Caitlin has Hewitt at the Lab and has informed him of the Firestorm matrix. Hewitt is a big fan of Prof Stein and enthusiastically wants to be the next Firestorm. Cisco thinks he has an ego the size of Texas and they will have two Prof Steins. Cisco places the splicer on Hewitt's chest so the merge can begin. Nothing happens. Hewitt is not compatible. They now need to convince Jax.
At Mercury Labs in the Applied Sciences Division, Dr Tina McGee calls Joe and Patty to come and investigate a breakin. She reports that she saw Harrison Wells break into the facility and a walking Wells. There is some confusion as to if Wells could possibility be alive? Joe wants to keep Wells appearance under wraps from Barry and makes Patty promise not to tell him. The two head back to the police station where Joe has Francine waiting for him. Francine has to tell Joe that she has McGregor's Syndrome and only has to the end of the year to live. This is why she came back to meet Iris before she dies. Joe is unsure to tell Iris but he does. It is now up to Iris whether she wants to see her mother again.
So Jax comes to the Lab thinking that the Flash Team is going to fix his knee. They explain to him the effects of his body and what Firestorm can do if Prof Stein and Jax merge. He is totally not willing to participate and be a superhero.
Barry has investigated the shark teeth and there is no sharkman.
Joe notices that Barry and Patty have some connection with each other. Joe tells Barry to go with his feelings and explore something new.
Hewitt seems to have a bad temper and he triggers his fire mechanisms. Cisco hacked into the police records and found he has a record. Definitely not a candidate. Prof Stein's health is deteriorating and they need to convince Jax. So Caitlin goes to talk to Jax at work and tells him about Ronnie and that he can be a hero and help people. An unexpected visitor Hewitt comes looking for Caitlin and he is out of control with his powers. Back at the Lab, Jax agrees to merge just in time as Prof Stein's health fails. Cisco puts the splicer on Jax so Prof Stein and he can merge to become Firestorm. It works. Firestorm is back.
Hewitt is recharging his power at the football stadium so Flash and Firestorm go after him to prevent him hurting anyone. They need to make Hewitt angrier so he will blow his fuse and is then put in the pipeline until he quietens down.
Iris meets Francine but before she did Iris did some investigating to see if her mother was telling the truth about dying. Iris is not convinced as she has learnt her mother had a son 8 months after she walked out on Joe. Could this be Wally West who we will meet later on in episodes? Iris tells Francine to leave and be out of her life.
There is an emotional farewell as Prof Stein says goodbye to the Flash Team as he and Jax are heading to Pittsburg for some training. A parting word to Cisco, Prof Stein tells Cisco that his visions are a gift and he should embrace it.
The Flash is watching Patty in the window at Jitters when he is grabbed by Sharkman who says he has come to kill him by Zoom. Patty tries shooting him with no effect. Out of the dark comes a man wearing a hoodie who lasers him – none other than Harrison Wells from Earth2.
Variety Radio Online – – Bringing you all things Entertainment including News, Reviews and Interviews. Check out our website, like us on Facebook ,follow us on Twitter ,Tumblr and Instagram
//