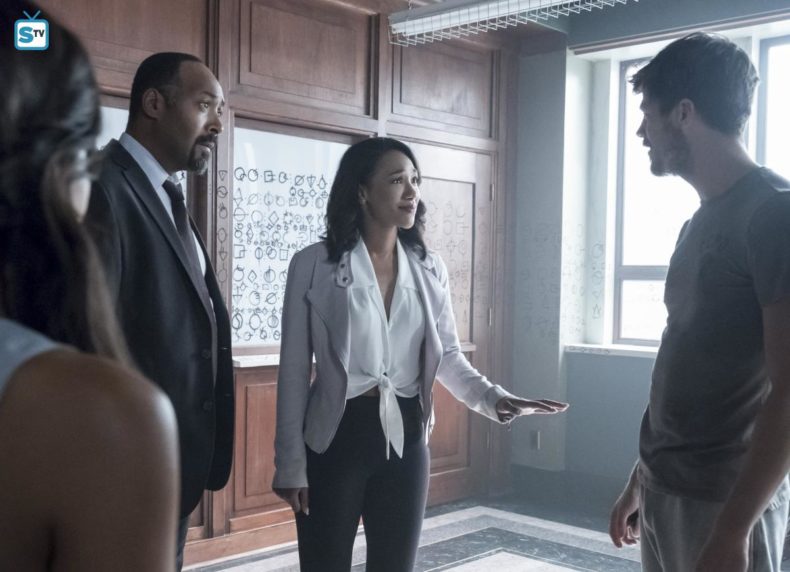 Everyone deals with grief and pain in different ways. Some shut the world out while others burry themselves in work and the like. The latter is what Iris West has been doing since Barry sent himself to the Speed Force Prison six months ago. In The Flash season premier, we get a glimpse at what the team has been up to since Barry left. They've been doing alright, but it's clear they miss their friend. Now, though, a new villain comes into town that forces them to try to bring Barry back without destroying the world.
Here's what went down in "The Flash Reborn."
The premier picks up with Kid Flash and Vibe chasing after another meta. This how they've been operating and saving the city for the last six months without Barry. Iris has been running the show while they use their powers to catch the bad guys. They've been doing pretty well, too, as the vigilantes/heroes while Barry's away. They have a 66% success rate, which doesn't seem like much, but I think it's pretty darn good considering the circumstances.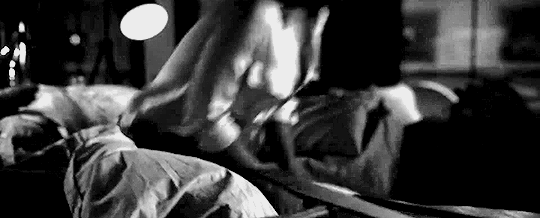 Since Barry told her to "keep running", that's what Iris has been doing. She's been burying herself in working as the leader of the group, and it shows. She's running a bit ragged. Even her father tells her maybe it's time to move on and possibly have a memorial/funeral for Barry like they did HR. As to be expected, she's against that too. Instead, she goes home and sleeps on the couch because she hasn't been able to sleep in their bed or even look at photos of them together.
When an armored and flying samurai comes in and threatens to destroy the city with his sword unless they bring him The Flash, they realize they have no other choice but to try and bring Barry back. It's then that Cisco confesses to possibly having a way to save Barry from the Speed Force without Wally or anyone having to replace him. He's been working on it since the night Barry left, but hasn't said anything because he hasn't tested it yet, and isn't 100% positive that it will actually work. Iris is 100% against the idea. Barry told them to keep moving on and she doesn't want to risk the world. So, she encourages them to try to take down the samurai another way… without Barry.
This kind of surprised and disappointed me. Here Iris is, so upset and clearly still grieving for Barry, the love of her life, yet she doesn't want to try every possible method of bringing him back? I get she doesn't want to set herself up for disappointment, but I feel like this was kind of out of character for her.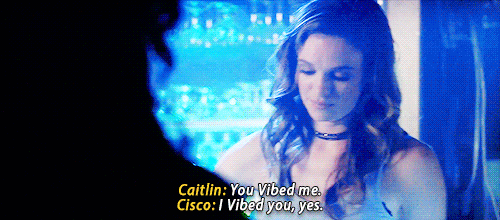 Anyways, Cisco ignores her wishes and goes ahead with his plan. He calls upon an old colleague first, though. He tracks Caitlin down at a bar… where she works. He questions the job choice, but she plays it down by changing the subject to what he wants. Cisco informs her about the samurai and his plan to bring Barry back. But he needs (and wants) her help. She agrees to help with a smile.
The next morning, Cisco and the gang (minus Iris who has no idea what they are doing) are set up at the test track. Joe questions about Iris being against the idea, but Cisco explains his decision to go forward with it. Then, Caitlin apologizes to Joe for her actions as Killer Frost, and he accepts it without hesitation. Cisco and Caitlin explain how this plan is supposed to work as they set it up. However, when they fire it up, nothing happens. At least not in front of them.
Meanwhile, somewhere downtown Barry (with a new look) zips out of a portal! Yay! Cisco's plan worked!
Back at the lab, Iris berates Cisco for going against her wishes. When Caitlin cuts in and says they were just trying to help, Iris jumps down her throat by asking where she's been for the last six months. I guess that's warranted, but Cisco doesn't think so. He's about to confront Iris for seemingly not wanting Barry back, but Joe gets a call from Cecile saying Barry has been spotted.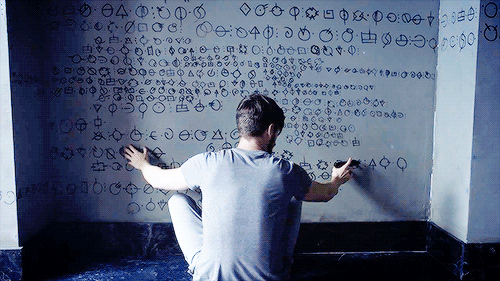 So, they all meet up with her at the station where they have Barry. But this isn't the same Barry that went into the Speed Force. His mind is scrambled. He's mumbling random thoughts. And he's scribbling symbols across the walls. The team ends up taking him back to S.T.A.R. Labs where they run some tests on him. Caitlin that depending on the time that he was in the Speed Force, Barry could have a form of dementia or something else.
Iris tries to talk to Barry in private in attempt to bring him back. She tells him how she's kept running like he told her to. She then confesses that she's done so because she feared that when she looked back, she would be reminded he was no longer there behind her. Her words seem to go in one ear and out the other, though, as he appears unmoved by them. An outburst then lands him in a cell. ☹ I miss Barry.
It doesn't take long for Iris to put matters in her own hands. She offers herself up to the samurai in hopes that it will encourage the old Barry to come back and save her. Joe runs to Barry and pleas for him to help. It works. Barry snaps out of it and races after the samurai, who is flying all over the place with Iris strapped to him. Barry runs faster than he's ever ran before and catches up to them at a wind farm where he quickly pummels the samurai and saves Iris.
As it turns out, though, the samurai was nothing but a robot! Now, the question is who's behind it?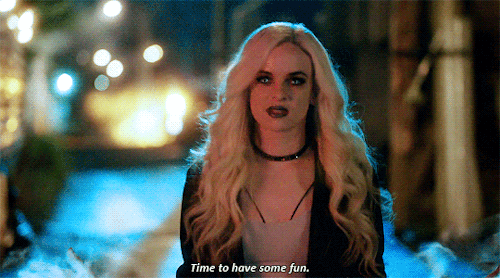 After promising Cisco that she would be back at the labs tomorrow, she returns to the bar that she's been working at. She informs Norvok (a creepy, one-eyed dude that butted into Cisco and Caitlin's conversation earlier) that she wants to quit Amunet's (whoever that is) bidding. He is quick to snub her wish. The ordeal prompts Caitlin to transform into Killer Frost! After giving him a brain freeze, she goes outside claiming she's ready to have some fun. But before she gets too far, Caitlin reappears, "No, not yet. Not again."
Iris takes Barry back to the apartment where she explains how hard things have been when he sees the couch and the turned down photo. Barry is in unusually good spirits, though. He even believes everything turned out to be a blessing. Everything that was wrong in his life before has seemingly "washed away." Now, all he can think about is their future together. Awww! 😊
In the final scene, a woman tends to another samurai bot before reporting to her boss that his plan to bring The Flash back worked. She asks what the next step in the plan is, to which he responds with, "I'm thinking."
The Flash airs Tuesdays at 8/7c on The CW!
GIF credit: knightlley, theflashcwconfessions, flashallens