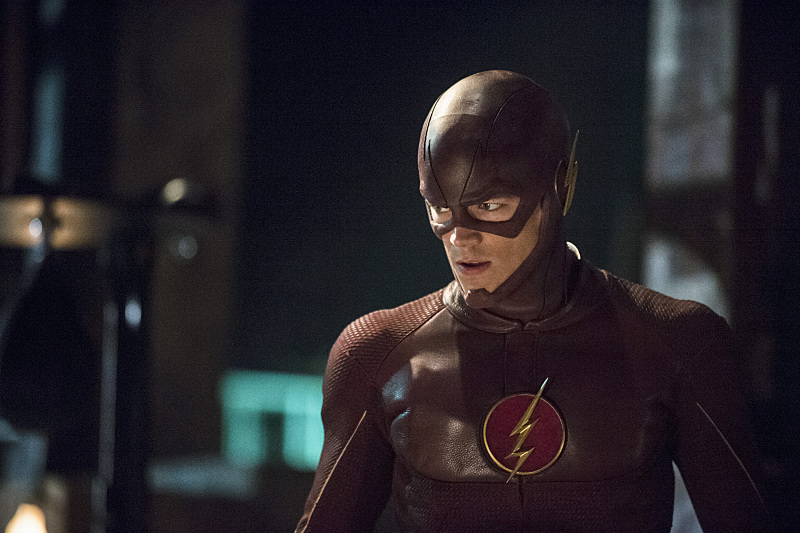 By Anna (@traveller15)
The Flash has to face a new meta-human who can turn himself into girded steel. Can he take him down?
Iris is writing her blog about the Streak that we should all believe in the impossible and thanking him for protecting the city. As she uploads the blog she is whisked away to the rooftop by the Flash and he tells her that she must stop writing about him as it will put her in danger. Iris asks for suggestions what to call him as Barry wants anything but the Streak. Flash hears sirens and whisks Iris back down to the coffee shop and on to the police pursuit.
The police are in hot pursuit of a humvee and cannot stop him. Eddie shoots him but the bullets on penetration turn his skin into metal. The Flash arrives but gets his butt kicked and almost breaks his hand on impact. Tony Woodward/Girder (Greg Finley) in a meta-human who can turn his body into solid steel.
At S.T.A.R Labs Caitlin and Cisco are calculating how many bugs Barry swallows while running when they find Barry unconscious on the floor. His hand has 13 fractures, 3 cracked ribs etc. Barry feels like he knew him which we learn he was bullied as a kid by him.
At CCPD Joe is looking at video footage of Barry as a kid in relation to his mother's murder. Barry tells Joe about the new meta-human when Joe says "the particle accelerator is the gift that keeps on giving". Joe wants Barry to work on the case with Eddie as he has questions about the impossible as to the bullets bouncing off Tony's face.
Our first flashback is where we see Barry get beat up by Tony as a kid.
Joe goes to visit Dr Wells at S.T.A.R Labs for help solving Nora Allen's murder. He describes to Dr Wells what Barry saw of a man in yellow. Joe has a theory could there be someone 14 years ago with super speed that could have killed Barry's mother. Dr Wells doesn't agree with the theory.
Also at the Lab, Cisco has a plan to train Barry karate kid style to bring down Tony with Girder. Fighting is physics, not about strength and size, it's about energy and power. Cisco wants Barry to channel his speed the right way and he can take him down.
Eddie calls Barry to advise that the stolen humvee has been found and he needs him for forensics at the scene. Eddie asks Barry if everything is ok between Iris and him as things seem a little awkward. Barry lets Eddie know that they had a fight and everything is fine.
Barry goes back to his childhood where Joe is teaching him to box. He practices with Iris but she knocks him down. Joe gives him advice that the best way is not to start a fight but if you do come up against one and know you cannot win, it is all right to run the other way.
Eddie and Barry go to an old warehouse to talk to a guy who knows Tony. He takes off, takes a strike at Barry but is caught by Eddie. Barry is getting beat up tonight.
Tony visits Iris at CC Jitters, finding her through her blog of the Streak. He wants to get to know her so he can get to the Streak.
Cisco finds out where Tony's hideout is out west at Keystone and Caitlin wants to know about Iris's blog. Oops found out.
Iris contacts the Flash to tell him about Tony and his whereabouts and that he can transform his hand into metal. She asks if he is like the Flash. The Flash speeds off to the warehouse and sees where Tony fell into the molten metal when the particle accelerator went off causing him to become meta-human. Flash is again no match for Tony and takes another beating. Cisco and Caitlin go to Flash's rescue and bring him back to S.T.A.R Labs. Dr Wells is not happy with him taking on Tony when they have not work out a plan to take him down especially as he has not the powers only speed. Cisco has worked out that Barry has to run a certain speed of 837 miles an hour and hit on impact to do damage to Tony. If he doesn't succeed Barry will shatter every bone in his body.
Eddie needs to blow off steam and gets Barry to help him while punching the punching bag. Eddie was also bullied as a kid. Eddie teaches Barry patience with boxing.
Joe has a drink with Dr Wells at a bar and theorises that if there was a particle accelerator now who made meta-humans, there must have been one 14 years ago. Dr Wells shrugs of the accusations but you get the feeling there may have been a particle accelerator back then. Joe knows that Dr Wells was in Central City back at the time Nora Allen was murdered.
Iris is at home and Tony pays her a visit. The police get the call that Iris is missing. Barry gets Cisco to track down her location. Tony takes her back to school and wants her to write about him that he is the big man on campus. He wants to go out with a showdown and then the Flash arrives. Tony wants Iris to watch as he attacks Flash. Flash is hurt and he remembers Joe telling him as a kid that it is smart to run the other way when you can't win. Flash is coming back at such high speeds with a supersonic punch on Tony to take him out. Tony doesn't stay down long and Iris gets up with a right cross and knocks him out only to break her hand. Tony wakes up in the meta-human prison.
In all of this Barry learns more on his ability with his speed.
Joe apologies to Dr Wells as he found out about his former colleague and wife, Tess Morgan, who died in a car accident. He moved to Central City about the same time of Nora Allen's murder. Joe still would like Dr Wells to help with the investigation. I feel Dr Wells knows something about that night.
Barry goes to see Iris at CC Jitters and they both apologise to each other and to renew their friendship. Iris tells Barry about the Streak and other people she is looking into with powers like Firestorm. She tells Barry that the Streak moves in the blink of an eye and Barry says "Flash" and she says "in a Flash". So the Flash is born. It's going to catch on!
Joe is going over the murder evidence at home when he is visited by the man in the yellow suit who leaves a message written on the wall "stop or else" with a photo of Iris pinned to the wall by a knife. This is a warning to Joe to stop looking as he must be getting closer to the truth. Could this be Dr Wells or maybe a reference to Professor Zoom?
Twitter: @TheVRO
Facebook: Variety Radio Online
Tumblr: Variety Radio Online