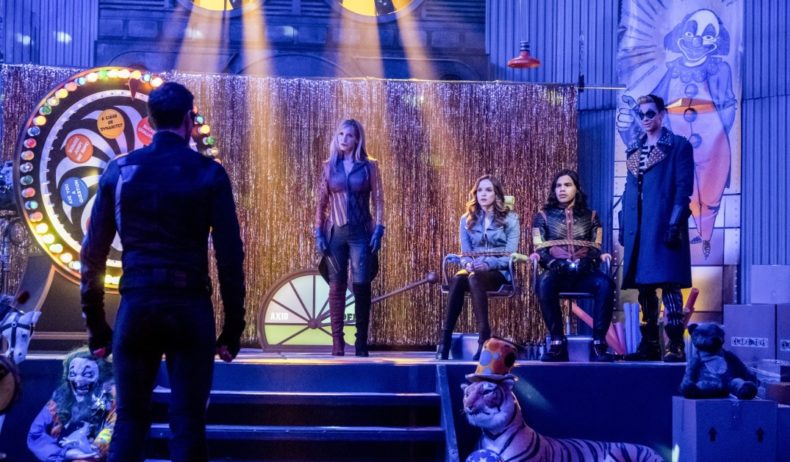 This week's episode of The Flash took a break from all the DeVoe drama to deliver us a bit of humor and sentiment. We get to see the struggle of Barry being in prison, and how it's affecting him and Iris. The main plotline of this episode, however, is Ralph Dibny coming to terms with not being as invincible as he thought since becoming a meta. It's really a breath of fresh air from Ralph's ego and DeVoe's manipulations.
Read on for some highlights.
Blending In & An Ally
So far, Barry has managed to keep his cool and blend in at Iron Heights – minding his own business, not showing off any superpowers, mopping floors, and appreciating his daily visits with Iris. They may only be able to talk to and see each other through a glass window, but it's better than nothing. Barry's also added to his dad's etch on the wall: "So was Barry" with a track of how many days.

When Barry is trying to get his workout on, a gang of fellow inmates, who seemingly have a bone to pick with Barry, start pushing him around. Things start to get heated, but Big Sir (a big dude that Barry noticed in the courtyard) helps Barry and takes the inmates out. He doesn't stick around long enough for Barry to question his generosity, though.
Later, Barry finds Big Sir and asks why he helped. Big Sir reveals that he knew Barry's dad. He was on the verge of his appendix bursting, and Henry operated on him – saving his life. So, he felt he owed it to help Barry. Now they're even. Not so fast. The gang of inmates retaliate on Big Sir not long after his and Barry's talk. Barry hears them and intervenes. He uses his speed to arrange the inmates so that they knock each other out – LOL! "Like father, like son," comments Big Sir. And so, Big Sir seems to become an ally for Barry.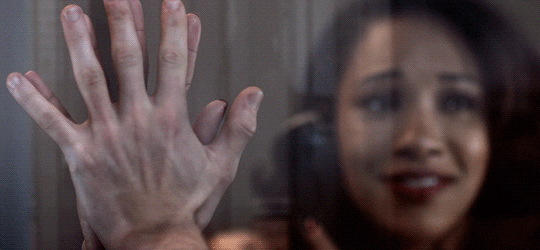 The next day when Iris visits, Barry checks the surveillance camera watching them. When it turns in a different direction, he phases his hand through the glass so that he can hold Iris'."See you tomorrow?" "Every tomorrow." AWW! My West-Allen lovin' heart. 😊
Ralph's Ego Gets Burned
Early in the episode, Ralph uses his stretchy powers to save hostages from a jewelry thief making pretty rational demands – a Porsche, a flight, and a salad. Once the hostages are safe, Ralph goes back and confuses the thief by talking a lot and taking the bomb. Yes, bomb. It's okay, though, because when the bomb detonates inside him, it merely inflates him without exploding. Ralph, still in his super suit, gets praised by the media, which only inflates his ego even more.

Team Flash reprimands him for taking such a risky move once they see it on the news. Feeling invincible, Ralph is more concerned with the superhero name the media gave him – Stretchy Man. I gotta agree, it is pretty lame, but it could be worse I guess.
Later, Axel Walker (aka Trickster Jr.), whom Barry ran into in prison, breaks out of Iron Heights with the help of his mom, Prank, and some bad pudding. His dad is nowhere to be found, though, and this only makes Axel want his attention more. So, after seeing Stretchy Man on the news, he decides he wants to kill him.
So, Trickster Jr. calls Stretchy Man out, and against the team's advice, Ralph goes. He manages to withstand the first few tricks, but his suit isn't acid resistant. Trickster squirts some super-acid on him, and it eats right through his suit and burns his skin. Cisco vibes him back – "Not today, satan!" – to the lab to get treated, and Ralph isn't quite sure what to do with himself now. They've found his Kryptonite, which he doesn't even know what that means. All he does know is he's not as invincible as he thought he was.

When Trickster and mama Prank threaten to kill hostages with the super acid unless Stretchy Man shows up, Ralph isn't up for the challenge of being a superhero anymore. He's afraid to die. Instead, he sneaks into Barry's prison cell to try to break him out, but Barry isn't for it. He gives Ralph a superhero pep talk, confessing that he's not fearless. "Having the ability to help someone, but do nothing, that is a far worse death than anything the Trickster has for you. But rising above that fear, and saving those lives, that's a greater life. So, rise up. I don't think it's a stretch for you."
The Elongated Man Saves the Day
Since Ralph chickened out of saving the hostages from Trickster Jr and Mama Prank, it's up to Cisco, Caitlin and Harry. Cisco and Harry provoke Caitlin again to get Killer Frost to come out and play. While Harry tries to come with a way to neutralize the super-acid, Frost and Cisco vibe to where Trickster Jr and Mama Prank have the hostages. Unfortunately, they get attacked by some Beebo dolls – seriously.

Trickster and Prank somehow turn Frost and Cisco into the hostages about to get drenched with super acid. Thankfully, Ralph shows up decked out in his brand-new suit courtesy of Cisco. He manages to miss Trickster's acid shots and knocks him out instead. Prank, however, pulls the lever releasing the super acid over Cisco and Frost. Putting his fear aside, Ralph stretches himself over his friends. He doesn't get burned this time, and he thinks it's because of the suit, but really, Harry managed to neutralize the acid just in time.
Stretchy Man is praised once again as Trickster Jr and Mama Prank get arrested. Still not digging the name, he starts rambling and inadvertently renames himself the Elongated Man.
The Chatty Waitress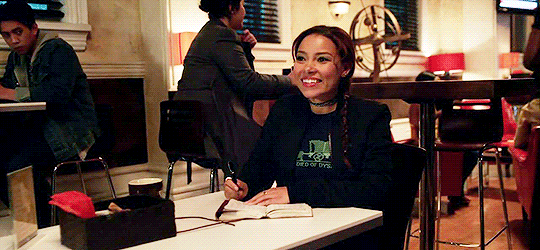 Cisco and Ralph grab celebratory coffee, but neither brought their money – Ralph's used to Barry paying, and I don't know why Cisco didn't have any. In comes the waitress from Barry and Iris' wedding, and she pays for the guys' drinks. She starts chatting away about something, leaving the guys confused before they leave. She goes back to her table and smiles as she finishes her notes in some weird symbol language. Now, I didn't notice this until after the fact, but it's the same symbols Barry used when first came out of the speed force. There's A LOT of speculation/theories going around that she's actually Barry and Iris' future daughter, Dawn Allen. The way it's playing out, it seems those theories might just be true!
The Flash airs Tuesdays at 8/7c on The CW!
GIF credit: westallengifs, westallenolicitygifs, flashallens