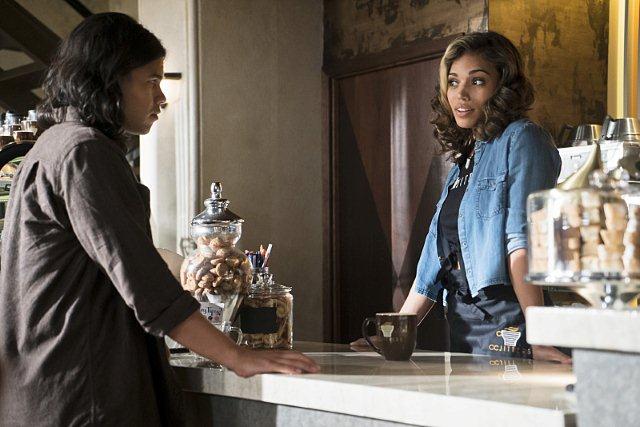 By Anna B (@traveller15)
Wells from Earth2 is trying to fix his mistake by creating Zoom and awkward date moments for Barry and Cisco.
We begin 8 months ago on Earth2 where Harrison Wells is announcing the future has arrived with metahumans who have now gotten out of hand and has created a metahuman app to detect them like Flash or Zoom. Flash zooms in and wants the truth that Wells created Zoom. So Flash2 and Earth2 do not get on. Wells has a daughter in this reality.
Back in the present at S.T.A.R Labs, Barry introduces Wells (aka Harry) to the Flash Team. Caitlin plans to run some tests on him to verify if he is not the Harrison Wells they knew. He comes to tell them how to kill Zoom. Wells has a hidden agenda as to why Barry must kill him Zoom. Joe comes to the Lab and shoots at Wells but Barry intervenes. Barry explains to Joe that this is a different Wells and is here to help them with Zoom. Joe goes to tells Iris. Wells wants a Big Belly Burger in this reverse.
At Picture News, Linda Park is being reprimanded by her editor, Larkin, for a story on a sports player's domestic abuse. Joe tells Iris about Wells and he gives her a gun for protection. Joe tells her "you can't kill someone who is already dead".
Barry and Cisco go to Jitters. Patty over hears them talking about time travel. Patty asks Barry to help her write her police report for which is turns her down. Cisco tells Barry he has to ask Patty out and be bold. So he makes his move on the new barista, Kendra Saunders (Clara Renee – who will become Hawkgirl in Legends of Tomorrow) and when she asks what Cisco would like he says "No, I don't want coffee. You know what I do want though? I want to ask you this, you want to go out with me". Unfortunately, Kendra says "no". As Cisco walks away disappointed he gets one of his visions that another breacher is robbing Central City Bank. So he tells Barry to flash out.
At Central City Bank the Flash meets Dr Light who is a metahuman who can drive power from star light and has come to kill Barry. Harry wants to capture Dr Light and lure Zoom to the Lab. Jay and Harry are at heads with each other about Dr Light and Zoom.
Back at CCPD Barry bumps into Patty and asks her out for dinner.
Harry takes over Cisco's lab to his annoyance. Will Cisco be able to work with Harry to defeat Zoom?
Dr Light is back at the bank to rob it so she can skip town. Flash goes to talk to her but she reveals she is a doppelganger of Linda Park. She gets nervous and bolts light at the Flash and now he is temporarily blinded as his retinas have been severely burnt. Jay and Caitlin go off to check on Linda Park. While on stakeout at Picture News they talk about places visited and almost kiss. Caitlin is becoming attracted to Jay but is interrupted by Dr Light who blows up the van. Dr Light orders everyone out of Picture News so she can take Linda's life. Iris tries to protect her by shooting at her. Dr Light accidentally kills Larkin and leaves without her mask.
Barry's date with Patty doesn't start off so well being blind. He wears sunglasses to dinner which Cisco has placed a camera on to guide him through the evening. How embarrassing having Cisco along on his first date. The date is successful and Barry and Patty share a couple of kisses.
Harry and Jay argue over Zoom. Harry believes Jay is a coward but Barry is the one defeat Zoom as he is not afraid to run from it. A fight breaks out between them. Tests are to be done on the mask which Cisco can do. Harry detects on his watch for metahumans that Cisco is one and can see visions. Cisco touches the mask but does not get a vision but when Harry puts it on his chest there is a vision of her at the train station. Can the Flash stop Dr Light by creating multiple copies of himself with a speed mirage? Flash knocks her out and she is locked up in the pipeline.
So Barry has decided that being afraid is not an option like he was with Reverse Flash, he is going to fight Zoom and do it with the help of his Flash Team. Jay won't help him as he doesn't want to watch Barry get killed and doesn't trust Wells2.
Barry, Caitlin and Cisco go for coffee at Jitters. While Cisco orders the coffee Kendra, to Cisco's surprise gives him her number. Caitlin says now that Cisco is a metahuman he needs a cool name something that really sings "Vibe". Wells watches them from the window.
We end tonight's episode back on Earth2 where Zoom has kidnapped Wells daughter. So obviously there is another motive for him to be rid of Zoom!
Variety Radio Online – – Bringing you all things Entertainment including News, Reviews and Interviews. Check out our website, like us on Facebook ,follow us on Twitter ,Tumblr and Instagram
//