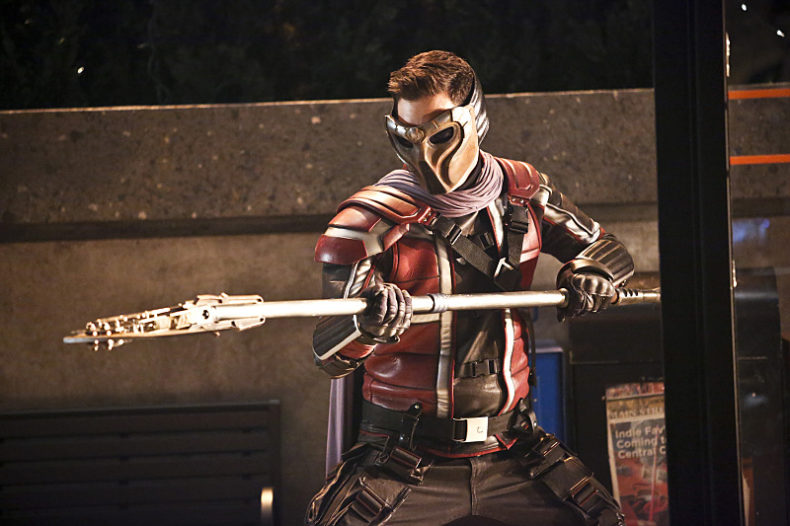 Zoom is back on Earth1 and wants to take over Central City. Barry will take a risk to get his speed back to stop Zoom with Harry rebuilding the particle accelerator.
As Barry has lost his speed and Central City needs to know that The Flash is still fighting crime, Cisco uses a hologram of The Flash and his gaming skills to stop criminals. This enables the police to actually catch the criminals. Harry says the only way to get Barry's speed back is to rebuild the particle accelerator. Harry believes that with his knowledge and Harrison Well's files he can recreate the circumstances to get Barry's speed back.
Barry pays a visit to his dad, Henry Allen, at his cabin where he tells him he has lost his speed to save Wally and that Jay is Zoom. Henry says that his mother's maiden name was "Garrick". Could there be a connection with the family and Zoom? Barry brings Henry back to S.T.A.R Labs where the Team is and tells them Henry plans to stick around for good now to be with his son.
Cisco vibes and sees his brother, Dante. Cisco meets Dante at a bar to see if he is ok.
Wally is pondering over his life that he wants to help people. Zoom arrives at CCPD with Caitlin and tells the police department that the city is now his and anyone that tries to stop him will meet their end. Caitlin manages to talk Zoom out of killing all the police and they manage to escape taking over Jitters as their headquarters. Meanwhile, Jay handcuffs Caitlin to a desk. Jay doesn't want to be alone anymore and will save Caitlin. Jay tells Caitlin that he has seen the darkness within her just like Killer Frost and for her to unlock it.
To keep Jesse and Wally safe they are being held in the time vault with provisions at S.T.A.R Labs. Harry continues to work on the formula to rebuild the particle accelerator. Henry is totally against Barry getting struck by lightning. The decision is Barry's alone whether he takes the risk.
When Cisco and Dante leave the bar they are met with a reaper who wants revenge on Cisco for killing his brother Reverb who was actually killed by Zoom. He is called Rupture, a meta-human from Earth2. Rupture is the doppelganger of Dante.
Barry struggles with his decision and decides that the particle accelerator is not the way to go. Iris finally admits that she believes that the two of them should be together if he is the Flash or not.
Back at CCPD, Rupture meets with Zoom and is told to kill the police. Caitlin finds a cell phone and makes an emergency call to the Lab advising of Zoom's plans to attack Jitters. Rupture attacks Jitters and the police prepare themselves to attack. Cisco sets up the hologram to show the Flash and the police apprehend Rupture. Zoom finds out that Caitlin betrayed him and takes it upon him to kill all the police plus killing Rupture. Zoom tells the media that the Flash is only a hologram and nobody will protect the city from him.
Dante confronts Cisco about why he went to Earth2 as he read a letter to him if he did not return from that mission. Cisco tells Dante that he has powers as a meta-human that can vibe and sees visions. Cisco wants things to change between Dante and him and they become closer. This episode has brought the two brothers closer.
Wally is determined to get out of the time vault and with the help of Jesse they open the chamber door.
Harry begs the Team that they need the particle accelerator explosion to stop Zoom. Barry agrees to do it so he can protect the city and so no-one else will die. He needs to be the Flash as this is the best person he is with his speed. So they plan to create a lightning storm so it will hit the particle accelerator exploding and recreating the same night as Barry was hit by lightning. Because Wally and Jesse left the chamber they are hit by the explosion. Barry disappears leaving only a trace of his suit behind. Zoom appears at the Lab telling them they were unsuccessful and instead killing Barry. So did Barry die and what will become of Wally and Jesse? Will they become meta-humans?
Variety Radio Online – – Bringing you all things Entertainment including News, Reviews and Interviews. Check out our website, like us on Facebook ,follow us on Twitter ,Tumblr and Instagram
//