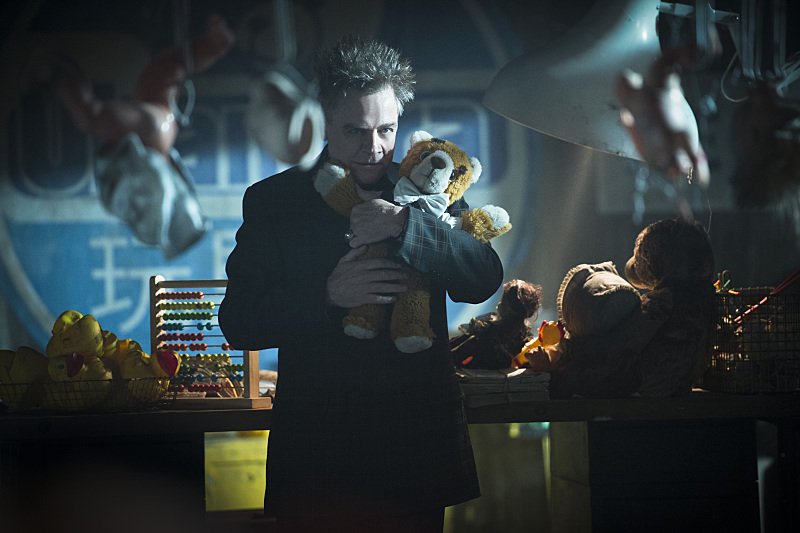 By Anna B (@traveller15)
The Weather Wizard is back to free The Trickster and Captain Cold from Iron Heights for Christmas shenanigans and we meet Wally West.
This is the midseason finale. Harrison Wells is running from Zoom who catches up to him and almost strangles him. Zoom lets him go and says "Merry Christmas".
Its Christmas time in Central City, the snow is falling and everyone is trying to think of gifts to give each other. It's a family time and romance is in the air.
Iris visits Barry at the station and interrupts Barry and Patty in a romantic moment. Iris goes to him upset and tells him that she has a brother and Joe has a son named Wally West. It's eating her up that she is keeping a secret from her dad and she must tell him.
At S.T.A.R Labs, Caitlin and Jay and working together on how to close the breaches. There is a lot of flirting between the two of them and Cisco is finding it out to witness telling them to just kiss.
After Mark Mardon aka Weather Wizard (Liam McIntyre) sees The Flash being humiliated by Zoom, he figures it will be easy to kill him. He still has reservations about doing it on his own so decides to breakout James Jesse aka the Trickster (Mark Hamill) and Leonard Snart aka Captain Cold (Wentworth Miller) from Iron Heights. Snart is reluctant to join in on the plan.
Of course, Mardon killed Patty's father so she is having a difficult time and wants revenge on him.
At S.T.A.R Labs the Flash Team strategize how to stop Mardon. Cisco comes up with the idea of a weather wand which he already developed before back before the timeline was erased.
Back at CCPD Barry and Iris meet with Joe to tell him that he has a son, Wally West. Joe is shattered with the news. Barry and Iris then head home only to be greeted by Snart. Snart has come to warn Barry that Mardon wants revenge and the Trickster is crazy onboard to kill him. Snart doesn't want to be recruited. Barry tells him that it is honor that he came and warned him but Snart says he is not a hero but of course Barry reiterates that he is doing a lousy job of being a villain. Are the tables turning for Snart so he can be a hero on Legends of Tomorrow?
Barry finds Joe at the pipeline. Joe blames himself for not knowing that he had a son and should of found Francine when she left. But it was too hard for him to go after her because of her drinking, he had had enough and it was easier to say she was dead.
The Trickster streamlines on television and calls out the Flash. The Flash Team finds his location at an old toy warehouse. Patty has already found the location through a reflection of the Trickster's eye with a Mr Jiggle Wiggle toy her father gave her. She is met there by the Flash. The Trickster have them both surrounded by toy bombs, it is a trap for The Flash.
Trickster posing as Santa Clause has been randomly handing out over 100 boxes to children which hold a bomb. Weather Wizard lures the Flash out and gives him an ultimatum that if he lets him end him very publicly and painfully he will spare the children. So the Flash Team must frantically find a way to save Barry.
Harry says if they only find one bomb they can stop all the bombs before Mardon can kill Barry. They plan to put a bomb on a drone and put it through the breach having the rest of the bombs magnetic force follow each other. They don't have much time before the Trickster and Mardon finish the Flash off. Once the bombs are disposed of, Barry is able to stop the two of them. Patty arrives for revenge to kill Mardon. The Flash talks her out of it. So the Trickster and Mardon are back in Iron Heights.
Harry has been acting strange and we learn that Zoom has offered him his daughter for the Flash and has given him one more day to decide.
Joe has come to terms of having a son. The family watch he wears he gives to Barry as he has always thought as him as his son. Barry reflects on Harrison Wells for what he did to him and forgives him. Harry doesn't want to join the West family for Christmas drinks as cannot celebrate without his daughter.
The tree is being decorated, the mistletoe is being hung and Jay and Caitlin kiss under it. Patty arrives and is ready now to tell Barry about Mardon. There is a knock on the door, Joe opens it and his son, Wally, is at the door. He is welcomed into the house.
Harry meets Zoom and has worked out that Zoom wants Barry to get faster and stronger with speedforce so he can take it. Zoom blackmails Harry to hand over Barry's speed so that he can get back his daughter. So Harry will be no better than the Harrison Wells from Earth1.
The Flash returns on January 19, 2016.
Variety Radio Online – – Bringing you all things Entertainment including News, Reviews and Interviews. Check out our website, like us on Facebook ,follow us on Twitter ,Tumblr and Instagram
//