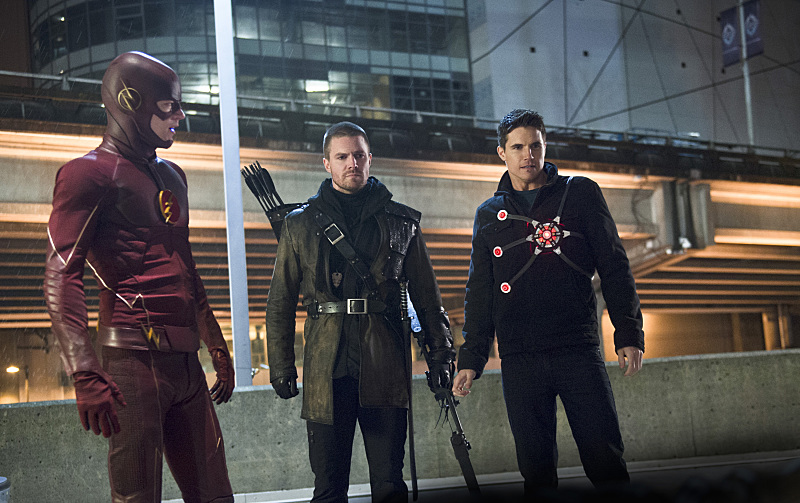 By Anna (@traveller15)
Barry is trying to stay ahead of Wells and decides to move the meta-humans from their cells but needs some help from some old friends.
We begin with Wells telling us to take a moment to think of all the things that define our lives, all the people you love, your job, your co-workers, your home and now imagine that one day in a flash it vanished. Would you accept your new life or take whatever it takes to get back what was taken from you. Wells wants everything back that was taken from him.
Barry meets Iris at Jitters where he tells her that he will find Eddie. Barry gets a call from Cisco and heads to S.T.A.R Labs.
At the Lab Cisco has been messing around with Wells' wheelchair. If Wells can walk why does he want a wheelchair? The wheelchair has a power battery source attached to it which is actually charging Wells so he can gain speed. The particle accelerator was suddenly activated to begin powering up. The Team now believe that Wells was hiding out in the Lab all this time. Joe and Cisco go and investigate the pipeline. Cisco takes his soda along cause if the Reverse Flash is in the vicinity it will float in the air. They enter the pipeline and the Reverse Flash speeds out with Barry chasing after him but he gets away. A prisoner is released, Peek-a-Boo and locks Joe and Cisco in. Peek-a-Boo goes after Caitlin to kill her, but Iris arrives and hits her over the head. They manage to lock her back in her cell.
Joe hears a cry for help in the pipeline. So Joe and Iris find Eddie who is in a bad way. Iris finds on the floor the wedding ring that Eddie was planning to give to her. Eddie tells the Team that he and Wells were family and that Wells' real name was Eobard Thawne. Eddie says that Wells was developing a futuristic tube which is the key to getting everything that was taken from him and will power up the particle accelerator.
Cisco gets an alert and finds the tube which is powering up the particle accelerator. If the particle accelerator is turned on while the meta-humans are held prisoner in the pipeline they will be killed. Barry says the meta-humans need to be moved and the option is Lian Yu. The ARGUS prison built on it where Oliver Queen keeps his worse criminals locked up. Joe wonders how they will transfer the meta-humans to Oliver's own private Alcatraz. Joe and Caitlin tell Barry that this is a bad idea. Barry tries to contact Oliver.
Joe heads back to CCPD where he asks for help from the DA in transferring the meta-humans. Joe needs a route to be cleared through the city so they can be moved. She won't agree to help. Barry lets Joe know that Oliver is on Nanda Parbat but Lyla, Diggle's wife arranged with ARGUS a transfer plane. How are they going to get the meta-humans moved?
So Barry decides to go and seek help from Snart (Captain Cold) for help to transfer the 5 meta-humans being Deathbolt, Rainbow Raider, Peek-a-Boo, Weather Wizard and The Mist. The idea would be to freeze them with the Cold Gun. Barry threatens Snart that if he doesn't help there will be no Central City for him to love and for him to rob anymore. There will be a price for Snart to help Barry.
Eddie heads back to work. Iris needs to talk to him about their life together. She shows him the wedding ring she found. Eddie tells Iris that he doesn't want to propose to her anymore that Wells showed him the future and that they don't get married and it is her and Barry that do.
They have 16 hours until the particle accelerator is activated. Snart shows up at the Lab and in return for his help he wants his finger prints, dental records, criminal records etc destroyed. Joe is against this. Barry is losing it as he can't be one step of Wells as he is not fast enough where Wells is a thousand times more. For now if Barry cannot catch Wells, he will not let the meta-humans die which Wells created.
The Flash heads to CCPD and erases all traces of Lenard Snart. Unbeknown to Barry, Snart has his sister, Lisa, join them all as partners. They all head back to the Lab. Lisa calls Caitlin uptight. She doesn't like it. Snart says he is a man of his word. Do we really trust him? If Snart isn't true to his word, Joe will have him on the plane to Lian Yuan as well. Lisa tries to come on to Cisco and constantly flirts with him.
To transfer the meta-humans Cisco borrowed a cooler truck from his uncle and fitted it out with Well's power source to weaken the meta-humans. Lisa will drive the truck and Cisco will go along with her. Snart freezes the meta-humans to unconscious, they are loaded on the truck and head to Ferris Airport. The meta-humans are awakened and are getting their powers back. The ARGUS plane crashes after Marden/Weather Wizard causes a storm. The meta-humans are escaping. Barry can't contain them. Snart intervened and sabotaged the truck so he would have the meta-humans owe him and be part of his rogues for freeing them. Snart's word is worthless. Lisa asks Cisco to give her a name in which he calls her Golden Glider.
Back at S.T.A.R Labs they regroup. Joe told Barry that it wouldn't work. Barry thought he could do things like the Arrow. The time has come the particle accelerator is fully charged and ready.
Iris confronts Eddie at CCPD and says she believes we all chose our own destiny and Eddie shouldn't believe Wells in the future. Eddie says it won't work as there are three people in the relationship with Barry. He wants the relationship over, breakups with Iris and walks away.
Wells returns to S.T.A.R Labs and Barry heads outside to confront him. Wells says he isn't the villain, he is only setting things in motion to enable him to get back home. We have a surprise visit from FIRESTORM and the Arrow to help the Flash bring down Wells. Arrow releases an arrow into Wells full of Nano bytes which will disable the Reverse Flash's speed. There is a fight between them all. They finally disable Wells. Arrow says to Barry he may need a favour from him which he no doubt needs to save Starling City in Arrow's season finale. Unfortunately, the two shows Arrow and the Flash are not in sync.
With Reverse Flash defeated what is next for Barry. Can he now save his mother and reverse time? The season finale is next.
Twitter: @TheVRO
Facebook: Variety Radio Online
Tumblr: Variety Radio Online