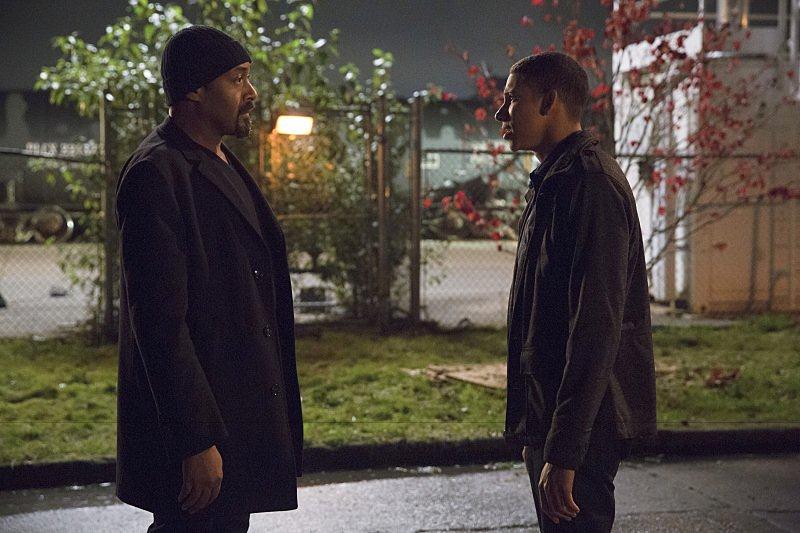 By Anna B (@traveller15)
The Flash is back to begin midseason with Joe and Iris trying to get better acquainted with Wally plus Barry feels its time in his relationship with Patty to tell her the truth that he is the Flash.
Barry is on a date with Patty having a wonderful time when suddenly Patty is whizzed away by Zoom and thrown off a rooftop. Zoom wants to take everything from the Flash. Barry wakes, it was a nightmare.
Joe and Iris give Wally West (Keiynan Lonsdale ) a tour of the precinct. Wally seems to have a chip on his shoulders about Joe not finding his son sooner.
Patty has a heart to heart with Iris telling her that he is having dreams and is guarded. Iris tells Patty to talk to Barry about why he is so guarded as he has a habit of carrying the weight of the world on his shoulders.
At S.T.A.R Labs, Harry is trying to work out a way to make Barry faster whereas Cisco wants to try another way and find a solution to make Zoom slower and steal his speed using the Turtle. He is a metahuman who can slow time in which Cisco has been tracking for months. All they need to do is locate and capture the Turtle. The Turtle goes after the Vandervord family ring but the Flash is unable to stop him. Apparently, the Turtle steals people's kinetic energy and turns it into potential energy to slow them down.
Patty tries to talk to Barry to see if he is ok. He smooths things over by suggesting a romantic night.
The West's plan a family dinner to get to know Wally but he is a no-show. Iris mentions to Barry that Patty talked to her and that he is guarded. Iris suggests Barry tells Patty that he is the Flash.
The Flash Team come up with the next heist the Turtle will be at being the Central City Museum hosting a crystal ball showing a painting. One small problem, so Barry doesn't have to cancel his date with Patty, he invites her to the Museum. He tells the Flash Team that he is going to tell her that he is the Flash. Harry is against the idea cause if Zoom finds out who is loves and lives for he will take them away from you. Harry is acting strangely as Zoom has his daughter and is blackmailing him to helping him take the Flash's speed from him to get his daughter back. Jay seems down as he can't get his speed back to help. Caitlin wants to help him but he has given up.
At the Museum Barry, Caitlin and Jay are waiting for Turtle to show up. While in the van, Cisco and Harry are doing surveillance. Harry is on edge and tells Cisco the story back on Earth2 when Zoom killed 14 police officers in a flash of blue lightning zooming about. He kept one alive to tell the story but later killed him. That's where Zoom got his name. Cisco offers to Vibe to see if Harry's daughter is alive.
Patty arrives at the event. Barry dances with Patty and attempts to tell her that he is the Flash but gets interrupted when he spots the Turtle stealing the painting. Patty pulls her gun on the Turtle but he uses his powers to stop her and grab her gun. The Turtle shoots a chandelier to the ground and the Flash races to prevent it from landing on Patty. In doing so he gets knocked out. Luckily Jay and Caitlin carry him out before Patty comes to leaving her wondering why Barry deserted her.
It's a romantic night for this entire episode. Jay has champagne for Caitlin seeming she missed out at the event. Caitlin does a DNA test on Jay from beaker he drunk from and learns that he is sick. The only way to cure him is for Jay to get his speed back and stop Zoom. Caitlin is getting close to Jay and she doesn't want to deal with losing another person she cares for like before.
At Patty's apartment, Barry visits to apologies to her after leaving her at the museum. Patty gives Barry an ultimatum where he wants their relationship to go.
Wally West is drag racing and wins a car. He does this so he can make money for his mother's medical expenses. Joe finds him and acts like a parent and a cop saying it is illegal to drag race. Wally says he can take care of himself and his mother and doesn't need a father in his life that was never there in the first place.
Patty gets a surprise visitor from the Turtle at her apartment and kidnaps her. Barry goes back to Patty's apartment and finds her missing. The Turtle wants to take away the things that value to others because his wife left him. He killed her. So now he wants to hurt the Flash and kill Patty.
At S.T.A.R Labs the Flash Team strategize where the Turtle's location is but they haven't been able to work out how to neutralize his powers. The Flash races off to the Library where Patty is held and he will only be able to save her between each of the Turtle's pulses to grab her. The Flash manages to get past the Turtle and knock him out and rescue a very upset Patty. So the Turtle gets locked up in the Pipeline.
Back at the West home, Wally visits to collect his sweater before returning back to Keystone. Joe makes a suggestion that he won't push being a dad on to Wally and they take things slow getting to know each other. So Wally stays for dinner.
Barry finally opens up to Patty to tells her about him when she springs on him that she is living Central City to be CSI and has now been accepted at the Forensic Science Program at Midway City University. She breaks up with Barry.
Harry makes a video to his daughter, Jesse, about their visit to the Planetarium when she went missing and things he would do to find her no matter what unspeakable things. While he is telling this story, Harry goes to the Pipeline and kills Turtle.
Somewhere on Earth1, the Reverse-Flash jumps from the future (aka Thawne) clueless of where he is and asks Gideon where he is.
Variety Radio Online – – Bringing you all things Entertainment including News, Reviews and Interviews. Check out our website, like us on Facebook ,follow us on Twitter ,Tumblr and Instagram
//