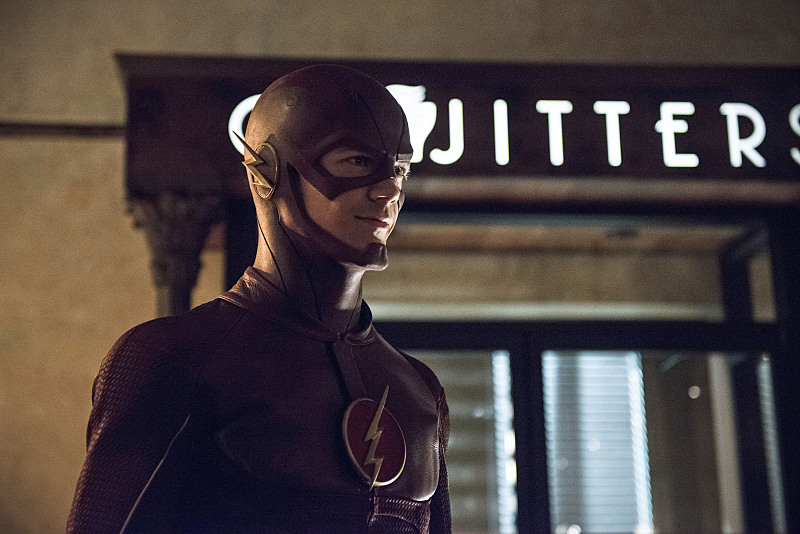 By Anna (@traveller15)
Barry helps a meta-human deal with her explosive abilities and Iris persistent on finding out who the Red Streak is, causes Barry to reconsider their friendship.
We begin this week with Barry, Cisco, Caitlin, Iris and Eddie enjoying a night out. Barry is a little jealous of Iris so starts drinking. Barry learns he can't get drunk because of his hyper metabolism which makes him feel like his drinking days are over at 25 years old. Cisco and Caitlin are fascinated with this.
A woman is stealing files in a building only to get caught by the security guard. On escaping she sets off an explosive device in her backpack. Barry overhears Eddie's police call and rushes off to help. A window cleaner was knocked off from his cleaning the windows and is dangling from the building. So the Flash wants to run up the side of the building to rescue him. Caitlin says to run really fast but to maintain his velocity on the way down or splat. Flash rescues the person. Iris watches down below and comes face to face with the Flash. The Flash vibrates his face so Iris will not recognize him.
The next morning Barry, Joe and Eddie go to investigate the crime scene and cannot work out the type of explosive. Barry does find out that a file is missing from the office.
The army headed by General Wade Eiling (Clancy Brown) who is the head of a black ops team takes over the investigation of the bombing from CCPD who is pursuing the woman. Joe is reluctant to hand over the evidence but Barry holds back on the empty file.
Joe learns that Iris is attending every crime scene and she tells her dad that she goes to see the Streak to enable her to write her blog. Joe tries to deny that there is such a person.
Dr Wells knows of Eiling from when he contracted S.T.A.R Labs for gene therapy for soldiers. Eiling wanted to develop mind reading capabilities for interrogation. Cisco finds out that the file is on Bette Sans Souci who will be known as Plastique (Kelly Frye). She is a meta-human who was exposed to the energy released by S.T.A.R Labs and has the ability to explode things on her touch.
The Flash goes to pay a visit to Sans Souci. When she touches him on the chest it sends a trigger for an explosion. The Flash speeds off and there is an explosion with Barry losing his suit and left only wearing his briefs. Cisco and Caitlin cannot contact Barry and start to worry. Barry arrives back at S.T.A.R Labs without his suit. Cisco is not happy that his suit is blown up. Joe turns up at S.T.A.R Labs where he tells the team that Eiling didn't want anyone to know what Sans Souci can do and that he wants her as a human weapon.
Joe is concerned that Iris knows about the Streak and is writing a blog and wants Barry to be more convincing to have her stop looking into the Streak. So Barry goes off to talk to Iris.
Cisco locates Sans Souci who is going to see a Dr Hadley, the military surgeon who performed several procedures on her. She wants revenge for what he and Eiling did to her. Eiling has arrived and is after her but the Flash rescues her in time.
Barry takes Sans Souci back to S.T.A.R Labs. She is given gloves so her touch won't blow anything up. Cisco is smitten with her. The team want to study her. Caitlin sees that Sans Souci is injured and discovers that she has a tracker in her wound. Eiling has arrived at the Lab. Dr Wells protects her from Eiling.
Barry tells Sans Souci that he has learnt to use his powers and wouldn't want them reversed as a friend once said he was chosen for his speed, plus he wants to help people.
Joe phones Barry to tell him that his talk with Iris was unsuccessful and she is still posting on her blog and has now put her name to it. She may now have put herself in damage as any meta-humans out there might target her for information on the Streak. So the Flash goes to pay Iris a visit at CC Jitters. Using a voice vibrator for identity he tells her to stop writing about him. She has so many questions she wants to ask about him. Iris tells the Flash about Barry as a child that he believed in the impossible but that he has lost his faith but the Flash is living proof. She would like him to help her friend (Barry).
Back at S.T.A.R Labs Dr Wells tells Sans Souci that they can't reverse the effects. Barry wants her to join the Team as she doesn't belong in the 'pipeline' (the prison) but she is an explosive risk.
Barry finds Joe back at his lab at CCPD going over his mother's case. Barry tells Joe that Iris is writing about the Streak for him to prove that the 'impossible' is 'possible'. Joe just wants to keep Iris safe. Barry wants to tell her about him as he keeps nothing from her except Joe points out that he knows he is in love with her.
Dr Wells tells Sans Souci that he would give anything to get back what he lost in the explosion, his legs, and she should too. Dr Wells convinces her to kill Eiling as a last mission. She goes to confront Eiling and blows up his men. The Flash arrives to stop her, but Eiling kills her. She is glowing and is going to detonate. He suggests can he run on water to drop her in the ocean and then outrun the blast to survive.
Barry goes to talk to Iris at her home. He tells Iris to stop writing the blog as it is dangerous and he doesn't want to see a friend hurt. He tells her by lying to her that he has put everything behind him with his mother's murder and she wants her to as well. Iris wants the rest of the world to know who the Streak is. So Barry decides it better that the both of them don't see each other for some time.
Barry goes to a bar to drink which has no effect on him. Cisco and Caitlin find him and she has invented a highly potent fermented 500 proof shot of alcohol for him which buzzes him for a split second.
We learn that some friendships will last forever and others end far too soon. Not every friendship is meant to last a life time but what does last forever is the pain when that person is kind.
Dr Wells is paid a visit by Eiling at S.T.A.R Labs. Eiling wants to start working together again with Dr Wells as he has learnt that the night of the explosion the impossible was borne. Dr Wells blackmails him about his inhuman activities to stop him from threatening him.
We flashback 5 years ago with Wells and Eiling and that Wells will not experiment anymore on their test subject. It is a gorilla named Grodd in which Wells says he has bigger plans for him. What does Dr Wells have planned for him in the future as Grodd will be one of Flash's enemies?
Twitter: @TheVRO
Facebook: Variety Radio Online
Tumblr: Variety Radio Online