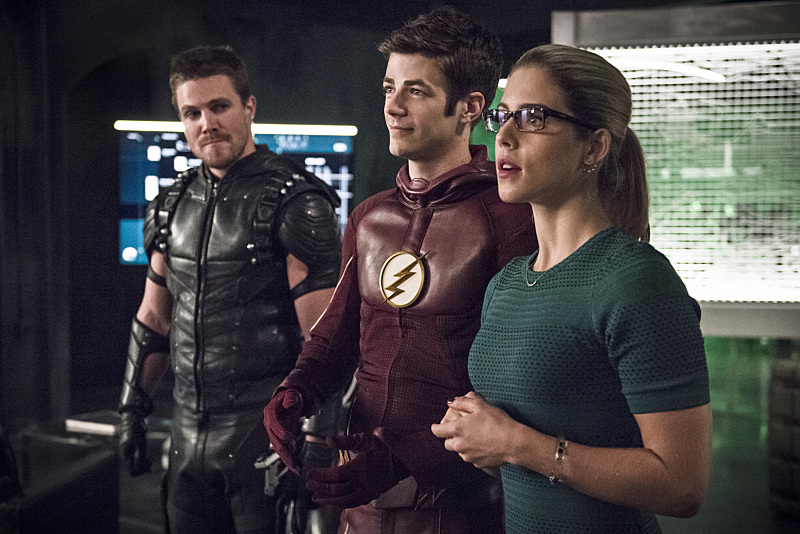 By Anna B (@traveller15)
This is a crossover of Flash and Arrow and bringing our first glimpse of Hawkgirl and Hawkman from Legends of Tomorrow.
Vandal Savage (Casper Crump) has come to Central City and attacks Kendra Saunders aka Hawkgirl (Ciara Renee) and Cisco. Kendra is not safe in Central City so Barry takes her to Star City for help by the Arrow Team. Unfortunately, it gets worse once arriving in Star City when Carter Hall aka Hawkman (Falk Hentschel) flies off with Kendra.
Barry is trying to increase his speed so he can defeat Zoom with the help of Caitlin and now with Harry.
Down at the docks a cargo ship just docked carrying a stowaway who the captain has handcuffed. The stowaway had concealed on him 32 different knives in his coat which when he frees himself ises them to slaughter the captain and all the crew. He says he is now closer to his hunt to begin another sacrifice.
At CCPD Joe, Barry and Patty are going over photos of the crime scene.
Cisco has been dating Kendra for a few weeks and while they are after hours dinner at Jitters they are interrupted by Savage. He has come for Kendra who he calls Priestess Chay-Ara. Cisco puts out a distress signal to Barry. Just has Savage throws a knife at Cisco, Barry shows up and saves him from a knife in the chest. A relieved Cisco accidentally thanks "Barry" giving his identity away to Kendra. Kendra has no memory of this guy. As Barry senses this person has mystical powers, he decides to enable protection for Kendra they need to go to Star City for help from Team Arrow.
At Star City Darhk and his Ghosts are stealing a chemical bomb from ARGUS. The Arrow Team arrives and Green Arrow using a magnetic arrow disables the guns from the Ghosts. The Arrow Team still cannot defeat the Ghosts. Just as Darhk is about to drain the life out of Green Arrow, the Flash rushes in and saves him. Thea is shocked "it's the Flash, did we know we knew the Flash".
The Arrow Team head back to the new lair with Barry. Barry just noticed that Oliver has no sleeves in his suit "don't you get cold" Oliver "no I spent the better part of 5 years on an island, I don't get cold". Cisco and Kendra have arrived and everyone is introduced to each other. Barry gives Felicity a sketch of the man after Kendra and she begins a facial recognition who comes up with someone like him from 1975. Oliver gets defensive as to why this person wants to find Kendra. Felicity in a calm manner invites everyone back to the Loft for drinks.
Back at S.T.A.R Labs, Harry is working on a formula to increase speedsters which he was working on when Zoom turned up on Earth2 to help Jay Garrett. So Caitlin and Harry work on the formula.
At the Loft the Arrow Team, Barry, Cisco and Kendra are enjoying drinks. Cisco wants to change Thea's nickname but she is adamant she is keeping Speedy. Oliver tells Barry that he is really happy being with Felicity, that she gives him a real sense of peace. Oliver proposes a toast that he wished it wasn't the dark times bringing them together but Barry says it is those friends that make those dark times worth having. Cisco now tells Barry about his Vibe of Kendra that she has wings which may be related. Savage crashes through the window of the Loft releasing his knives to kill each of them. Barry saves them and Oliver shoots arrows eventually getting the upper hand and Thea puts a final arrow through his chest with Savage falling to the ground. Unfortunately, when Oliver and Barry look to the ground there is no body.
They all head to the lair. The lights black out and surprise Merlyn and some of his men pay them a visit. Merlyn tells them that the man they are looking for is Randall Savage who is an immortal. Kendra storms out with Cisco chasing after her. A hawkman swoops down and carries Kendra away.
Meanwhile, Caitlin and Harry work on the temporary speed formula called "Velocity-6". Harry wants to trial the formula on Jay before it is used on Barry. Jay says the formula should not be used on Barry.
The Team search for Kendra. Hawkman lands on a roof with Kendra. He is Khufu. She starts to have flashback memories of her love with him. Green Arrow and Flash go after Hawkman and disable him taking him back to the lair. He is chained up. He explains that Kendra is Priestess Chay-Ara and he is Prince Khufu and they are lovers reincarnated in each life time. Savage hunts them down and has killed them both over 206 times. Vandal Savage is immortal and his life force is tethered to Kendra and Carter and he becomes more powerful each time he kills them.
Merlyn informs the Team that Savage has left the city and believes he has gone after the Staff of Horus which is an ancient and powerful weapon. Kendra needs to merge with Carter. Kendra jumps off a roof but does not merge. Oliver figures out that Kendra was drawn to Central City and that is where the Staff of Horus. So Barry and Oliver go to Central City before Savage can find it.
Patty sees Harry enter S.T.A.R Labs whom she believes is Harrison Wells and who is supposed to be dead. She follows him into the Lab and confronts him and shoots him. Patty calls Joe who in turn calls Jay. Patty is going to have questions for Joe as to why Harrison Wells' is alive. They need to get the bullet out of Harry's chest. They use Velocity-6 on Jay to give him temporary speed to phase through Harry's chest to remove the bullet. The bullet is removed and Harry is saved. Jay does not want Barry to take the serum.
Kendra has decided she needs to embrace her destiny and believe she can merge. She jumps off the roof and becomes Hawkgirl.
Barry and Oliver are too late. Savage has the Staff of Horus. Now they must figure out how to stop him. The Arrow Team now head to Central City courteous of the CEO's jet. Loving the banter between Barry and Oliver in whose city they should listen for ideas from one and another in this episode.
While Barry and Oliver are Jitters getting coffee, Oliver notices that Barry has a coffee named after him. A young boy knocks into Oliver dropping his Flash toy. Oliver notices him run to his mother who none other than his ex-girlfriend, Samantha. She never said she had a child and the look on Oliver's face of shock.
So part 2 the Arrow Team head to Central City with the Flash to try and stop Randall Savage. No doubt Oliver has questions seeing Samantha?
Variety Radio Online – – Bringing you all things Entertainment including News, Reviews and Interviews. Check out our website, like us on Facebook ,follow us on Twitter ,Tumblr and Instagram
//