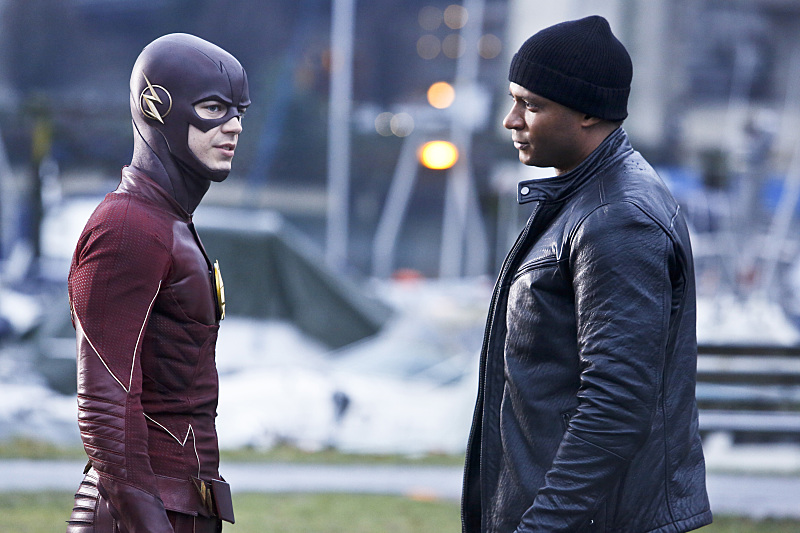 By Anna B (@traveller15)
Arrow's Diggle and Lyla pay a visit to Central City when King Shark escapes from ARGUS to warn the Flash.
We begin where we left off with last week's episode where Zoom killed Jay taking him back to Earth2. Caitlin is in shock and can't believe that someone she loved has died again. Barry wants Harry to open the breach up but they are all sealed forever.
Harry told Barry and Cisco that they are not to tell anyone about their adventure to Earth2 and their counterparts that they met to influence them in this timeline. So not to talk about Earth2, they get on with their lives knowing they couldn't do anything to stop Zoom. Jay's death left scars on all of them but mostly Caitlin. For Barry he runs to stop feelings he experienced on Earth2 and waits for a meta-human distraction to take his mind off things.
Lyla is now head of ARGUS and has a lot of cleaning up to do after Waller left it is a mess. One of them is ARGUS is housing King Shark. It's feeding time for King Shark and the ARGUS team power down the security grid to feed him. Unfortunately, he escapes killing all the men.
At the West home, Wally is playing games but Barry is not in the mood. He is very distant and has not been himself since coming back from Earth2.
Caitlin is on edge and upset over Jay being killed by Zoom and snaps at Cisco. Cisco is concerned that this could be the beginning of her being evil and become Killer Frost. Barry says not to tell her anything about Earth2. Meanwhile, Diggle and Lyla pay a visit to S.T.A.R Labs to give Barry and the Team a heads up that King Shark has escaped from ARGUS's custody and is back to kill Barry. Cisco says "we are going to need a bigger Flash".
Diggle and Lyla explain that ARGUS was monitoring meta-human activities for the past 2 years to see if their powers could be weaponized. Barry is not going to wait for King Shark to find him, he is going after him first. On Earth2 King Shark was a marine biologist, Dr Lamden, before the particle accelerator. Harry sees if he can track King Shark down. King Shark will need water soon to regenerate. On Earth1 Dr Lamden died of cancer but his widow studies sharks. Cisco and Caitlin take a visit to Nautilus Labs to see Mrs Lamden to look at her research .
Joe wants Barry to meet up with Wally so they can bond more and for Barry to help him with an engineering project. Barry is hesitant but decides to help Wally.
Barry and the ARGUS team search the waters for King Shark when he is spotted at Grid 6 killing the ARGUS men. Barry asks how Felicity is doing to Diggle as she hasn't returned any of his calls. He worries. Diggle tells Barry to stop doing what Oliver does, carrying the weight of the world on his shoulders as it will slow him down. The Flash takes off to the West home to meet Wally. Diggle can never get over how fast he runs.
So Wally shows Barry his engineering project with turbine engineer cars. Barry questions things about his project. They don't get off to a good start. So they start again. They have an unexpected visitor to the West home King Shark looking for the Flash. The living room of the house is demolished. As Barry was not around at the attack, Wally calls Barry a coward.
Caitlin goes through Dr Lamden's research and can't find anything. Cisco tells Caitlin that she has an icy look in her eyes just like on Earth2. She confronts him about her doppelganger and he tells her about Killer Frost. She is closing herself off from feeling so she can get on with her life.
Harry is trying to locate King Shark. Jesse wants to help.
Barry eventually tells Joe and Iris that he met their doppelgangers, Iris a cop and Joe a lounge singer and that he didn't like him. Barry tells them that Joe died. Barry blames himself for Joe's death on Earth2 because they went to that reality.
Back at the Lab Caitlin works out that King Shark senses the electricity in Barry's system and that's how he can track him. So they need to reverse it to be able to track King Shark. So they go fishing to lure King Shark down at the waterfront. They use an electric beacon with the Flash's bioelectrics to lure him in. The lure doesn't work so the Flash jumps into the water with King Shark after him. The Flash needs to end this once and by running circles around King Shark and electrifying the water. King Shark is electrified and the ARGUS team real him in to be taken away to be locked up and to try and cure him.
Barry takes off and Lyla agrees with Diggle that it is kind of freaky to see his speed.
Joe and Wally are at Jitters with Joe going over his project. Joe tells Wally why they treat and are proud of Barry is because of his circumstances growing up taking him in after his mother was murdered to raise him to be the person he is today.
Caitlin plays a prank on Cisco and puts her cold hands on him that she is turning into Killer Frost. She convinces him that she is not going to turn evil. Barry apologies to the Team for going back in time which caused a lot of consequences that will haunt him and the Team for the rest of their lives as a result. Barry still wants to stop Zoom and will find a way to beat him next time.
We end on Earth2 with Zoom taking Jay's dead body back to his lair. The man in the mask is scared. Zoom takes off his mask and it is Jay and saying "this is a complication".
So who is the real Jay Garrick probably the man in the mask. The dead Jay and Zoom must be Hunter Zolomon from Earth1 and Earth2!
Variety Radio Online – – Bringing you all things Entertainment including News, Reviews and Interviews. Check out our website, like us on Facebook ,follow us on Twitter ,Tumblr and Instagram
//