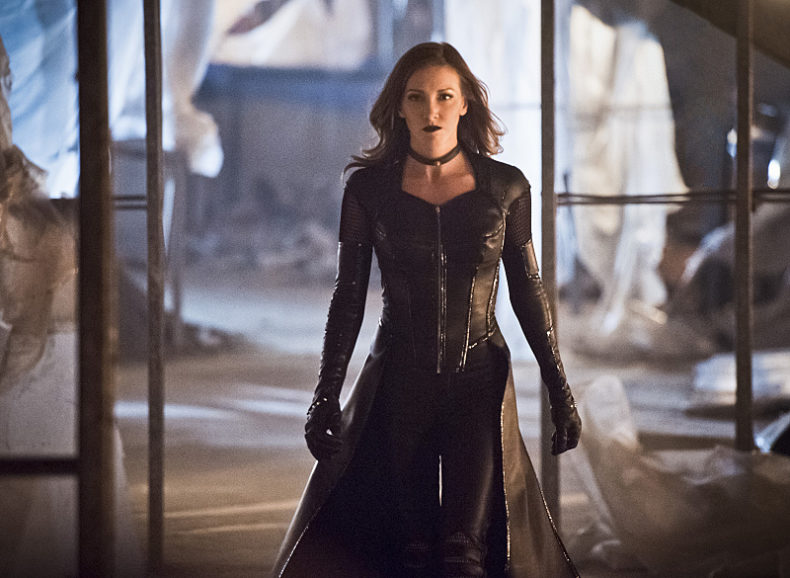 Central City is being taken over by the meta-humans that Zoom has brought back with him from Earth2 with one of his leaders being the Black Canary's doppelganger, the Black Siren (Katie Cassidy).
Iris writes a story for the paper calling it the metapocalypse. Barry now has his speed back after returning from the speedforce and is determined to take on Zoom. Barry seems like he is "invincible" and nothing is going to stop him from taking down Zoom. Meanwhile, Zoom lets Caitlin go and she makes it back to S.T.A.R Labs. She is in shock and believed that Barry was dead.
Mercury Labs is under attack and a sonic cry brings the building down to the ground. Flash rescues Dr Christina McGee of which she knows the identity of him as Barry Allen. She says there is a black box which should be able to shed some light on what caused the destruction of the building.
Cisco vibes seeing a dead bird.
Wally wants to play hero and stops a purse snatcher who turns out to be a meta-human. Joe turns up in time to save him. Wally believes he needs to show The Flash that he was worth saving by helping to save the people from the meta-humans. He is guilt ridden from not being there for his mum when she died and the drag racing so needs to prove himself.
Jesse is concerned that maybe she was changed when she got hit by the dark matter into a meta-human.
Barry finds the black box and takes it back to S.T.A.R Labs to be analyzed. Meanwhile, Henry is worried about Barry being over confidence. Henry believes in Barry but wants him to be careful.
Zoom calls Barry to CCPD and tells him he will never win against him as Zoom will always be evil. Barry is always trying to be good and cannot take on all the meta-humans. So Barry and the team need to come up with a solution to beat the meta-humans.
Cisco vibes again and sees further dead birds like the Hitchcock movie. Caitlin keeps having anxiety attacks of seeing Zoom. She is totally afraid.
Joe talks to Barry about Wally wanting to be a hero. If the Flash doesn't talk to him, Wally might find himself getting hurt or killed. Flash has his talk with Wally but is interrupted to go to a meta-human sighting. When Flash arrives he is confronted with Laurel Lance but in fact is her doppelganger as Black Siren. She uses her canary cry on Barry to bring him down. Just as Black Siren is going to end the Flash, Wally drives up knocking Black Siren to the ground allowing Barry to get into the car and they speed off.
Iris talks to Barry telling him that he is not invincible. Iris tells Barry that a little fear is not a bad thing as it will help to decide whether some risks are worth taking.
Zoom wants the Black Siren to bring down some more buildings to lure the Flash and the team away from Zoom while he is up to no good.
Cisco and Harry have worked out a higher frequency vibration pulse to use on the meta-humans.
Black Siren plans to bring down a highrise apartment building. So Cisco and Caitlin dress like their doppelgangers, Reverb and Killer Frost to get Black Siren on their side to take down Zoom. While they distract Black Siren, Harry sets off the sound amplifier which knocks all the Earth2 meta-humans out. This enables The Flash to clean up and bring them all in to be locked up at Iron Heights or in the pipeline. One flaw in the amplifier was that Jesse could hear the vibration and the safety earplugs didn't work on her. Harry gives her his earplugs and the sound waves are too much for him knocking him unconscious. Unfortunately, Zoom created a breach and escaped back to Earth2.
Iris plans a celebratory dinner for Henry Allen staying in town and for defeating all the meta-humans. Barry still thinks he is invincible and the speedforce is with him. Barry asks Iris if she would like to give their relationship a shot. Cisco vibes and sees the end of the world of Earth2. As well Zoom speeds in to the dinner party kidnapping Henry. Barry speeds off back to his childhood home. Barry watches as Zoom kills his father. Zoom is determined to make Barry just like him, bad.
So how will this affect Barry seeing now his father killed by Zoom? Wally also saw Barry speed off as the Flash.
Variety Radio Online – – Bringing you all things Entertainment including News, Reviews and Interviews. Check out our website, like us on Facebook ,follow us on Twitter ,Tumblr and Instagram
//