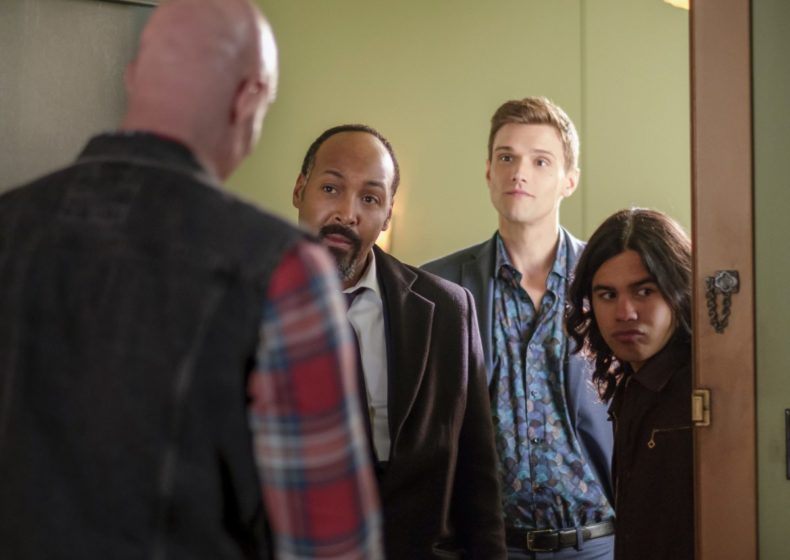 The Flash seems to still be taking a break from the DeVoe storyline, which is kind of weird to me. I mean, what are we supposed to think Marlize and Dominic/Clifford are up to while Barry's in jail and Team Flash are chasing new metas? Going about their life now that Barry's behind bars? Highly unlikely. I feel like it's just an odd time to break off from the storyline.
Anyways, like I said, Team Flash is chasing down a new meta since they can't get Barry out of prison yet. This leads to two members getting shrunken to the size of figurines. Meanwhile, Cecile has some temporary powers, but it's straining her and Joe's relationship.
Check out some highlights.
Mind Reader
As Cecile and Joe are preparing to leave for work, she starts worrying about her pregnancy weight to Joe. – Side Note: you can hardly tell she's pregnant, in my opinion. – Joe doesn't say much, but his back is turned to her, and she starts hearing him say things. She starts questioning him, but he turns around and he insists that he didn't say what she thought she heard. It's then that they both realize she can read his thoughts.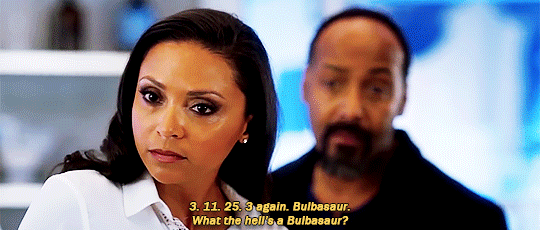 They head to STAR Labs for some tests, and it turns out there's some dark matter lingering in her brain from the first particle accelerator explosion. Her pregnancy is triggering the matter for some reason, which is giving her the ability to read people's thoughts. It's only temporary, though. I'm assuming for the remainder of the pregnancy. This should be interesting. Oh, Cecile also reads Caitlin's mind and learns they are having a girl.
Cecile is amped and taking full advantage of this new ability, reading literally everyone's thoughts with excitement. Everyone else, however, is kind of annoyed with it, especially Joe. Iris suggests they go to the same relationship counselor she and Barry went to. Cecile even reads her thoughts as she writes a grocery list instead of notes. The session doesn't go too well, and Joe starts blocking Cecile out because he feels that he has to now.Cecile asks Iris for advice on her father, and Iris suggests that Cecile talks to Joe about how he's feeling, not his thoughts. Joe and Cecile talk it out, and all is right in their relationship again.
Shrinking Powers
Harry may be frustrated that they haven't been able to free Barry from Iron Heights yet, but it seems that Barry is adjusting to prison life just fine… so far. He's even made himself some poker buddies and uses his speedster powers to cheat to win pudding. That pudding must be pretty good. By the way, I had no idea inmates had so much free time to roam the halls and play poker?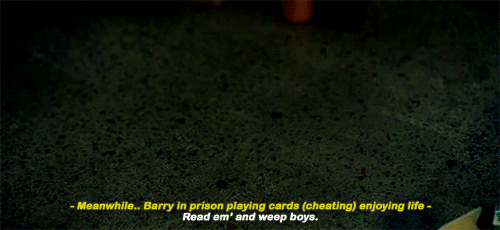 Anyways, one of the poker inmates makes a rude comment about how Big Sir only shoots unarmed men. Big Sir brushes it off, but Barry is nothing if not a persistent fella and gets Big Sir to tell his story. Some guy with the same build as Big Sir shot a security guard while stealing from Mercury Labs. Big Sir didn't see the shooting, but he heard the gunshot and rushed to help the victim. Call it a case of being at the wrong place at the wrong time and mistaken identity. Just like Barry's case, all the evidence stacked against him. Believing Big Sir, he puts Team Flash to work.
However, even they come up short in finding proof that Big Sir is innocent. That is until Bert Rundine shrinks a research center as it's about to open and pockets it. After doing a bit of research, the team thinks that maybe – just maybe – this could be the guy who shot the security guard. So, Joe, Cisco and Ralph go to his apartment to question him. It's filled a lot of exact replica figurines. Joe asks Rundine about the research center, and Rundine bolts out the window with curtains turned parachute. Joe gets Cisco to vibe them down to the alley, but it seems that Rundine has disappeared. He pops back up and shrinks Ralph and Cisco just as they try to go after him.
With two team members out, Team Flash is sort of at a standstill with catching Rundine. At STAR Labs, mini Cisco and Ralph are easy to miss and keep nearly getting stepped on and whatnot. So, Caitlin puts them in a Lego model of where Iris nearly got killed last season. Harry comes in with Cisco's speed force bazooka, only now he's modified it to be an "embiggening" bazooka to hopefully get Cisco and Ralph back to normal. Without testing it first, the guys are all for it. Unfortunately, it doesn't work. In fact, it makes matters worse by destabilizing their cells to the point where if they don't get back to normal in an hour, they'll explode. Oops.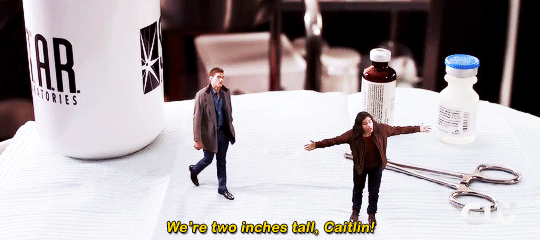 Harry's feeling pretty guilty. First about Barry still being behind bars and now his friends are in danger of exploding thanks to him. Cisco notices his friend's worry and gives him a little pep talk. I've really grown to love their friendship. It's then that Harry realizes Rundine can unshrink Ralph and Cisco.
The whole team meets up to confront Rundine, but he has a lot of tricks (miniature objects) in his pockets and uses them to fight the team off. He manages to crash Iris' van and the drone Cisco and Ralph are flying on. But our team can outsmart this guy any day. Harry taunts the Rundine into shooting/shrinking him as Cisco vibes himself and Ralph into Harry's pocket. Rundine fires at Harry, but the beam hits his pocket – bringing Cisco and Ralph back to normal size again. Iris comes in all badass and fires a meta-dampener on Rundine. Another meta captured!
Like the Movies
Barry tells Big Sir about how he enlisted some friends to try to help set him free, but Big Sir isn't getting his hopes up anymore. He doesn't believe in it anymore. He says life isn't like the movies. But he's talking to Mr. "I married a girl way out of my league. So life is like the movies." Barry's optimism eventually gets Big Sir to feel a little bit hopeful, admitting that he's always pictured living in a Chinese village once he's free from prison.
Unfortunately, Rundine refuses to openly confess to shooting the security guard even though the team knows he did it. Barry breaks the news to Big Sir, and you can see the disappointment on his face. He's not upset with Barry, though, because for the first time in a long time, he actually believes in hope again. As Barry sits in his cell, he can't help but feel guilty. So, he takes matters into own hands. He watches the security camera, and whenever it turns away from him, he speeds Big Sir to the Chinese village (or what looks like the Great Wall of China). He leaves him with a note in his hand: Sometimes you DO get the movie ending. Barry Allen's heart is too big for this world.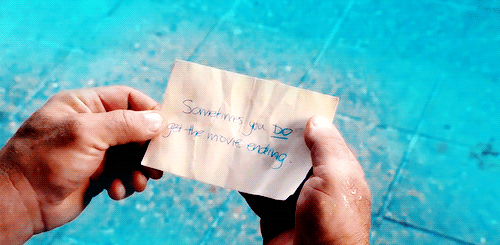 Of course, having a big heart, always seems to come back and bite Barry in the ass. The next day he has a visitor – the prison warden. Earlier in the episode, the warden warned Barry of "peddling hope" with the other inmates. His suspicions enticed him to put a hidden camera just outside Barry's cell. He saw the footage and knows Barry is the Flash. He's drugged him with the pudding Barry loves so much before putting him in a metahuman cell. The warden then makes a call to Amunet saying he's got another meta and it's a good one.
The Flash airs Tuesdays at 8/7c on The CW!
GIF Credit: theflashdaily and dianasprxnce