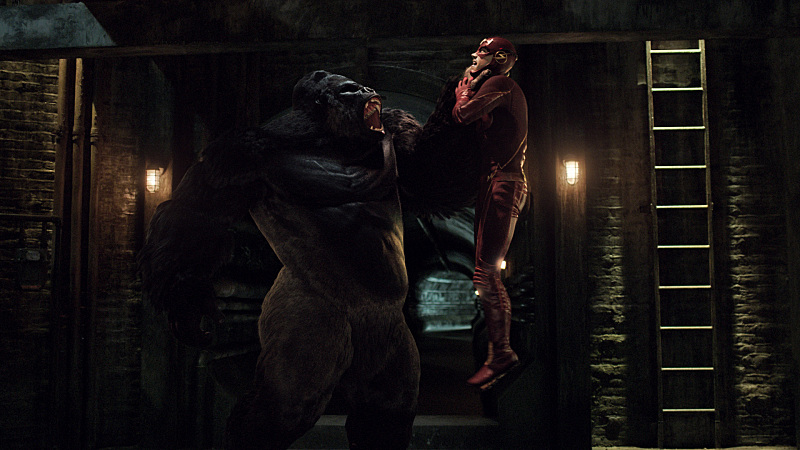 By Anna (@traveller15)
Wells sets Grodd on to Central City to distract the Team.
This week episode begins with Iris doing the monologue about your best friend and discovering they have a secret, a universe secret and would you confront them knowing that nothing will be ever the same again.
At CCPD, Captain Singh is looking for Eddie so Joe and Barry cover for him. Barry keeps looking for the kidnapped Eddie. Iris storms into Barry's Lab and says that a man in yellow took Eddie. She wants to know that the Flash would be out there looking for him. Barry says he is sure the Flash would be searching for Eddie, but Iris is having a hard time in trusting the Flash.
Central City Gold Reserve is under attack. The Flash rushes off but his hit with a sonic wave of memories knocking him down. Barry goes back to S.T.A.R Labs to get checked out by Caitlin. While Barry is still in his Flash suit with the hood down, Iris walks in. Don't they have a lock on the door? Iris knows that Barry is the Flash. Iris tells Barry that she realised who the Flash was when she touched him the night of Eddie's kidnapping and received an electric shock similar to one in hospital while he was in a coma. Iris asks if Eddie knows. Barry says Wells is the Man in the Yellow Suit and killed his mum. Iris is annoyed that everyone knows who Barry is and who she can trust now. While this conversation is going on Caitlin and Cisco are listening in because of their concern for the Flash!
Wells goes down to the hideout where Eddie is being held.
Iris takes investigating into Nora Allen's death. Joe goes to see Iris at Picture News to explain himself why she wasn't told about Barry to keep her safe. Iris blames her dad for what happened to Eddie. Iris is tied of the liars.
Central City Gold Reserve is about to transport $300 million of gold in an icecream truck and they expect the masked man is going to make a move. The truck is hit by a landmine by the masked man. Police try to take him down but the Flash takes him out. The man under the mask is General Eiling. They place him in the pipeline. Eiling has been missing for three months. He seems that something has taken over his body. He says he is Grodd. What is a Grodd? Eiling was apparently doing experiments on gorillas to create soldiers with psychic abilities, but Wells shut the project down. Cisco thinks that a meta-gorilla was created and Grodd escaped. Grodd seems to be linked to Eiling. Joe believes that Wells is distracting the Team from finding him by using Grodd. They need to find Grodd and hope it leads them to Wells. Iris storms back into S.T.A.R Labs and says she is going to help find Eddie. Definitely, no security at the Lab. There have been reports of some sort of animal in the sewers and two sewer workers had gone missing. So Barry, Joe and a reluctant Cisco go in search down in the sewer.
Caitlin and Iris have a heart to heart talk while they monitor the boys in the sewer. Cisco takes a banana with him for the gorilla. They find words written on the wall which means that Grodd is involving. They hear noises. Cisco is frightened and wished he never had watched Jurassic Park. Grodd is not just getting smarter but he has grown in size. Grodd uses his telepathic abilities on Barry and knocks him out. Grodd then takes Joe. As Grodd is telepathic he makes Joe point his gun at his head and then knocks it out of his hand as "father" did not like guns. Father is Wells. Joe hands Grodd a banana which he hates.
Back at S.T.A.R Labs Caitlin checks Barry out and finds out the images he has been seeing is a psychic attack by Grodd. Iris finds it hard to believe that the Team with all their equipment cannot figure out how to save Eddie and Joe. Iris wants to know why Barry who was to be her best friend has kept life changing secrets from her. She tells him that he lied to her, but Barry turns it around on her that she never totally told him how she felt about him.
Back at the hideout Wells tells Eddie that the Thawne family are all influential scientists and politicians except for him being a cop. Wells says he is from the future and Eddie is a waste of a life and a man and doesn't get the girl. Wells shows Eddie the newspaper from 2024 and the by-line that Allen-West are married.
Cisco develops an anti-telepathy strip shield to stop Barry from being mine controlled – if it works. The tracker that Cisco put in the dart shot into Grodd has been turned on. So the Flash is off to find the location and rescue Joe. Cisco and Caitlin monitor from the Lab. They lure Grodd out with the intention of the Flash hitting him with a supersonic punch. It failed. Flash tries super speed punches. Grodd gets the Flash and throws him through a wall onto the rail tracks disabling the shield. Grodd attacks him psychically. Iris tells Barry to listen to her voice to fight it and stand up to him. Barry flashes back to all the happy times with Iris and moves out the way of a train just in time but Grodd gets away. Flash is bringing Joe home.
Barry goes and releases Eiling from the pipeline as Grodd no longer controls his mind. Eiling knows that Barry is the Flash but is not coming after him. No doubt will use that card up his sleeve for another day. Joe is resting with three broken ribs. Cisco wants to know what Grodd's lair is like, if he liked his banana, is he like King Kong or if he is a planet of the apes kind of ape? To which Joe responds "terrifying, no and I didn't ask". Joe and Iris have a father and daughter talk that they will always tell the truth. Barry says that Caitlin and Cisco and he don't need Wells and the three of them can take on anything but actually it was four of them – Iris.
Iris is waiting on a rooftop which is her special spot from the first time she met the Flash. Barry finds her there. Barry says that having her there and his thoughts of her is what keeps him going and allows him not be afraid. Iris admits that she does feel something for Barry but she is in love with Eddie now and he is still missing. Barry is going to bring Eddie home and after that whose knows what happens between them. In the background we see Grodd climbing up a skyscraper just like King Kong to the top.
Wells finishes what he is developing in his hideout, a vial and has the key. Wells goes above to another chamber and places the vial in a lock and lights up the place and says "it is time to go home". What has he lit up perhaps another particle accelerator to take him home!
Twitter: @TheVRO
Facebook: Variety Radio Online
Tumblr: Variety Radio Online