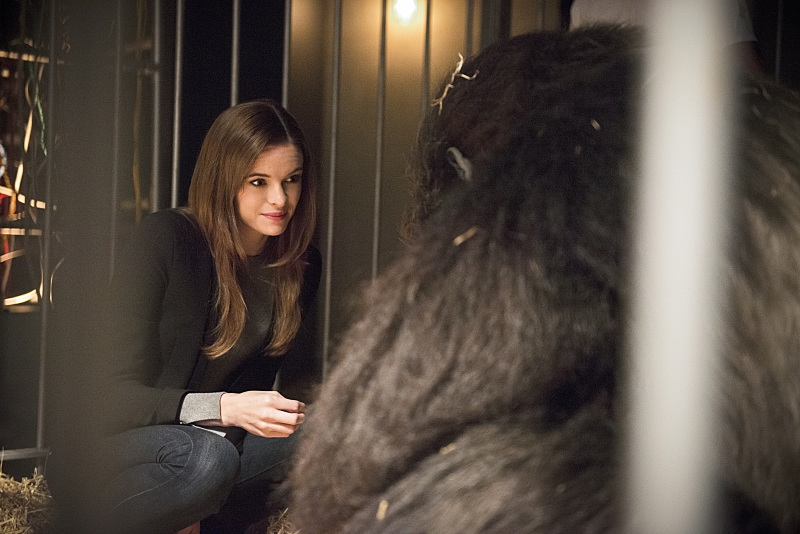 By Anna B (@Traveller15)
Grodd is back in Central City and has kidnapped Caitlin, can the Team rescue her in time?
Barry is still convalescing from his injuries after his encounter with Zoom. Physically his body is almost healed but mentally he is having a hard time coming to terms of his failure to defeat Zoom. Harrison Wells' wheelchair has come in handy until Barry can walk. Harry wants access to the breach room and the speed canon to he can go home and take care of Zoom before he hurts anyone else on Earth2. He is adamant to go home. Of course, he wants to return home as Zoom has kidnapped his daughter, Jesse. Caitlin is reluctant for him to leave as Earth1 needs his to help if they are to defeat Zoom.
Cisco gets an alert of his date with Kendra Saunders from Jitters. The Team mess with him about him going on a date. Patty is curious as to why Barry is avoiding her. He turns down homemade chicken noodle soup but Joe brings him some after he only told her that he hates the canned stuff. She is getting suspicious.
Caitlin goes to Jitters to talk to Harry to convince him to stay on Earth1. He only came to Earth1 for the help of The Flash to defeat Zoom, but as this failed his only option now is to go home to Earth2 to free Jesse. Caitlin has an idea that is all the breaches were closed and only one was left open, the one at S.T.A.R Labs, there would be only one breach for Zoom to go home and a trap can be set.
Cisco takes Kendra to the movies to see Princess Bride. On holding her hand he has a vibe that he sees a man flying with wings. He is freaked and abandons the date.
At Vaughn Pharmaceuticals a scientist goes into a trance and steals a cylinder containing neurotrophic drugs from the Lab and is then killed from Grodd. Patty investigates the scene and finds a lot of hair around the victim. This is the second victim who has stolen from a pharmaceutical company.
Barry is making slow progress with his recovery. Psychologically he is not coping that he failed the people of Central City and he is not strong enough after Zoom destroyed him. Cisco asks Caitlin if she has seen any birdman. While doing so she goes into a trace, socks him in the jaw and walks out. Patty phones Joe about the dead scientists and advises him that the drugs stolen were for blood disorders of the brain and the other for vertigo which enhances intelligence. The hair around the crime the scene was not human but from a gorilla. Grodd is back. Grodd has taken Caitlin.
Harry tells the Flash Team that he has a Grodd on Earth2. Joe tells Barry to use his brain to help figure out a plan to save Caitlin even though he doesn't have his legs working yet. Barry pushes himself to try and get his speed back. Surprise Iris calls Barry's dad, Henry, to help. Henry has been fishing in the wilderness so he could slow down to get back to where you want to be. Henry convinces Barry that he needs to embrace his failure to go forward and survive.
Caitlin is hostage by Grodd. Grodd knows Caitlin was always kind to him and he needs her help. He wants to know how he became Grodd. She tells him from the dark matter from the Particle Accelerator. Grodd wants her to make more of him.
Harry finds the location of Grodd in a bell tower. The plan is for Harry to be dressed as the Reverse Flash as he is Grodd's father and convince Grodd to release Caitlin. Barry goes ballistic seeing Harry as the Reverse Flash which stirs memories of Harrison Wells. He needs to overcome these as well.
Harry finds Grodd and asks him to release Caitlin. His downfall is that Wells never asked for anything he always took so Grodd thinks he is not his father. Harry says he will keep his promise to Grodd that he will rule the city one day. He then stabs him with the serum to overload his brain while they escape.
Back at S.T.A.R Labs, Caitlin patches up Harry. The Team wants to kill Grodd. Harry has another plan to send Grodd through one of the breaches back on Earth2. The bate will be Caitlin with The Flash luring him into the breach. Grodd chases after The Flash. Once Grodd is at the breach, Cisco will shoot him with the speed cannon. Unfortunately, Grodd catches up to The Flash and Barry has a memory of being destroyed by Zoom enabling Grodd to whip him. Caitlin comes to the rescue and asks Grodd to trust her and she will give him a home. Grodd is strong as he tries to resist the force of the breach sucking him in. Henry tells Barry to conquer his fears and this enable him to push Grodd through the breach. He is sent to a gorilla reserve where other gorillas were experimented on like Grodd and are roaming freely.
Together as a Team with the help of Harry, they will figure out how to close the breaches, defeat Zoom and get Harry's daughter back.
At the West home, Joe, Iris, Barry and Henry are going through old childhood photos of Barry. Barry is a true science nerd, like father like son. Henry says his farewells.
Barry goes to smooth things over with Patty at the police station. She knows he wasn't sick and wants to know why he lied to her. Barry tells her that his father was in town and needed time to spend with him. They smooth things over and Patty tells him, Barry cannot always be a smart ass.
Cisco goes to Jitters bearing a basket full of chocolates and flowers to apologize for running out on her on their date. They continue their date and when they kiss, he Vibes seeing her dressed as Hawkgirl.
Grodd lands on Earth2 at the refuge and sees a gorilla carved in the mountainside and roars.
Variety Radio Online – – Bringing you all things Entertainment including News, Reviews and Interviews. Check out our website, like us on Facebook ,follow us on Twitter ,Tumblr and Instagram
//