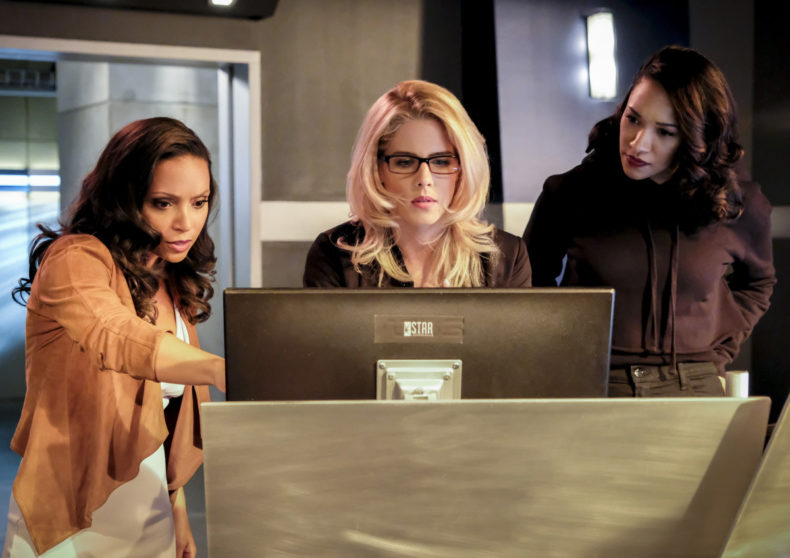 As the title hints, this week's episode of The Flash is primarily about the ladies. Don't get me wrong, the guys have a side story, but this one is all about Iris, Caitlin, Cecile and Felicity saving the day. It's about darn time, if I do say so myself! While I wish we could have just gotten a fun episode where Iris celebrated her bachelorette party and Barry his bachelor party, this works too because it shows just how strong these women are. They can save the day without the guys, but more importantly they can do it almost with no superpowers! You go ladies! "#Feminism!"
So, let's break down what happened.
"#Feminism"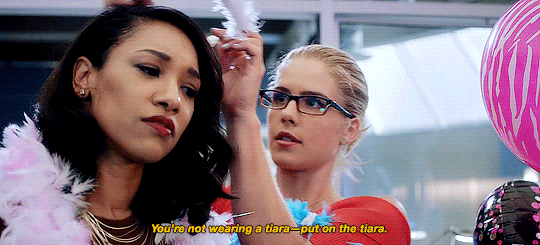 It's Iris' bachelorette party, and Felicity (Arrow) has come to town for the celebration! I always love when there's mini-crossovers, especially with Felicity because she always adds some great one-liners. 😊 Anyway, she's expecting a night of bachelorette style partying – crowns, sashes, feather boas, and all – but Iris says it's just going to be a laidback evening dinner. So, they go to get Caitlin, but she'd rather skip town because of the message she got on her door at the end of last week's episode. She doesn't tell the girls that, of course. With the help of Felicity and Cecile, Iris manages to convince her to join the fun.
The fun is short lived, however. Minutes after toasting the Champaign, the one-eyed/glass-eyed creep from the bar in the premiere shows up and crashes the evening. Felicity thinks he's a stripper – and is sad she didn't bring her singles – until he demands Caitlin to leave with him. When she refuses, he pops his eye out into a Champaign glass and a snake like tentacle (I don't know what to call it) comes out for the attack – EW! The girls fight back, though, and this brings out the Killer Frost in Caitlin. She easily sends him flying through the window, saving everyone… for now.
Back at the labs, Iris tries to call the guys repeatedly, but none of them answer because the bouncer at the strip club Ralph took them to took their phones. Meanwhile, Killer Frost is taking over Caitlin, and she's finds it amusing that Caitlin has been keeping secrets from her friends. She informs the ladies about how Caitlin was planning on skipping town. Cecile has warranted concerns about working with Killer Frost – some of which Felicity is shocked to hear about – but Iris insists on standing by Killer Frost. She knows that she's not all bad and reminds the ladies of how she helped them last time. So, they go to meet with who Caitlin got herself tied up with – Amunet Black.
Iris and Killer Frost track Amunet down at a nightclub where she's quick to say that Killer Frost is her favorite henchwoman. Frost demands that she wants out, but Amunet refuses. Instead, she wants Killer Frost to help protect her latest moneybag: the Weeper. He's a new meta who's tears contain some sort of love drug. She wants to sell the meta so that the whole city can experience it. Before Killer Frost and Amunet (with an arm of metal shards or something) go at it, Iris manages to interrupt and pull Frost away.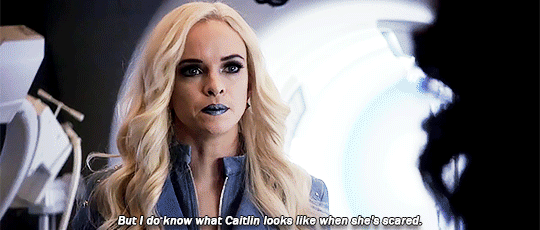 They go back to STAR Labs where Frost explains how Caitlin got into this mess. Apparently, Caitlin heard that Amunet had some sort of tech that could possibly keep Caitlin's alter ego (Killer Frost) at bay. In return, Caitlin (or rather Killer Frost, I guess) became Amunet's "muscle" in her underground meta market. The other girls leave and Iris takes a moment to tell Killer Frost that she still has faith in her. She believes there's still a part of her that is decent and good, and she just has to accept that. Iris knows that Frost is just as afraid of becoming Caitlin as Caitlin is of becoming Killer Frost. You can see that Iris' words really hit Frost a bit, but she doesn't let it show for long. She runs off to meet with Amunet on her own.
Amunet gets the upper-hand this time – literally. Her meta power is being able to control metal shards and turning them into daggers that she can throw at Frost, which she did, or a metal boxing glove, which she also did. Sorry, Killer Frost. Iris finds Caitlin (back to herself) at STAR Labs stitching up a wound. Iris helps her close the knot and Caitlin asks what happened since she never remembers much when she's Killer Frost. Iris explains, and it's then that Caitlin confesses that Julian's cure didn't completely work. So, she backed off from the team, but when Cisco came asking for help, she saw it as an opportunity to make up for the trouble she caused when Savitar was controlling her. Iris tells Caitlin that she could have come to her, but Caitlin disagrees saying that they've never moved past being more than just "work friends." Iris unfortunately agrees.

The ladies decide that they need to save The Weeper from Amunet, but Caitlin believes it's best if she sits this one out. Iris doesn't disagree, so she, Felicity and Cecile manage to track Amunet down at a warehouse. She's meeting with a potential buyer of The Weeper. Felicity and Iris thought they would be able to handle Amunet and her goons on their own, but they were unfortunately outnumbered. Thankfully, Caitlin shows up and uses her Frost powers to protect them while Cecile (from the lab and instructed by Felicity) turns on an overhead, industrial magnet that rips away all of Amunet's metal shards. Frost has the opportunity to kill Amunet, but she decides against it.
Later, Iris tells Caitlin that they should hang out more often, not necessarily nearly get killed, but just hang out and become better friends. She even asks Caitlin to be her Maid of Honor, to which a surprised Caitlin accepts. 😊
The Weeper, wants nothing to do with the ladies that saved him and runs away. Unfortunately for him, he gets nabbed by The Thinker, who is apparently the one who "created him."
Bachelor Party Blunder
Meanwhile, the guys get into their own trouble during Barry's bachelor party, but not anything to do with any metas. You see, Cisco had planned a really chill night for the party: cigars, drinks, home videos and dinner. But then Ralph Dibny crashes the whole thing, and wants to liven it up a bit. So, he takes them to a skeezy strip joint, The Golden Booty (what a name), where his photo hangs on the wall because he's their #1 customer. Why am I not surprised about that?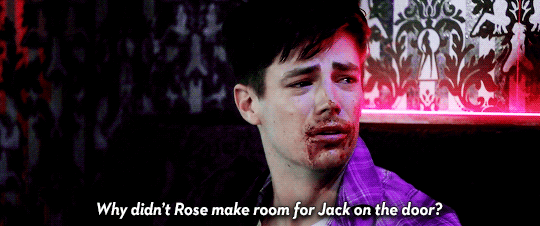 Anyway, Barry wishes he could drink with the guys, but unfortunately, being the fastest man alive doesn't allow him to get drunk. Cisco to the rescue! He's concocted some form of alcohol and gifts it to Barry. It may not have been the greatest idea seeing as how it gets Barry completely trashed. It provides us with some good laughs though. He repeatedly yells out that he's The Flash, seemingly uses his speed to get peanuts without even leaving the table, cries over his love for chicken wings, and gets all sappy over there definitely enough room on the door for Jack in The Titanic. I love drunk Barry. Let's see him more often!
Unfortunately for Joe, the night isn't as fun. The only thing on his mind is how freaked out he is about becoming a father again at almost 50. That gets pushed to the back of his mind, however, when he sees Cecile's daughter, Joanie, in a gold bikini up on stage. Earlier in the day, she told them that she had plans, but didn't elaborate on what. She sits with Joe to explain that she's writing about the female experience and how women can be anything they want. She asks Joe to keep it a secret, and he says it's not his to tell, but suggests she tell her mother. Joanie later tells him that she's going to quit the stripping job, but still pursue the topic.
The night really gets worse for the guys when Ralph causes a bar brawl after stealing money from one of the strippers. It lands all of them – but Harry – in jail. Yes, even Joe and Barry. It's behind bars, though, that Joe opens up to a puking Barry about his fears of being a father again. Barry may be drunk, but he spouts some wise words when he notes that Joe raised him and Iris as a single father, was alone when Wally came into the picture, and he's done a pretty damn good job. Now, Joe's not alone. He has Barry, Iris, Cecile… a whole family to help him. This seems to ease Joe's fears. Especially later when he confesses to Cecile that he's terrified, and she has the same fears. But what matters is that they both have a whole lotta love to give the baby. 😊
Harry bails everyone out of jail, and they return to STAR Labs where Frost is waiting. Cisco, for one, is too tired to deal with her. But she soon turns back into Caitlin, and she's ready to tell them about everything.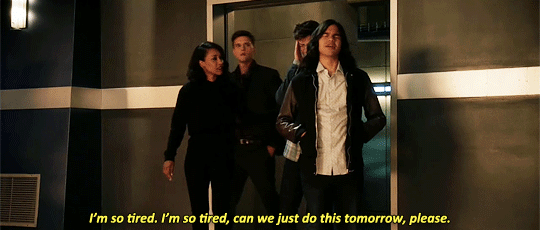 The Flash airs Tuesdays at 8/7c!
GIF credit: westallenolicitygifs, mingrose, theflashcwconfessions, dailycisco, itberice