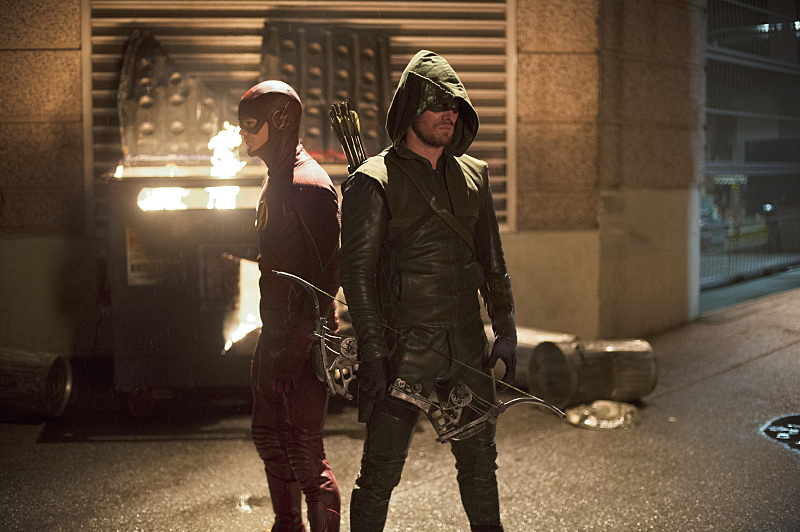 By Anna (@traveller15)
This is a crossover episode with the Arrow who is tracking a case with a boomerang. In the meantime, Arrow helps The Flash with a meta-human who causes people to lose control of emotions including Barry's emotions.
The Flash and Arrow seem to be showing off their rivalry. The Flash maybe fast but the Arrow has his marksmanship. Oliver teaches Barry it's not all about being a superhero and that he still has a lot to learn.
A meta-human walks into a bank that has the capabilities when his eyes turn red to look at people and turn their emotions into anger. While everyone in the bank is fighting with each other, it enables him to rob the bank. Barry gets the heads up on the robbery and arrives in time as the Flash to save a banker from being shot.
Iris and Eddie are having some quality time at home and a report of the Flash comes over Iris' laptop. She believes in the Flash and wants Eddie to believe in him as well.
Back at CCPD Eddie is trying to convince Captain Singh to set up a task force team to try and find out who the blur, streak is and what he wants. Singh and Joe don't agree for this to happen.
At S.T.A.R Labs the Flash Team agree that it is a meta-human who is causing anger, hate and aggression. Caitlin is able to get copies of CAT scans of the victims how their brains were affected with this anger emotion.
Iris calls the Flash to meet her at Jitters. Iris tells him that it is about her boyfriend. The first thing the Flash says "did you break up"? She warns him that he thinks the Flash is a menace and dangerous and for his boss to set up a task force. You can tell Barry's feelings are there for Iris. They are interrupted with Cisco getting notification from the tracer placed on the stolen cash as to its whereabouts. The swat team and Joe arrive to arrest the meta-human but one of the cops is caught looking into his eye and goes to shoot Joe. The Flash comes to his rescue but as he goes to shoot them both the Arrow takes him down. Arrow says to the Flash "nice mask". The Arrow has arrived in Central City.
Diggle and Felicity are waiting for Oliver at an old farmhouse having a Big Belly Burger full of grease and salt to which Felicity thinks are the secret ingredients. Barry follows Oliver and arrives before him. Diggle is in shock at his speed "you're fast". The look on his face was priceless. The Arrow Team are investigating a case of a homicide with a boomerang aka Captain Boomerang. Barry wants the Flash Team and Arrow Team to work together on their respective cases. Oliver turns down his help as he doesn't want any more people to find out about his identity. So Felicity goes to S.T.A.R Labs to find out more on the boomerang. The Flash picks her up and rushes off. Diggle is totally freaked out at his speed. All he can say that "I had a cousin who got hit by lightning once. He just developed a stutter."
On arriving at S.T.A.R Labs the excessive speed has caused Felicity's clothes to catch fire. She rips off her jacket and blouse exposing herself in her bra. She is so glad she decided not to go braless. Cisco and Caitlin walk in. Cisco is always going to remember Felicity. Cisco is in awe of the boomerang which is made from re-enforced carbon fibre and goes off to test it.
Dr Wells and Joe want to talk to Barry about the Arrow. They don't trust him and all the arrows he puts in criminals. Barry says he is a hero. Dr Wells says that the Flash is a hero as he provides hope and protection while the Arrow provides a dark reckoning for his own city. They don't want Barry around Arrow and out of Central City. Meanwhile, while Cisco is testing the boomerang it gets out of control reckoning the lab.
Arrow is out looking for meta-human to find out a name while Diggle is in the van watching his back. Of course, he seems to be more intrigued on how fast Barry is, like when he goes to the bathroom.
Barry meets Felicity and Oliver at Jitters. Oliver has the name of the bank robber, Ray Bivolo. Iris tries to flirt with Oliver and she is annoyed with Barry for knowing Oliver Queen. She says that Oliver is on her 3 lists who she will allow herself to cheat with on Eddie. Oliver notices Felicity staring. She wants Oliver to help Barry on his case. She is going to hawker him until he agrees to help. He agrees to help but on the condition he is not calling him a meta-human. So Flash and Arrow become partners.
Barry meets up with Oliver at the abandoned farmhouse and is going to train him to become a better hero. Even with Barry's speed he is still late for his meeting. Oliver doesn't like the idea of the code names given to the meta-humans. He wants to teach him he needs to do surveillance on the place instead of running in blind to get the job done and teach him discipline. The plan is for Barry to run fast while Oliver hits him with an arrow. With Barry thinking he has beat Oliver, two arrows are shot from behind into his back. His metabolism will help him heal fast.
Joe is not happy that the Arrow shot the informant in the leg to get results which has only given Eddie a stronger case to get his task force.
Caitlin and Felicity are enjoying each other's company talking about colour psychology and that maybe light and colour can reverse the effects. Dr Wells wants to talk with Felicity about the Arrow. He wants to know from her who he is. As she won't tell him, he will figure it out on his own. Felicity has updated S.T.A.R Labs computers to enable facial recognition which locates Bivolo.
Barry goes off to deal with Bivolo on his own and does not want the Arrow's help. He wants to prove a point that he can catch Bivolo himself. Unfortunately, Bivolo is waiting for him and is able to flash his red eyes on the Flash igniting his anger.
Oliver calls Barry to meet him again to give him another lesson. Barry's emotions have kicked in and that tells Oliver he is jealous of him of his speed.
At CCPS Barry loses it with Singh and Joe. Joe arrives at S.T.A.R Labs to tell the team that Barry has been whammied. Dr Wells has figured it out that Oliver Queen is the Arrow and they will need his help with Barry.
Iris tries to convince Eddie that the Flash is not the bad guy and is a hero. Eddie is not happy that Iris has being seeing the Flash. As they are driving along the Flash yanks Eddie out of the car on the road. His rage has consumed him and he wants to kill Eddie. Arrow arrives to try and restrain him. At S.T.A.R Labs Cisco is over excited to learn who the Arrow is. Diggle is monitoring the computers. Caitlin is worried about what Barry might do to Oliver as Barry has superpowers and Oliver has a bow and arrow. Diggle says Oliver has killed more people with that bow and arrow. They are betting on speed or experience.
So the showdown between Oliver and Barry begins. What an amazing fight and stunts between them with flying arrows and flashes of speed. Oliver's experience gives him the upper hand by shooting him in the leg and getting Barry in a choker hold. Dr Wells and Joe arrive in the van with computerised flashing colours which will reverse the effects of the anger in Barry. Barry is back to normal and it brings Oliver and Barry closer as partners. They catch Bivolo and he is locked up in the prison. Caitlin names him Rainbow Raider.
Oliver starts to warn the Flash team that if his identity gets out his family and friends would be in danger but Felicity intervenes to say it was great to meet everyone and to work with them all again soon. Felicity asks Caitlin's help to break down DNA markers to find Canary's killer. Dr Wells says Robert Queen would be very proud of Oliver. Oliver feels there is something "off" about Dr Wells.
At Jitters, Eddie tells Iris that his task force has been approved. Iris agrees especially after the way the Flash acted with his anger. Felicity and Oliver come to say goodbye to Barry. Oliver gives Barry a peep talk about the heart that it won't work out with Iris and to let her go. Oliver turns and looks at Felicity and says that "guys like us don't get the girl". As Oliver is about to leave he bumps into a woman who is Sandra who is the mother of his child.
The Flash meets Iris to let her know that he was infected by a meta-human. Iris doesn't believe him and doesn't want him to contact her anymore.
Caitlin is looking at a photo of her fiancé Ronnie Raymond. A homeless man is about to get mugged under the freeway but instead as he stands up a burst of flame ignites. Firestorm.
Loved this episode of Flash, lots of humour with Diggle. Now to the cross-over of Arrow to continue the story.
Twitter: @TheVRO
Facebook: Variety Radio Online
Tumblr: Variety Radio Online