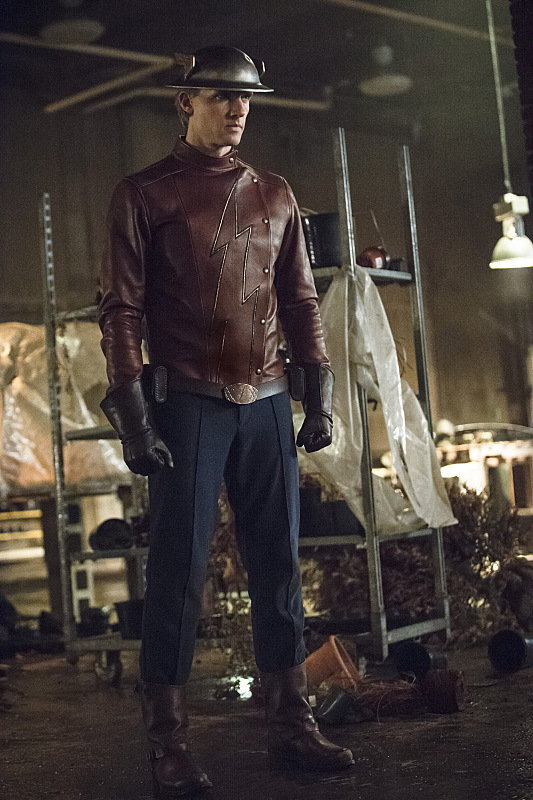 By Anna B (@traveller15)
When the Singularity occurred it caused a breach which opened between Earth-1 and Earth-2 from where Garrick has come from and whom is a meta-human called The Flash. Back in Garrick's world he was fighting another speedster known as "Zoom" and they were both pushed through to Earth-1. He has come to warn Barry about Zoom who wants to kill him. Barry is reluctant to trust this new mentor. Barry will need to learn to trust again considering circumstances he went through with Dr Harrison Wells. Garrick has lost his speed and helmet when he arrived on Earth-1 and needs to locate them both with the help of Barry.
Caitlin examines Garrick (Teddy Sears) and learns how he became the Flash and that he is a scientist. She also gave him a lie detector test which showed he was telling the truth.
The rest of the Flash Team are confused on how this reality can be and Prof Stein (Victor Gaber) tries to prove the theory. If there is a breach this breach needs to be closed. Barry puts Garrick in lockdown until he can deal with the truth.
At the police station Joe is approached by Officer Patty Spivot (Shantel VanSanten) who wants to join the meta-human task force after only being on the force for 7 months. She gives him an impressive resume but Joe says "no". She is going to be a persistent person.
A call comes through to the Lab that a fire is at the waterfront, so the Flash rushes off to stop it. It's a trap where a meta-human made of sand is trying to kill the Flash. At the crime scene, Spivot approaches Barry and tells him she is a huge fan of his and his forensic reports. She is trying to prove herself to Joe and the answer is still "no".
At S.T.A.R Labs Cisco analyses the sand. Garrick tells them that the sand is from a meta-human from his world called "Sand Demon" (Eddie Slick on Earth-1). Cisco politely tells Garrick that "I know you're new here, so let me just break it down for you. The whole naming the bad guys thing, that's my jam. But I will let you have this one". Garrick wants to teach Barry how to catch Sand Demon and Zoom.
Cisco finds Prof Stein who is in his element working on his calculations to solve the breach theory. Together they work on a resolution. Meanwhile, Cisco has a vision of what happened to Barry at the fire scene.
Joe tracks Eddie Slick but a Spivot catches him before he does. She is persistent to be on the task force. Slick denies setting the fire. They come to the conclusion that maybe he has a doppelganger.
It's time for Iris to have a chat to Barry about why he doesn't trust Garrick. Iris tells Barry he has to trust his team as they all believe in him. He trusted Harrison Wells as he mentor and look where that turned out, he killed his mother.
Joe releases Slick from jail but only to be greeted by him again but this time it is Sand Demon. Sand Demon knocks Joe out but instead of using him to get to the Flash he kidnaps Spivot. Barry now knows he has to have the help of Garrick. Garrick teaches him how to defeat Sand Demon by using lightning strikes on him. Caitlin, Stein and Cisco come up with no luck finding the warehouse where Spivot is held. Cisco disappears to have a vision of where she is being held. So the two Flash go to fight Sand Demon not before giving Garrick his helmet which they found which was his father's from the War of Americas.
While Garrick detracts Sand Demon, Barry rescues Spivot. Then Barry hits Sad Demon with a lightning strike turning him to glass.
So back at S.T.A.R Labs Barry apologies to Garrick for not believing him. They both reminisce what each other are called – Barry the Scarlet Speedster and Garrick the Crimson Comet. Garrick tells Barry that Zoom is evil and wants to be the only speedster in any world so will do whatever it takes to kill the Flash.
Joe asks Spivot why she wants to be on his task force. The reason is that Mark Mardon killed her dad and she wants to stop anyone with powers. So Joe has a change of heart and she is on the task force. Joe then has a surprise visit from his wife who wants to see him and her daughter. Now what does she want especially after Joe was avoiding her phone calls.
Prof Stein confronts Cisco about his hunches. Cisco tells him he has these visions since Wells killed him. Stein wants to investigate further, but Cisco does not want anyone to know about it yet.
While closing the breach Prof Stein and Cisco learn that 52 breaches came through the singularity. Just as Stein is about to explain the main breach he collapses unconscious.
We end in another world at S.T.A.R Labs where some children are on tour. They are lucky enough to have the honor to meet the founder of the Lab, Dr Harrison Wells who walks out of an elevator to say "hello kids".
Variety Radio Online – – Bringing you all things Entertainment including News, Reviews and Interviews. Check out our website, like us on Facebook ,follow us on Twitter ,Tumblr and Instagram
//