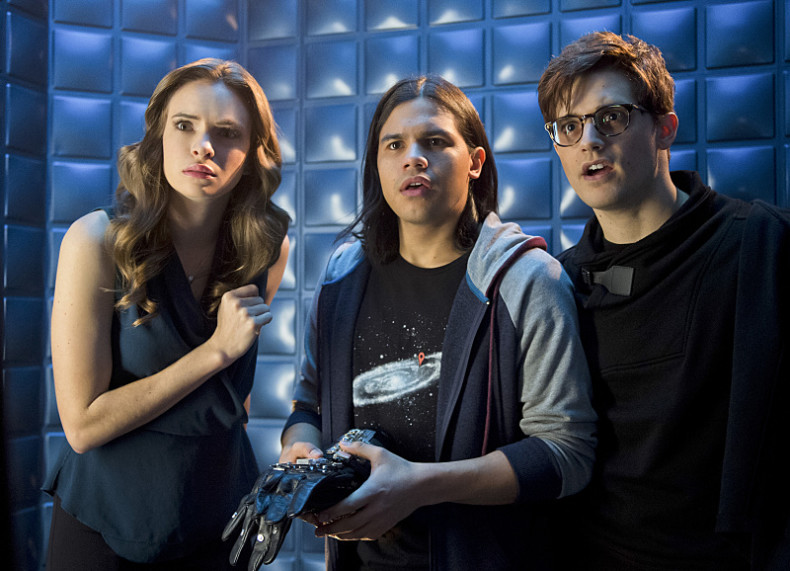 Barry is determined to get back to Earth2 to defeat Zoom knowing he is Jay. To increase his speed Barry decides to travel back in time to get Harrison Wells/Eobard Thawne to teach him how to go faster.
Barry is obsessing over the people he trusted, Jay Garrick aka Zoom and the same with his mentor Harrison Wells/Eobard Thawne who wanted to help him with his speed but only wanting to take it away. He is determined to become faster so he can destroy Zoom. Barry reads every book on speed equations to try and crack the formula. Caitlin has worked out that Reverse Flash, Zoom and Barry all run the same except that the others feet spend less time on the ground than Barry being able to create more speed.
At a family West dinner, Iris tells Barry that she kind of went on a date with her boss but she can't get past not thinking about Eddie and moving on. Wally is working on a project to try and push the speed limits with smaller pulsation systems and he is reading journals from people in the past. This gives Barry an idea what if he went back in time to last year and have Wells/Thawne teach him how to get his speed without using V9. Harry is totally against him travelling through time because if Wells figures out who Barry is the timeline could be altered. Cisco and Caitlin are onboard.
Barry needs to travel back to the time around Hartley Rathaway and will have to knock his younger self out. As he travels back in time he knocks a monster off course. Barry arrives too early with younger Barry trying to capture Hartley aka Pied Piper. Barry fights with his younger self to knock him out with the tranquilizer. He succeeds and swaps the Flash emblems on his suit. Barry then goes back to capture Hartley and take him back to S.T.A.R Labs.
Barry meets Wells/Thawne and asks if he can help him with his formula on the speed force.
At the precinct Eddie is alive and is excited to be living with Iris. A time wraith attacks the precinct but leaves before Barry gets there. Barry seems strange to Joe but it actually him seeing Eddie alive.
Back at the Lab Barry says he has seen a time wraith before and Wells/Thawne is suspicious. So Wells/Thawne asks Barry to his chamber and knocks him out and handcuffs him as he figured it out that he is not the real Barry Allen. Barry can't bluff himself out of this and Wells/Thawne knows he is from the future. Barry wants Wells/Thawne to tell him how the speed force works. Wells/Thawne also figures out that if Barry is still alive his plan has not worked. Barry blackmails him that the younger Barry has a letter on him on how to defeat him if he kills him and he will never make it back home.
Cisco has playing "Never Gonna Give You Up" looping in Hartley's cell which is driving him crazy. So Cisco turns off the music so Hartley will tell him how the gauntlets work. Caitlin is scared off when the time wraith appears in the Lab. She runs to the pipeline and Cisco and she lock themselves in with Hartley before it gets them. The cell is not impenetrable. Hartley reprograms his gauntlets to the right frequency throughout the lab scaring the time wraith away. The time wraith is apparently after Barry.
Barry decides for Iris' birthday he wants to make a video. He asks Eddie to speak from the heart to her as if it would be the last time he sees her.
The tranquilizer wears off the younger Barry and comes back to the Lab only to meet himself. Cisco, Caitlin and younger Barry are having a hard time accepting Barry from the future and the timeline cannot be changed. Wells/Thawne copies the instructions on the speed force onto a flash drive so Barry will leave their timeline. The two Barry's swap emblems again. So Barry takes off through the particle accelerator with the time wraith chasing him. It slows him down so the younger Barry goes to help by knocking him off his course enabling Barry to get home.
When Barry gets back to his own timeline the time wraith enters the Lab and chokes him. Cisco's gun doesn't work on the time wraith. Hartley who now appears to be working with the Team works his gauntlets by using low frequency and high intensity to kill the time wraith. Will the flash drive work that Wells gave Barry? Barry plugs it in to Gideon's computer and all the information appears.
Harry has been looking for his daughter, Jesse, since she ran away. He blames himself.
Barry heads home to find Iris looking through a photo album of photos with her and Eddie. Barry shows her a video from Eddie of what he means to her. Hopefully this will help her to move on.
Barry picks up Jay's helmet and with the knowledge of speed now he is coming for him.
Variety Radio Online – – Bringing you all things Entertainment including News, Reviews and Interviews. Check out our website, like us on Facebook ,follow us on Twitter ,Tumblr and Instagram
//