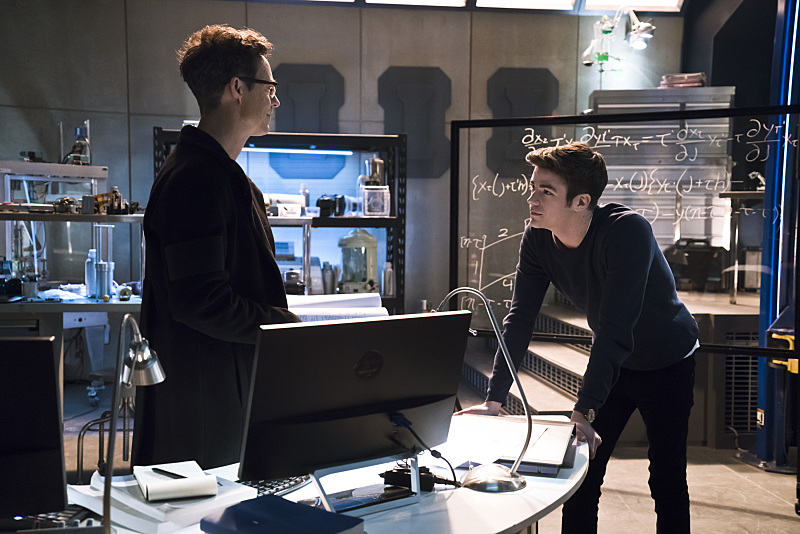 By Anna B (@traveller15)
Barry and Harry team up to try and close the breaches but a meta-human gets in their way. Can Iris help Wally from his drag racing?
We begin 2 years ago at Hudsons Roofing Tar where Clay Stanley and Daniel Burge are after an account number from Central City Bank to recover stolen money in which they want from Joey Monteleone. They have Joey hanging over a pit of tar threatening him for the information and once he gives them the account number he is thrown in to the tar vat. The particle accelerator occurs.
Today at Hudson Roofing Tar a hand appears through the tar and another meta-human is borne.
Barry's heart is bruised and he hopes he can move on soon with time. At the West home, Wally is having dinner with Joe and Iris. Wally is interested in speed with rockets. Iris questions Wally about his drag racing that it is dangerous and forces him to leave. Joe won't intervene with Wally drag racing as he wants to get to know his son.
At S.T.A.R Labs, Harry has learnt from Turtle's brain matter and the Reverse Flash how to develop a device when put into The Flash's suit will harness his speed when he taps into the speed force. Barry wants to help Harry figure out a way to close the breaches but Harry says he is not up to speed on Earth2 science, so Barry speed reads the science books and argues that he can now assist him. Harry says he works better alone and Barry says two heads are better than one. Harry is really hiding his own agenda from Barry.
Iris attends one of Wally's drag race meetings to learn why he loves it so much plus to convince him that he could seriously get hurt as well as a way get to know him more. She takes a photo of the organiser and wants to bring down the drag racing circuit.
Joey arrives at Daniel Burge's garage for revenge on what he did to him 2 years ago and kills him like he was dipped in a volcano. Joe and Barry investigate the crime scene. They know they have a meta-human.
Unsuspectedly, Harry puts the device into The Flash's suit while Barry and Cisco discuss the new meta-human social media app he has invented.
At Picture News Iris is researching a story on drag racing on how dangerous it is. Iris wants Joe to stop the races.
Barry and Harry work together on the closure of the breaches. Barry tells Harry it is like old times when Harrison was his mentor. Harry is stressed and doesn't want Barry's help especially as he says he has a daughter. Meanwhile, Caitlin and Cisco figure out the meta-human was suffocated in the hot asphalt and he kills his victims as he transforms into liquid asphalt. Cisco has named him "Tar Pit".
Meanwhile, Cisco gets an alert on his app that a meta-human is about to attack. Barry rushes off to an attack and while preventing Tar Pit from using his powers on Clay Stanley, Harry taps into the Flash's speed and drains and stores it. He stops him by getting him to release water from the fire hydrant melting him down. Barry then takes Clay back to the Lab. Harry says you are coming home Jesse.
Cisco runs some facial recognition on Tar Pit and learns who their meta-human is Joseph Monteleone. He says to Caitlin and Barry "who is the best hacker in the world" and they reply "Felicity Smoak". Barry gets Joe to find out the connection between Tar Pit and the two guys he was after. Cisco notices that Barry clocked a slower speed than normal.
Iris takes it upon herself to visit the organizer of the drag races to get him to stop them by showing a story she is writing on him to get the races stopped. Except it backfires on her and he threatens her. Wally finds out what Iris did and warns her off. Iris just wants Wally to stop as she and Joe care about him and his welfare.
Barry is still trying to work out how to close the breaches. Harry joins him and tells him that "it is 10 year old determination" which is just like his daughter. Barry says he is part of their team but Harry says he will always be a father first and no matter what he will always choose between his daughter and betray Barry. Barry has worked out a notion on how to close the breaches.
Harry meets Zoom and gives him the Flash's speed. Zoom drinks the Flash's speed but he wants more. Harry says he will get him more after his daughter is returned. Of course, Zoom is not likely to hand over his daughter and threatens Harry that he will torture her if he doesn't bring him more speed.
Harry developed the breach explosion reactor and Barry and he go out to try it out whether it can close a breach. They are successful. Barry is getting sluggish from his speed loss. Barry tells Harry it is the first step to getting his daughter back with 51 more breaches to close.
Iris takes Joe to where the drag races are being held, Tar Pit is there as well as he has a vendetta against Clarke. While Wally is racing, hot asphalt is spilt over the road making it difficult to control his car. Iris calls Barry and The Flash comes to the rescue before lives are taken. The Flash struggles to stop a piece of flying glass from the car hitting Iris in the chest. She is rushed to hospital. Wally visits Iris but doesn't stay long. Joe acts as a parent and tells him to be with his sister as she cares for him and he now has a family that cares. Wally watches over Iris in the hospital and he tells her about his mum.
At S.T.A.R Labs Cisco has worked out a plan to get Tar Pit with nitrate grenades. Barry tells Cisco that he feels slower and Caitlin's test show that his has lost 2% of his speed. While the team tries to figure out why Barry is losing his speed, Harry listens in the background full of guilt. It gets the better of him and he confesses to the team that he stole Barry's speed and gave it to Zoom and shows them device from the suit. Joe locks Harry in the pipeline. Harry told Barry he took his speed to save his daughter. He wants to be sent back to Earth2 and the breaches closed so Zoom can't come back.
Joe uses Clay as bait to capture Tar Pit. The Flash throws the grenades at Tar Pit rendering him useless.
Barry wants to stick by Harry and help him save his daughter on Earth2. Harry is let out of the pipeline to be a part of the team as they plan to go to Earth2 to save Jesse.
Variety Radio Online – – Bringing you all things Entertainment including News, Reviews and Interviews. Check out our website, like us on Facebook ,follow us on Twitter ,Tumblr and Instagram
//