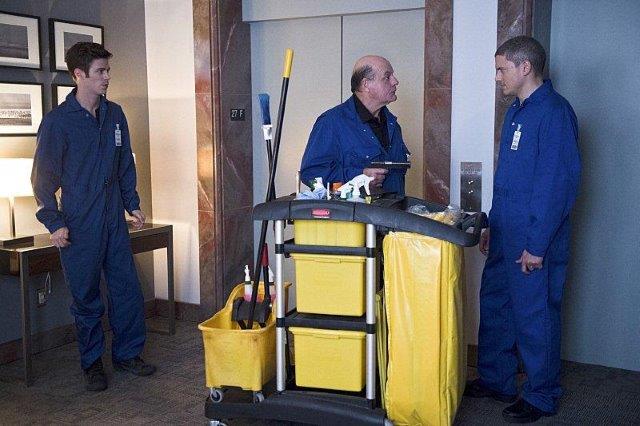 By Anna B (@traveller15)
We deal with family issues with the West family with Iris' mum in town and with the Snart family.
The episode begins with Iris in an abandoned building to do a story on a real estate scam with shots being fired at her. She calls Barry and he tells her to trust him and to jump out of the window. She flies out and the Flash comes to her rescue.
Back at S.T.A.R Labs Prof Stein has made a full recovery after collapsing. The Flash Team, Prof Stein and Jay Garrick have trapped the wormhole and need to stabilize it so there are no breaches in the Lab. By doing so they figure out that if they build a speed canon it will stabilize the doorway.
Joe meets his ex-wife, Francine, in a bar and tries to pay her off to leave town. Francine wants to meet Iris and be her mother after 20 years.
Team Flash are at Jitters for coffee when Lisa Snart (Golden Glider) comes looking for the Flash. Lisa does not know that Barry is the Flash. The Flash meets Lisa at the Lab concerned that her brother Leonard Snart (Captain Cold) has been kidnapped and seeking the Flash's help to find him. Lisa reminds Barry that he owes his brother a favour for saving his life.
Cisco is able to track the cold gun which Captain Cold has in his possession. Barry says I'm supposed to be here to rescue you" but Cold says "I'm fine". Captain Cold is working with Papa Snart (Lewis Snart) (Michael Ironside) on a job. Captain Cold freezes the Flash and luckily for him Cisco has upgraded the suit with thermos heating and is activated to warm him up. When the Flash gets back to the Lab Lisa has some questions to answer. Lisa is surprised and cannot understand why Captain Cold would join Lewis Snart as he is an abusive criminal and used to abuse her growing up.
Barry finds Captain Cold in a diner to find out what is going on with him and why he is working with his father. Barry promises to take him and his father down whatever they are up to.
Joe confides in Barry that Francine is still alive and seeks advice if he should tell Iris about her mother. Barry tells Joe that Iris is strong and she should be told the truth.
Lewis Snart and Captain Cold plan a diamond heist. The only reason Lewis needs his son is because of the cold gun to freeze the laser beams to the vault. Lewis doesn't care what causalities there are but Leonard wants to do it another way so no-one is killed. Lewis kills his tech man by activating a bomb device which is placed in his head. Barry, Patty Pivot and Joe are investigating the death.
Lewis Snart is so sick that he has also put a bomb in his own daughter's head. Cisco tries to figure out a way to remove the bomb.
Meanwhile, back at the Lab, Jay Garrick is trying to build a speed canon and would like the help of Caitlin.
Joe has the hard task of telling Iris that her mother is alive. He goes back and tells the story that a little girl called 911 and that her mother was passed out after taking some pills. That person was Francine who was a drug addict. Joe put her in rehab but she disappeared. So Joe told Iris that she died instead of abandoning her. Iris is strong and forgives Joe. Will she want to see Francine?
Barry goes undercover to be Snart's new tech guy. Barry tells Captain Cold that he knows his father is threatening him to do the heist and if he doesn't the bomb in Lisa's head will be activated. Lewis Snart is evil and does not care about his family or anyone who gets in his way. Barry is successful in breaking the code to the vault. As he is no longer needed, Lewis Snart shoots him but Barry's reflexes enable him to catch the bullet and fake being shot. With the cold gun the laser beams are knocked out and the Snart's have access to the diamonds.
Cisco has a plan to get the bomb out of Lisa's head with a compressed airgun. Barry turns into the Flash and when he confronts the Snart, Lewis Snart has no hesitation to kill Lisa if Captain Cold doesn't kill the Flash. Instead Captain Cold turns the cold gun on Lewis Snart freezing him dead. Captain Cold goes to Iron Heights all in protection of his sister. We learn that Leonard Snart will always protect his sister at no cost and that there must be some good in him.
Barry keeps bumping into Patty so she gives him her number. Will something become of the two of them?
Lisa Snart says goodbye to Cisco after a farewell kiss in which he replies "later Golden Glider". Cisco is smitten.
Jay Garrick accomplished building the speed canon and stabilized the breach. It's time for Jay to go home. Caitlin convinces Jay to stay to help with the other breaches and to learn how to rid Zoom. He agrees to stay and then go home. We thought Prof Stein was better after his recent collapse but he suddenly lights up like Firestorm but with a blue flame and collapses. Could Prof Stein be missing his counterpart in Ronnie which is affecting his health?
We see at the very end a body emerging from the wormhole which appears to be Harrison Wells from Earth-2.
Variety Radio Online – – Bringing you all things Entertainment including News, Reviews and Interviews. Check out our website, like us on Facebook ,follow us on Twitter ,Tumblr and Instagram
//