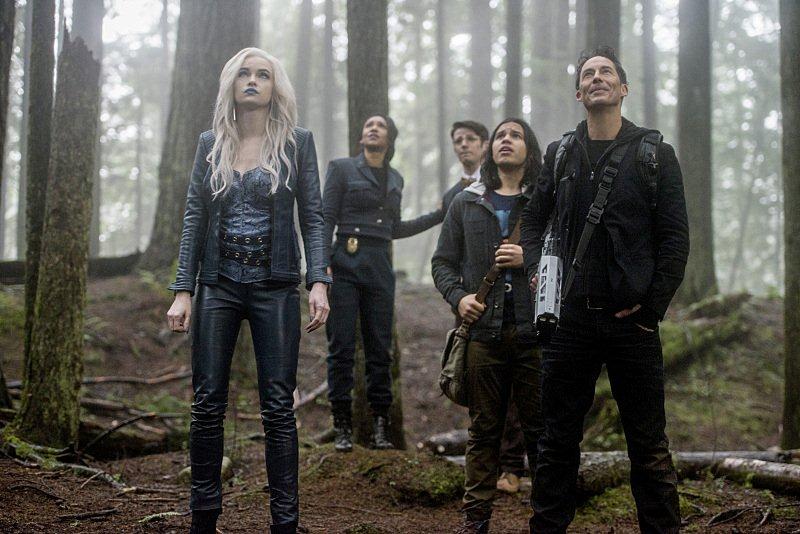 By Anna B (@traveller15)
Barry is in prison by Zoom, can the team find him in time so they can return home to Earth1?
We are on Earth2 and Zoom knows that Harry is back and has made the police aware that he is a wanted man and to find him. Cisco makes it back to S.T.A.R Labs where he tells Harry that Zoom killed Deathstorm, his doppelganger and took Barry and left him behind. They need Bartholomew to help them. Zoom arrives at the Lab after Harry and Cisco. Earth2 has a time vault which they manage to elude Zoom. Bartholomew is freaking out.
In the lair Barry is trying to find a way to escape. Who is the man in the mask? Zoom comes to the lair. The only reason why Jesse is still alive is so Harry can watch her die and for him to give The Flash's speed and then he will die.
On Earth1 Jay manages to stabilize the breach. Caitlin is working on Velocity 8 so Jay can take it and stop Geomancer.
Iris meets who new Editor of Picture News who is not happy with her story on Geomancer. He wants more hard stories and something on the Flash.
Back on Earth2 Iris2 confronts Bartholomew why he didn't come home after her father died. Barry2 takes Iris2 to his lab to explain. Harry and Cisco joins forces with Iris2 and Bartholomew to try and find the lair where Barry is being held. Bartholomew is not happy that Barry came on to Iris2. To find Zoom there is one person whom can help in their search for Zoom and that is Killer Frost who may turn against Zoom because he killed Deathstorm.
Bartholomew can help locate Killer Frost as there is metadata collected on her from her crime scenes. So Harry, Cisco and Iris2 and Bartholomew go looking for Killer Frost.
In the prison where Barry is held they are trying to work out what the mask man is trying to say to them with the tapping on the glass. They figure out it is an old military grid code. The mask man spells "Jay", but what does it mean? Could this person be Jay? Zoom comes and tells him not to talk to Barry. Zoom then attacks and beats Barry badly.
Caitlin has now formulated Velocity 9. Iris asks Jay seeming her new Editor wants her to write a scathing story on the Flash who cannot protect the city from the Geomancer if she could write a story of him. She wants the people to know that there is someone else who can save the city. Geomancer threatens the city and for Jay to come after him. So Jay takes Velocity 9 and the Flash is back saving the city. Unfortunately, his venture exhausted Jay.
Harry, Cisco, Iris2 and Bartholomew find Killer Frost in the forest. She tries to kill them so she can take Harry to Zoom. Cisco talks to her vulnerability side that Zoom will kill her and that the Caitlin he knew would help them knowing Zoom killed her love, Deathstorm. So to get to the lair which is high in the cliff face, Killer Frost makes them a stairwell.
At S.T.A.R Labs Caitlin has worked out how to save Jay's life. Unfortunately, they have an unwanted visitor in the Lab, Geomancer. He has come for Jay being the Flash. He knocks Caitlin out but she comes to and shoots him knocking him out. Joe takes Geomancer to Iron Heights. Caitlin has worked out that Velocity 9 has stopped Jay's cells from degenerating and to repair them. Geomancer tremor has destabilized the speed cannon which need to be fixed or Harry, Cisco and Barry will not be able to return to Earth1.
Barry tries to phase through the glass wall to escape. Cisco finds Barry in the lair. Harry releases his daughter, Jesse, from her cell. Barry cannot get out of his cell. Bartholomew tells Barry that he proved to himself that he could do the impossible today to save them so he should be able to phase out being the Flash. He phases out. Before they can escape Zoom appears. Killer Frost double crossed them and was part of the plan to bring them to Zoom. As Zoom wants to kill Jesse in front of Harry, Killer Frost has a change of heart and disarms Zoom so everyone can escape. They leave the man in the mask behind.
Jay works out how to stabilize the speed cannon and to recalibrate the gateway. Jay creates a vortex while Joe turns on the rings of the cannon.
Barry says goodbye to Iris2 and Bartholomew. So Cisco and Jesse make it through the breach back to Earth1. Zoom grabs Harry but Barry is not leaving him behind. Harry sticks Zoom with a needle and the Flash grabs Harry and they manage jump through the breach. Jay then throws the bomb to close the breach but before it closes Zoom's hand appears through the breach and pulls Jay through it back to Earth2.
Variety Radio Online – – Bringing you all things Entertainment including News, Reviews and Interviews. Check out our website, like us on Facebook ,follow us on Twitter ,Tumblr and Instagram
//