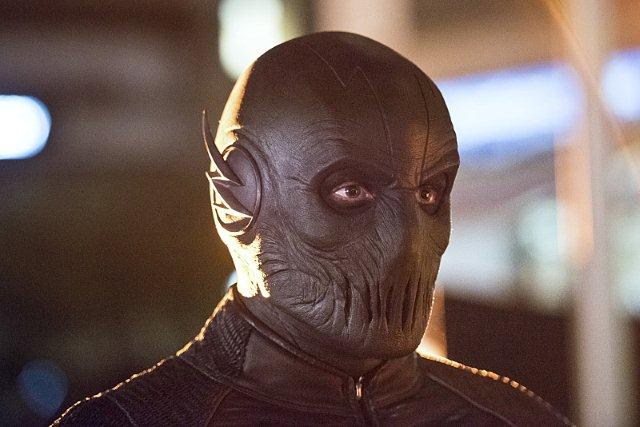 By Anna B (@traveller15)
This is the first episode where Barry/Zoom or Flash/Zoom faces off against each other which will be pretty scary. Barry needs the help of Dr Light to defeat him.
Dr Light attacks The Flash at the docks and overcomes him and takes his emblem.
Now 72 days earlier, The Flash talks to Dr Light in the pipeline about helping them to get Zoom. Barry wants Dr Light to take his emblem and throw it through the breach to lure Zoom to Earth1. Harry has developed a serum to dampen Zoom's speed but Cisco needs to develop a weapon to deliver it. Joe doesn't trust Harry but for now they will see where he leads them to. Cisco will try to Vibe him.
Harry flashbacks to Earth2, his daughter Jesse learns that her father is ruthless and that he created the metahumans.
Back at CCPD Patty investigates the Dr Light case but Joe stands her down and says it is closed. Barry and Patty flirt with each other especially about their kiss. They will have to work on another one.
At Picture News, Linda Park is anxious to know what is being done about her doppelganger and to capture Larkin's killer. Iris lets her know that the Flash has everything under control.
At S.T.A.R Labs Dr Light has escaped. She stripped her clothes and used her powers to become invisible and hacked into the security protocols enabling her to escape the building. Harry is annoyed that the Team didn't listen to him and sedate her.
Cisco tries to Vibe Harry by touching him, unsuccessfully. Harry is very resistant to being touched. Certainly doesn't want Cisco to learn his motives why he is on Earth1.
Harry flashbacks to Earth2 with a newsflash saying Oliver Queen has tragically died on the Gambit and Robert Queen is alive. So could Robert Queen be the Arrow in this reality? Breaking news interrupts and reveals that there has been an attack on Central City College by a metahuman. Harry is concerned for Jesse when a female student has been kidnapped – no doubt Jesse.
At CCPD Patty confronts Joe that they need to be transparent with each other and she blurts out that Barry and she kissed. Wow, Joe doesn't want to know about her personal life. Joe in his cool manner has nothing to reciprocate.
After the escape of Dr Light, Linda Park is staying at the West home for her own safety. Linda is scared and wants retaliation. Iris has a brainwave that gets Barry thinking that if Linda impersonated Dr Light by wearing her suit and use her powers which Cisco will develop dummy blasters, they could draw out Zoom. Iris takes Linda to S.T.A.R Labs to meet the Flash to see if she is willing to help. So Linda practices in a warehouse to shoot power bolts only at the Flash cardboard figure but not too successfully. Joe doesn't think it is a good idea to use Linda to lure Zoom out. Joe feels that Barry is still wants revenge for not killing the Reverse Flash and that Eddie did that and now he has to take down Zoom. When Harrison Wells died his last message to Barry was "he would never be happy" so Barry now is trying to prove him wrong. Joe tells him otherwise that he has to go after what makes him happy.
The Flash visits Linda at the West home to make sure that she can go through with the plan. He tells her that he knows her that she can do it and she questions why he would know. Barry reveals his identity to her that he is The Flash. "Only crap, I made out with The Flash" is all she could say.
Cisco tries to bury the hatchet with Harry by shaking his hand so he can Vibe him again. Harry tries to avoid being touched but Cisco manages to Vibe him and sees in Earth2 Jesse held prisoner by Zoom and something shocking that he does to her.
At the docks the plan is set up for Dr Light aka Linda to kill The Flash and to lure Zoom. So Dr Light overpowers the Flash and takes his emblem and throws it into the breach. Joe and Harry are waiting in the wings for Zoom to be lured out but after waiting an hour Zoom is a no show. The plan backfires.
Barry finds Patty at the police station and kisses her. He kisses her as it makes him happy.
Iris and Linda bond with each other at Picture News about knowing who the Flash is and having to keep the secret. Linda leaves work only to be greeted by Zoom. He takes her to the rooftop of S.T.A.R Labs and drops her. Barry rushes to rescue her. So the Flash now comes face to face with Zoom. The Flash thunderbolts Zoom which he learnt from Jay but Zoom reflects it back at the Flash. Harry goes to help. Zoom overcomes the Flash knocking him to the ground. Harry shoots a speed dampening dart at Zoom which he catches and jabs it into Barry and says "remember I am the fastest man alive". Zoom has a badly beat up and lifeless The Flash. Zoom carries The Flash, first to Picture News and then to CCPD to humiliate him that he is no hero. The police cannot overcome him. Zoom brings the Flash back to S.T.A.R Labs and stabs Barry with his clause almost killing him. Harry's motive for coming to Earth1 was to capture Zoom and take him back to Earth2 to find his daughter and free her with the help of Barry. Now my other thoughts are who is Zoom – could it be Barry Earth2?
Barry is slowing waking up from his coma who has sustained serious injuries. Barry has no feelings in his legs.
Variety Radio Online – – Bringing you all things Entertainment including News, Reviews and Interviews. Check out our website, like us on Facebook ,follow us on Twitter ,Tumblr and Instagram
//