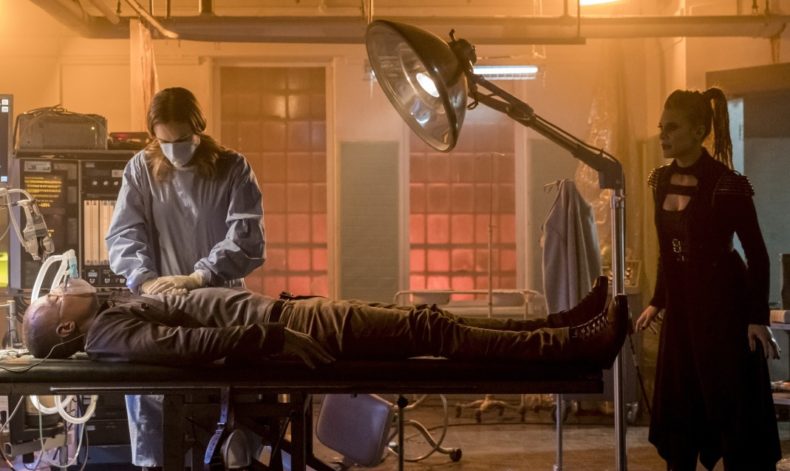 It's Christmas time in Central City, but not all things are merry and bright in The Flash mid-season finale. In fact, things are a bit rocky right from the beginning as Caitlin and Barry get kidnapped (is it still kidnapped if they're adults?) by two different people. Also, you know what mid-season finale means… cliffhanger season! And boy does this episode leave us with a doozy!
The Remarkable Caitlin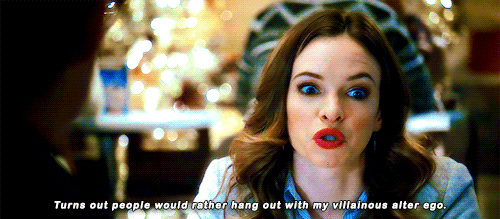 Caitlin isn't exactly feeling the love these days. Instead, her alter ego, Killer Frost, seems to be getting more love than her. Ralph, Cisco and Harry reveal an inside joke that they have with Frost, and it hits a nerve with Caitlin who can't remember anything Frost does. Ralph hits the button a little too much, causing Caitlin to go wallow at Jitters. Unfortunately for her, Killer Frost is everywhere… even with her own holiday coffee drink. Harry shows up to comfort her, and she confides in him about her feelings of being second best to Killer Frost. He assures her that she's nothing like Killer Frost… she's "special."
The moment gets cut short, however, when Amunet attacks and slaps a meta-dampening bracelet on Caitlin before taking her. Amunet takes her to an old, closed hospital where she reveals her latest meta capture. He's on a table out cold because a piece of shrapnel got lodged under his jaw when Amunet was catching him. She orders Caitlin to perform a surgery to remove it. At first, Caitlin refuses too because the place isn't sanitary and the equipment is out of date, but Amunet threatens his and her life before leaving. The meta, Dominic, comes to and Caitlin learns that his meta power is telepathy. They try to use that too their advantage when trying to escape, but Amunet catches them.
It's when they're back in the operating room that we see a bit of a softer side to Amunet. She notices Caitlin's insecurities in comparing herself to Frost, and gives her a big confidence boost. Amunet tells Caitlin that Frost may have superpowers, but Caitlin's smarts and resourcefulness is no less than remarkable. This was just the boost Caitlin needed because she uses Amunet's compliments against her by tricking her into thinking she's performing the surgery. She does get the shrapnel out of Dominic's neck, but she also releases anesthetic gas into the room (she and Dominic have on masks) that basically knocks Amunet and her minions out. Just in time, too, because Cisco and Ralph breach into the room and they all escape back to STAR Labs.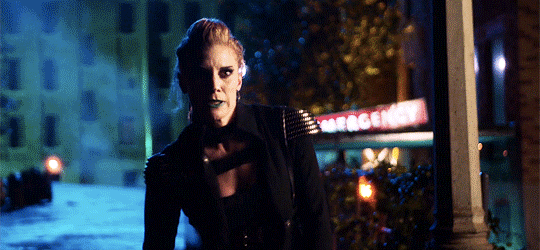 DeVoe the Mastermind
Just as Amunet is snatching Caitlin, DeVoe snatches Barry off the sidewalk as he's walking with Iris. DeVoe takes him to his lair and traps him in some sort of force field. Not even Cisco can vibe the place. Barry asks why DeVoe is doing all this, DeVoe reveals that his brain may be thriving, but his body is not. It's then that Barry realizes DeVoe probably wants his powers. DeVoe tells Barry that he's going to have to "learn to lose once in a while."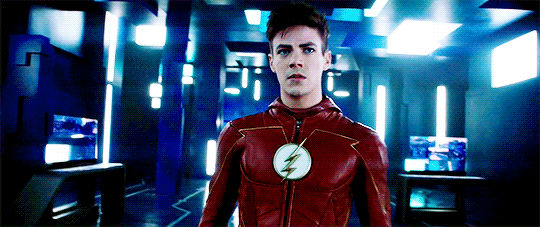 Unsurprisingly, Barry manages to escape by vibrating faster than DeVoe can see. DeVoe tells Barry that his body may be faster, but his brain isn't. So, begins their fight, Barry with his speed and DeVoe with his teleporting chair. They fight all above the city, ramming into buildings in the process. Eventually, they both free-fall into the river. Thanks to Cisco adding the flotation device to Barry's suit, Barry survives. DeVoe, however, slams right into the water with his teleporting chair and is nowhere to be seen afterwards.
So, with DeVoe seemingly dead and gone, the team head to the West house for their annual Christmas party/dinner. Everyone's invited, including Dominic who shows up a little late. They're all having a good time until Barry gets a security alert from his and Iris' loft. He speeds off to check it out.
Meanwhile, Dominic excuses himself from the party early before Barry gets back, and guess who he meets up with outside? Marlize, DeVoe's wife! You know why? Because HE IS DEVOE! Yup! As it turns out, DeVoe and his wife are the rich clients who hired Amunet to capture Dominic. Well, she got a hold of him again after he and Caitlin escaped, and she took him To Marlize and DeVoe. Apparently, his telepathy makes it easy for DeVoe to just transfer himself into Dominic's body with the help of his fancy teleporting chair. So, that's what he did. DeVoe is Dominic. Dominic is DeVoe. Mind blown.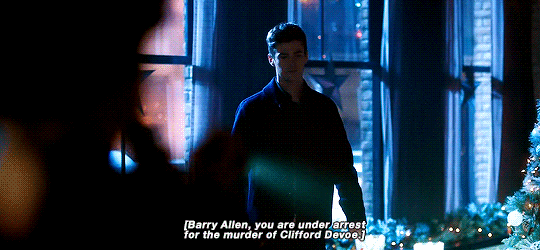 Oh, but wait. That's not even the cliffhanger! Back with Barry, he arrives at the loft, but nothing seems amiss. Except for the fact that the single knife he and Iris got from someone as a wedding gift is wide open on the table. Barry then finds DeVoe's body on the floor nearby… stabbed to death. Then, everything plays in slow motion as the cops – sheriff included – start banging on the door. Barry looks at a picture of him and Iris and remembers how, just that morning as he was cleaning up at normal speed, he doesn't need to run anymore because he finally has everything he's ever wanted. He doesn't have to run when he's with her. "Don't run," he says to himself as the cops bust in and arrest him for Clifford DeVoe's murder.
DUN DUN DUN!
The Flash returns to The CW on Tuesday, January 16, 2018!
GIF credit: dianasprxnce, dailycisco, westallengifs, dailyflarrowgifs