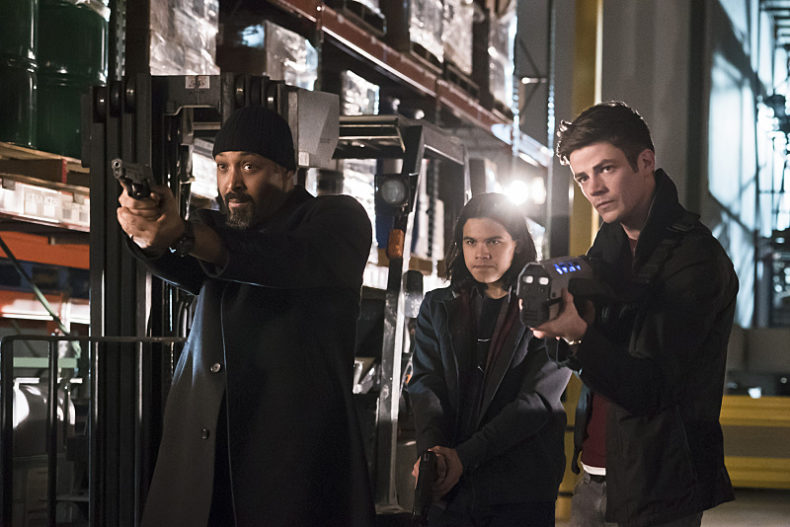 Barry is dealing with life as a human with no powers and Harry is mistaken for Harrison Wells and is kidnapped by a meta-human who wants him to cure him.
Barry has to come to turns with not having his powers anymore and be "Back to Normal". Despite having no powers he still wants to help people but without his powers he is subject to getting injured now.
Cisco vibes Jay's helmet to locate Caitlin who is being held in Zoom's lair on Earth2. Harry has found his daughter, Jesse, and goes after her. Plus, Harry is annoyed that Barry has lost his speed to Zoom.
Caitlin is being held captive in Zoom's lair. Jay kidnapped Caitlin because he loves her and wants her to share his life with him. As Caitlin is not locked up in a cell she wonders around the lair and comes across her doppelganger, Killer Frost who is locked up behind a carbon wall so her powers won't work to get out. She wants Caitlin's help to get out and in return she will help her escape. Caitlin is curious as to who the person is behind the iron mask in the other cell.
Wally visits his father at CCPD and has worked out that Joe knows The Flash. He would like Joe to set up a meeting with The Flash to thank him for saving his life.
Harry locates Jesse at her apartment. Jesse blames her father for her life being threatened by Zoom and she is also afraid of Harry for killing a man. She refuses to go with him back to the S.T.A.R Labs even though Harry tells her she is in danger from Zoom. While travelling back to the Lab, Harry's van crashes into Griffin Grey (Haig Sutherland) who is a meta-human with powers of strength and kidnaps him.
Cisco gets an alert that Harry is kidnapped. Barry goes to the crash scene with Iris to investigate. They go and get Jesse to help them and bring her back to the Lab. Cisco is able to deduct that Griffin is a meta-human ageing.
Griffin Grey kidnaps Harry who thinks he is Harrison Well. He wants him to fix his powers of strength caused from the particle accelerator. He doesn't want them anymore as it is causing him to age. Griffin is only 18 years old and doesn't have much longer to live.
We learn that Killer Frost and Caitlin both had a mother they was "cold as ice". Caitlin uses electrical cables which will weaken the molecular structure enabling her to break the glass cell. And free Killer Frost. The man in the mask wants out too. Now that Killer Frost is free she had no plans to keep Caitlin alive. Her attempt to kill her is thwart by Zoom arriving and killing her. If Caitlin tries to escape again Zoom will kill the man in the mask.
Wally goes back to CCPD to see Joe about The Flash. All he wants is to say thank you for saving his life. Joe says he will see what he can do to set up a meeting.
Barry has located Griffin at Ace Chemical Plant. So Barry, Joe and Cisco head out to the warehouse. Joe, Cisco and Barry confront Griffin Grey requesting that he release Harry. Griffin starts throwing barrels at them using his power and strength. Barry manoeuvres around Griffin to take him by surprise but Griffin throws a barrel at him knocking Barry down. Barry without his powers feels the full brunt of the barrel and needs medical assistance.
Harry in the meantime works on a formula to de-age Griffin.
Jesse manages to locate Harry through his watch device at an amusement park and this time she is going with the Team to rescue her father. Cisco has upgraded the internal lining of the Flash suit with dwarf star alloy which will only cover the chest part of the Flash suit. This alloy is strong but will only withstand one punch from Griffin and if Barry gets hit again, well he could be a pinata.
Harry gives Griffin the formula but Griffin figures out that Harry was not actually making one to help de-age him. Griffin is mad and said he would kill him if he didn't help him. The Team arrive at the amusement park and plan to make Griffin angrier which will continue to make him age. The older Griffin becomes he gets weaker and then dies. When Griffin dies he reverts back to his adultescence self. Harry and Jesse are reunited.
Back at S.T.A.R Labs, Harry tells Jesse that when her mother died something within him broke and he swore on her grave that he would protect Jesse no matter consequences. So when Zoom kidnapped Jesse, something snapped in Harry and he couldn't stand to lose her. Harry promises Jesse that he will be the father she needs as long as she won't run away again.
Joe sets up a meeting for Wally to meet The Flash. Wally tells The Flash how grateful he is for saving his life. So in time will Wally figure out who the Flash really is?
Back on Earth2 Caitlin wants to go home. Jay decides as he has conquered Earth2 he will take Caitlin back home and then he can take down more victims on Earth1. Will Barry be able to stop Zoom without his powers?
Variety Radio Online – – Bringing you all things Entertainment including News, Reviews and Interviews. Check out our website, like us on Facebook ,follow us on Twitter ,Tumblr and Instagram
//