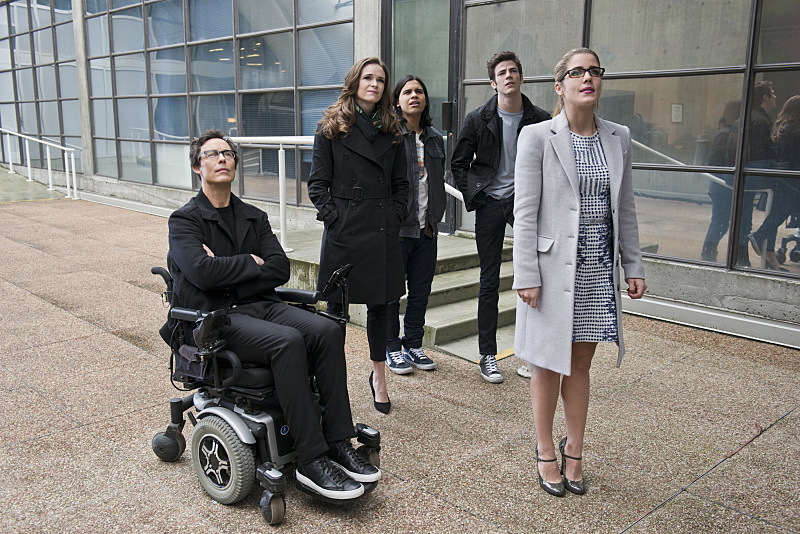 By Anna (@traveller15)
Felicity and Ray pay a visit to Central City so Ray can get some help on his ATOM suit from S.T.A.R Labs. The Flash Team are also up against robotic bees being unleashed on the city.
Central City is having a night of robberies so Joe, Eddie and The Flash are working together to apprehend them. Eddie seems to be totally onboard knowing that Barry is The Flash.
At the Applied Physics & Robotics Department at Hudson University, Dr Lindsay Kang attempts to leave in her car when bees attack her within killing her. At the University Joe, Eddie and Barry investigate the cause of death. Barry wants to run blood samples back at his lab while Joe wants him to go to S.T.A.R Labs which would be quicker. Barry would prefer to stay away from S.T.A.R Labs as it is weird being around Wells. Barry wants Cisco and Caitlin to know so they can help solve the mystery of Wells but Joe doesn't want them involved in case they are not on their side.
At S.T.A.R Labs Caitlin says Dr Kang's death was by anaphylactic shock as being stung caused from honey bee venom. Cisco has a phobia of bees. These honey bees have no stingers and assume a meta-human is controlling them. The Team have a surprised visitor, Felicity Smoak (Emily Betts Rickard). She asks them all to go outside while they wait for none other than Ray in the ATOM suit. Caitlin says as he flies down "is it a bird", Cisco "is it a plane" and Felicity says "it's my boyfriend" as he crash lands. Barry is not happy to see Felicity with everything going on with Wells plus he seems a little jealous of her boyfriend. Ray arrives at S.T.A.R Labs and Cisco is curious if he is going to stick with the name of his suit ATOM? Wells is impressed with the suit. Ray says he has a problem keeping the suit up to which Felicity attests that it is just the suit that needs fixing. Everything else works fine down below. Ray says the sex is just fine. Caitlin and Barry seem a little embarrassed. Barry doesn't want them there as there are trying to fight off the meta-human who is unleashing killer bees on the city. Cisco most definitely wants to sit this one out to work on the ATOM suit. Felicity takes Barry to Jitters to chat.
Iris visits Eddie at CCPD following up on her story on the Flash and crime that is becoming non-existence in the city. Iris is wondering if Eddie is working with the Flash. Iris notices that Eddie is acting really weird and withdrawn lately and suspects he is hiding something from her. Eddie denies it but of course he has concerns about keeping the identity of the Flash. Joe wants Iris kept in the dark to keep her safe.
Felicity tells Barry that she wanted to get away from the mood and broad but it seemed to follow her to Central City. Barry wants to tell Felicity about Wells but is interrupted by Eddie. She says is everyone in a bad mood in Central City as it is supposed to be the fun city. Felicity suggests that Eddie, Iris, Barry, Ray and her all go to dinner. Barry doesn't like the idea of being the fifth wheel.
Cisco and Ray are working on the suit to figure out its problem which seems to be the operating temperature overheating. Ray triggers a memory flashback with Cisco of when he found out about Wells as the Reverse Flash and being killed.
Caitlin is alerted that the killer bees are at work. Barry is called but is too late they killed their victim, Bill Carlyle. All of a sudden the bees fly out of the victim's mouth chasing after the Flash. The Flash is surrounded and stung and goes into cardiac arrest. As luck happens there is a defibrillator in Barry's suit which the Team from the Lab jump start his heart. Back at the Lab Cisco apologies for not protecting him. Barry says he is ok and Felicity, Ray and him should go to the dinner date. As they leave a bee flies out of the Flash suit.
Cisco goes to visit Joe at CCPD to talk about Barry. Cisco wants to know if something is going on with him. Cisco has another memory flashback of the Reverse Flash.
At the restaurant everyone meets and Ray decided to buy out the entire restaurant for a quiet evening. He went way overboard. The dinner becomes awkward with Iris and her issues about Eddie not sharing things with her. When Ray mentions Wells, Barry has a panic attack and goes out of the dining room. Felicity goes after him to find out the truth. Barry tells Felicity that Wells is the one that killed his mother. Barry has issues that he is not sure whether to trust Cisco and Caitlin and is lying to them. Then we also have Eddie lying to Iris. Everyone seems to have too many secrets and cannot handle them. Iris walks out of the dinner and Barry is then called away for emergency at the Lab. You would say the dinner was a disaster.
At S.T.A.R Labs the Team are fighting the killer bee. Barry arrives and catches it saving Wells from being stung. They examine the bee only to find it is a robot. We learn that both victims worked at Mercury Labs with Christina McGee (Amanda Pays). Tina advises that the person behind the bees is Brie Larvan (Emily Kinney).
Barry goes and meets Felicity at Jitters. Barry is in turmoil whether to tell Cisco and Caitlin about Wells being the Reverse Flash in case they are working with Wells. Felicity tells Barry to confide in them.
Barry goes home to find Iris. She plans to stay there until Eddie opens up. She thinks Eddie is cheating on her. Barry explains to Iris that maybe Eddie doesn't want to share things with her as his work can be full of darkness and he wants to keep her in the light.
Felicity and Caitlin watch Ray and Cisco work on the ATOM suit. Caitlin comments to her that she is lucky to be dating Ray. Felicity responds that it is like dating Barry but in Oliver's body. The bee becomes alert so Felicity tries to trace its signal. The swarm of bees is going after Dr McGee at Mercury Labs.
Cisco and Ray come up with the name for Larvan "Bug-Eyed Bandit". Barry can't afford to be stung again by the bees so Ray suits up to go and protect Dr McGee. Larvan wants to ruin McGee's life because she fired her. Ray attracts the bees and they follow him into a lake where the water will fry their electronics. The ATOM suit is also fried but Cisco and Caitlin rescue Ray. Meanwhile, Barry goes to Larvan's location to stop her. She unleashes her bees on to the Flash. Can the Flash outrun them? Felicity hacks into Larvan's computer to control the bees. Felicity sees Larvan as her nemesis and they hack it out for control but Felicity wins shutting down the bees.
One of the bees happens to be left in the ATOM suit. He goes after Ray but Cisco being afraid of bees sacrifices himself and gets stung and goes into anaphylactic shock. Barry comes to the rescue and gives him an electric shock saving his life.
Dr McGee visits Barry at CCPD to apologise for not taking protection. Barry asks Dr McGee about the tension between her and Wells. She tells him that 15 years ago they were both thick as thieves, promising scientists but everything changed when Tess died. She says after that day he became a totally different person.
Felicity and Ray say goodbye to Barry at Jitters. Ray has found the solution to his ATOM suit. Barry thanks Felicity for her advice.
Iris confronts Eddie about why he has trouble connecting with her. She says that if he truly loves her he will tell her what is going on with him or she will breakup with him. The secret is eating him up.
Cisco and Caitlin go and meet Barry and Joe at his Lab thinking they are going to karaoke. Barry shows them both the wall of weird on all the information he has on his mother's death and the Reverse Flash and then Wells. Barry tells them that they are the same person. Caitlin doesn't believe it but Cisco believes it and tells them about his dreams that the Reverse Flash kills him.
Twitter: @TheVRO
Facebook: Variety Radio Online
Tumblr: Variety Radio Online