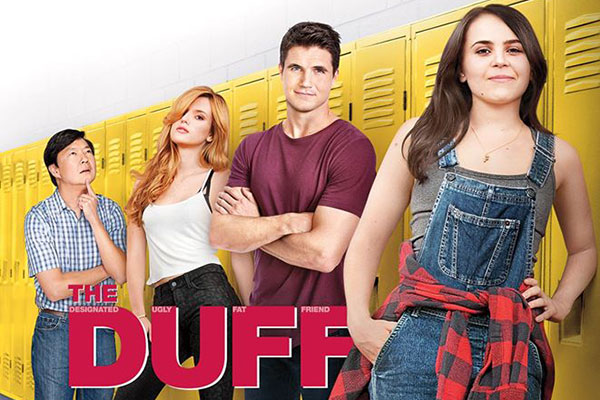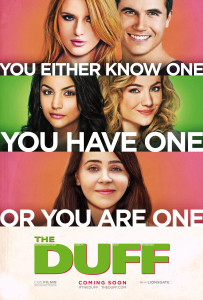 Directed By: Ari Sandel
Written By: Josh A. Cagan (screenplay) and Kody Keplinger (novel)
Stars: Mae Whitman, Robbie Amell, Bella Thorne
Also starring: Romany Malco, Ken Jeong, Allison Janney, Bianca A. Santos, Skyler Samuels
With so many dramas and action films being released lately, The DUFF was a welcomed break from the norm.
The film follows Bianca (Mae Whitman), a high school senior, who has been best friends with Jess (Skyler Samuels) and Casey (Bianca A. Santos) for as long as she can remember. More often than not, the other students exclude her from party invites and simple conversations, while Jess and Casey are known as the popular "hot" ones. Even though Bianca is comfortable in her own skin, her neighbor/childhood friend, Wesley (Robbie Amell) aka the high school football star, informs her that she's Jess and Casey's DUFF (Designated Ugly Fat Friend). Despite her unwillingness to accept this label at first, Bianca begins to believe he was right. She accuses her friends of only being friends with her to make themselves look better, and does the one thing high school girls dread most…she unfriends them on all social media sites. In an attempt to remove the label placed on her, Bianca enlists the help of the very person who called her a DUFF, Wesley. Throughout the film, Wesley attempts to help her while being tormented and stalked by his ex-girlfriend, Madison (Bella Thorne). While trying to rid herself of being known as the DUFF, Bianca experiences bullying from her classmates, thus making things even worse until she learns to accept who she really is.
This film is your typical story about an outcast who seeks help from the popular guy at school. Those who are familiar with films like this can probably predict the outcome, but the path towards that outcome are what make this film enjoyable. It's witty, it's relevant and it leaves the majority of viewers accepting that they, themselves, are DUFFs (and we learn that it's not necessarily a bad thing).
I've read reviews comparing this film to Easy A and/or Mean Girls, and those reviews believe The DUFF fails to reach the respect those films achieved. In my opinion, however, I found myself laughing a lot throughout the hour and 41 minutes of it. Mae Whitman and Robbie Amell deliver great, believable performances and have great on-screen chemistry. The bullying that stems from social media postings is relevant to the way younger generations behave now a days, and the way Bianca handles it and discovers and learns to accept herself is a great message to those people who struggle with it.
If you can get past the predictable ending and the feeling that you've seen similar movies before, I would strongly suggest giving The DUFF a chance. The casting was great for this film, and the dialogue was perfect. Ari Sandel put together a witty, well shot film that just might surprise some viewers!
I'd give it a 4 out of 5.
Twitter: @TheVRO
Facebook: Variety Radio Online
Tumblr: Variety Radio Online
//