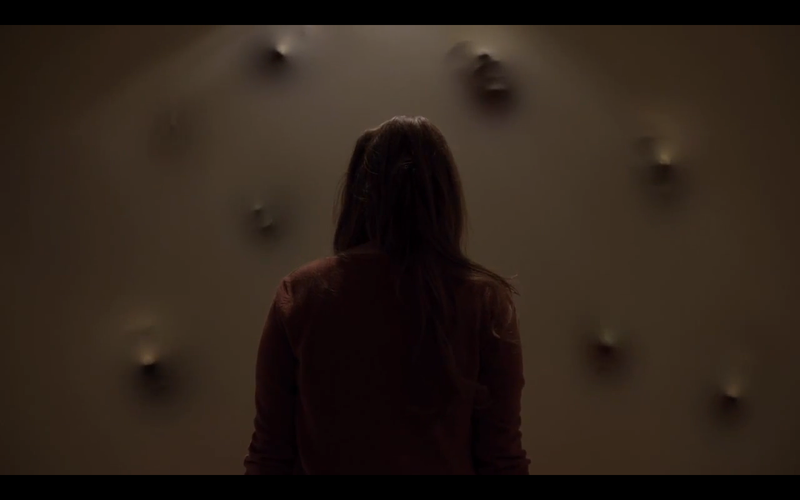 By: Lexie Gerson —July 15, 2014
Last night, Teen Wolf returned with season 4 episode 4 entitled, "The Benefactor."
The show opens up with the crime scene on top of the hospital building. Derek (Tyler Hoechlin) arrives to help Sheriff Stilinki (Linden Ashby) with the case. Derek proceeds to tell the Sheriff that he hasn't known of any wendigos in Beacon Hills for quite some time. They must have been well hidden. Derek then tells Stilinski that there was another person on the roof, aside from Scott (Tyler Posey), the wendigo and the no-mouthed ax murderer. The scent that Derek picks up on is Liam (Dylan Sprayberry), the new lacrosse player who Scott bit in order to save.
Scott and Stiles (Dylan O'Brien) talk about Liam and the situation they are in. We then learn that Scott has Liam tied up in his bathtub. They bring him out into Scott's room and attempt to let him know what's happening to him. In order to get Scott and Stiles to untie him, he starts to cry. They untie him and he makes a run for it, running out of the house.
Meanwhile, Peter (Ian Bohen) is attacked by the mouth-less killer and an axe is thrown into his chest.
The next day, we see Stiles preparing to help Malia (Shelley Henning) get ready for the full moon that is approaching. The two sit on Stiles' bed and gather chains to use for restraints. In a humorous scene we see the Sheriff walk in on them and proceed to say that he doesn't want to know what they are up to.
Liam runs to school and is clearly going through the change into a werewolf. Scott attempts to tell him what is happening but is unable to find the right words. Liam tells Scott and Stiles that he is fine, ripping off his bandage to reveal that his bite has healed.
The gang prepares for a trip to Lydia's (Holland Roden) lake house for the full moon. In order to get Liam to join them they decided to have Kira (Arden Cho) trick Liam into attending a party with her,
The blade used to attack Peter was laced with wolfsbane. In order to get the wolfsbane out of his system Derek must burn it. Peter then reveals that the murderer was after him.
Kira and Liam make their way to the lake house. Meanwhile, Stiles tells Scott that Liam was kicked out of his last school because he has severe anger issues. Back in the car, Liam gets a glimpse of the full moon and begins to become angrier.
When Liam arrives at the lake house is begins to become suspicious but enters to find the gang inside. Scott and everyone tell Liam about supernatural beings. But as the full moon rises and Liam begins to change, the entire school appears outside looking for a party. Apparently, Liam had told his friends about the party through a text he sent while in the car with Kira.
At the police station, Deputy Parrish (Ryan Kelley) reveals that the tomahawk used by the mouth-less killer is actually in used in the military. He also reveals that he knows what the computer device is being used to communicate. He hacks into the system and recovers a dialogue. They soon discover that he isn't just a murderer, he's an assassin who is killing for money.
Liam is taken to the boathouse, away from the main house where a party has begun. Liam starts to change and is clearly very strong. Scott and Kira chain him down but he breaks through. He fights Scott and pins him down, but Kira whacks him in the head with an oar.
Meanwhile, Stiles is trying to secure Malia, who continues to struggle with her own change.
Back in the house, someone's ordered a keg but before Lydia can pay for it she notices a student named Mason going upstairs so she follows him. As Lydia steps away we see the new kid Garrett (Mason Dye) pay the deliveryman.
We see the keg deliveryman go out to his car. His tires have been slashed. He soon begins to turns into a werewolf but, just as he manages to subdue his change, Violet (Samantha Logan), another student from Beacon Hills comes up from behind and decapitates him with her necklace. She goes then returns to the party and plants a kiss on Garrett. He says, "I just got a text from my friend." The text reads, "THE BENEFACTOR: Just transferred the money into account." It appears the mouth-less killer is working with the two young kids or at least for the mysterious Benefactor.
Lydia follows Mason into a white-carpeted room. In an odd encounter they spill two glasses of wine and then begin to have a conversation but as their mouths move we don't hear any sound.
Mason walks out of the room as Lydia walks over to a turntable. She puts on the record and hears strange sounds. The room grows darker and in the wall in front of her, faces appear.
Meanwhile, in the boathouse, Kira and Scott talk about music and how they can hear it from the house. Kira says that she misses songs that allowed people to slow dance too. Scott then puts on a slow song and they dance in the moonlight.
Kira asks Scott how he's so good and controlling his wolf side, and he says, it's all about keeping his pulse low, not raising his heart rate.
As the two share an intimate moment, Liam starts to growl and breaks free from his chains, darting off into the woods.
Next, we see Malia, who breaks free from her chains.
Meanwhile, Derek and Sheriff Stilinski head to the school, which is where the Benefactor's Wi-Fi connection is supposedly coming from.
As they walk down the hallway they notice a pool of blood. Derek is surprised because he didn't pick up on the scent. They open the door slowly and find a wire attached to an explosive. A tomahawk is hurled through the air and Derek saves the Sheriff from the hit. The two take off running, away from the mouth-less man.
Back at the lake house, we see Stiles attempting to help Malia get her beast under control. In an intimate scene we see Stiles refuse to leave her side. He tells her that he trusts her and she manages to get her beast under control.
Liam continues to run through the woods while Scott chases after him. Liam comes close to hurting Scott but is interrupting when an explosive is shot into the air, strobes. Liam is startled and takes off.
We soon see that the hunter who saved Scott is Papa Argent (JR Bourne). "I got your text," he says.
The fight continues at the high school. Derek fights off the mouth-less man. Soon, Derek has him contained. As the Sheriff reads him his rights, Peter walks in and kills the mouth-less man without any hesitation. The Sheriff aims his gun at Peter but does not fire. Peter then leaves.
Kira goes into the lake house to find Lydia. Lydia is still staring at the wall and says that she's figured out how to crack the code she wrote out.
She then opens up her laptop and inputs the password. The password is ALLISON. The code reveals a hit list of supernaturals living in Beacon Hills and everyone is on it.
Tune in to season 4 of Teen Wolf Monday's 10/9c on MTV