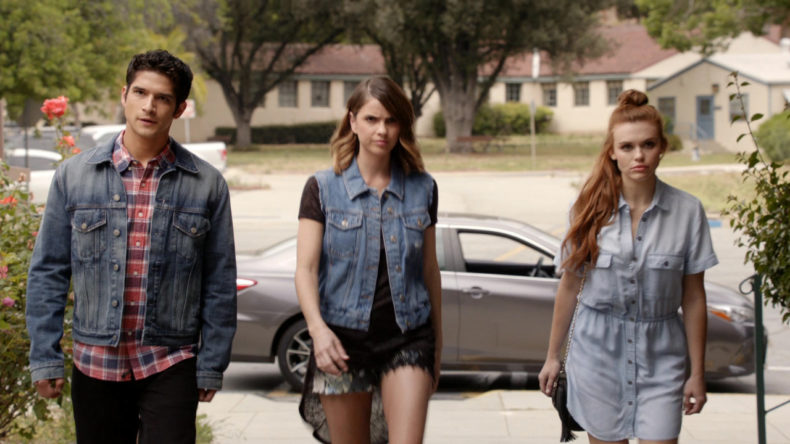 Hot, yet suspicious teachers actually turning out to be soul-eaters. A nearly uncontrollable and sassy Malia. Another erased student. Ghost Riders crashing a high school party. And Stilinski family history. Wrap all of that up and tie it in a nice bow and that's what we got in the third episode of Teen Wolf's final season appropriately titled "Sundowning." I mean really, what more could you ask for? Actually, I could easily answer that: Stiles Stilinski. I need Stiles Stilinski back in Beacon Hills and back with his pack and family because it's only been two episodes without him, and I miss him dearly.
Let's talk about how Scott, Lydia, and Malia took another small stride to figuring out who and where their missing friend is.
The episode starts off in the hot new teacher's (Mr. Douglas) classroom. He's teaching some sort of experiment concerning the power of electricity. He talks about how a lightning bolt can add more power and "The greater the power, the greater the control." Foreshadowing maybe? Anyways, as Mr. Douglas continues to watch the magnet and the electricity experiment, he keeps going into coughing fits. So much so that he has to go back to the supply closet and breathe in some helium. While he's going through this we see that Nazi werewolf busting out of that tube thing (from season 5) and turning into Mr. Douglas! Yup, I knew that hot Mr. Douglas was sketchy.
Meanwhile, Scott and Lydia have been researching the word "Stiles" after Lydia wrote it out with the word "mischief" in the last episode, but they're coming up empty-handed. Scott wonders aloud if Malia has had any luck, but Lydia quickly responds that she's stuck making up her math test… or trying to at least.
Malia really hates math. I don't blame her. I suck at it too, but she takes it to a whole other level by going full coyote in Mrs. Martin's office and escapes to where she feels at home (besides her actual home), the place where she used to get chained up to gain control. Mrs. Martin, Lydia, Scott, and Sheriff Stilinski corner a snarling coyote Malia. Stilinski tries to get Scott to calm her down since he's the alpha, but they know it won't work. Lydia says that they have to leave in order for her to calm down because they've pretty much invaded her home. They step out of the way and Malia transforms back to herself and says she's fine.
At the Sheriff's house, Scott and Lydia tell Stilinski that they're trying to figure out what a Stiles is to which he informs them that it's a nickname that his father used to go by while in the army. Scott and Lydia ask if they can talk to him, but the Sheriff forbids them from doing it.
Meanwhile, Lydia is seeing a strange, older woman in the house. She excuses herself to go to the bathroom in order to follow the mysterious woman. When she catches up to her, the lady is staring at a wall in the hallway. Lydia asks her what she's doing, to which the lady responds with "The following stops have been cancelled," repeatedly as we hear the sounds of trains again.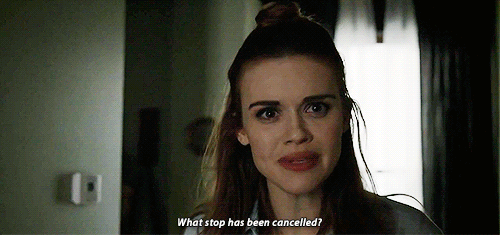 Scott, Lydia and Malia go against Stilinski's wishes and go off to the nursing home that his father is at. Scott and Lydia can't believe that they're going to break into a nursing home, but Malia has no problem with it. She says that nursing home nurses are probably nothing compared to the orderlies at Eichen. She proves her point by walking right up to the front desk and slamming the nurse's head on the desk and casually walking to the back, Scott and Lydia following behind. Clearly Malia is slipping back to her old ways where her first instinct is aggression.
The trio finds Mr. Stilinski and starts asking him all kinds of questions. Sadly, Lydia realizes that Mr. Stilinski has dementia when he starts sundowning (when the patient's confusion and agitation starts getting worse after the sun goes down). Then Mr. Stilinski starts making accusations, knowing all about Scott's dad being a cheater and Lydia being just like her mom, a know-it-all.
It all comes to a halt though when an angry Sheriff Stilinski comes in. He berates the teens for going against his orders, but then Mr. Stilinski starts yelling at his son (in which we finally learn that his name is Noah!). Our hearts break as Mr. Stilinski yells, "Go crawling back to your dead wife and loser son!"  How is it possible that he's able to remember Stiles and his son's dead wife when no one else can??? You've got some explaining to do Teen Wolf writers!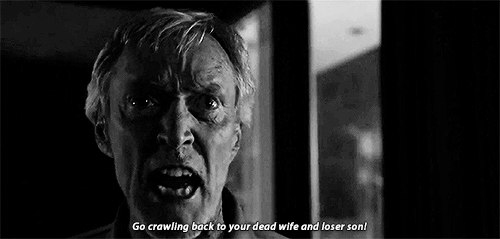 Meanwhile, the youngsters (what many are deeming the 2.0s) are trying to protect another girl from being erased. Gwen's sister was erased and she's the only one that can remember her. She asked about her all day at school. Liam, Hayden, Mason and Corey realize that the Ghost Riders are after her next so they have to protect her. What better way to do that than by throwing a party at the McCall house while Melissa and Scott are away. Seems like a smart idea since the house is pretty much covered in Mountain Ash. Too bad these Ghost Riders don't care nothing about no Mountain Ash.
The Ghost Riders show up and start stalking towards Gwen. Corey touches one while he's invisible and it makes the Ghost Rider visible to everyone! WHAT?! Is Corey really going to be the one that solves this whole thing?? Anyways, the teenagers run out and the 2.0 pack tries to fight this thing. Nothing works though. It's not until Parrish comes in and points his gun at the Rider and yells at him to stand down does the Rider disappear. I gotta be honest, it was pretty anti-climactic. Parrish is a Hellhound and all he does is point his gun at this thing and it does the trick?? Give me more Hellhound Parrish, please!
Scott arrives at the trashed house and Liam fills him in on what happened. Unsurprisingly, Scott says he should have been there to help them. They then realize that everyone at the party, including Liam and the other 2.0 members of Scott's pack, saw the Ghost Riders and are now potential targets to be erased. Things just got more interesting.
Sheriff Stilinski shows up in Scott's room as he's cleaning up the trashed house to apologize. – side note: isn't it weird how a Sheriff is helping clean up after a party that consisted of underage drinking?? – Anyways, he confesses to Scott that his father was abusive. He tells the story of how he jumped between him and his mom and he has a scar on his upper chest to prove it. How sad 🙁 and I actually liked Mr. Stilinski there for a little bit when he was cracking jokes with Scott, Malia, and Lydia.
Stilinski goes on to ask Scott if he's ever had a dream that was so real that it seemed more like a memory. He recalled having a conversation with Claudia where he told her that if they ever had a son, then he'd want to name him after her father because he was a good man. Claudia agreed to name their potential son after her dad, but it wouldn't matter because everyone would just call him "Stiles" anyways. In the scene that follows, Stilinski asks Claudia if she ever regrets not having a child, to which she responds with a simple "Not once." Okay, something is definitely fishy with the new Claudia, and I'm not liking it.
Meanwhile, Melissa and Argent are teaming up on doing some Supernatural solving on their own. To be honest, I never saw this team coming, but I'm actually loving it – so long as it doesn't interfere with Stilinski and Melissa in the future when things are back to normal 😉 – Anyways, Argent had snuck into Melissa's house because he needed her help getting into the morgue to examine the body of a truck driver. So, they go to the morgue and realize that the driver's skull was literally crushed by extremely strong werewolf jaws. They do some digging (quite literally when Melissa digs her finger into the guy's brain – excuse me while I throw up) and realize that multiple dead bodies are missing the pineal gland in the center of their brain. This pineal gland is believed to be what holds everyone's souls. We then see Mr. Douglass attacking a janitor, crush his skull, and eat his pineal gland like it's a freaking candy bar! – excuse me while I throw up again – So, hot Mr. Douglas is a soul eater… cool. Just what we need.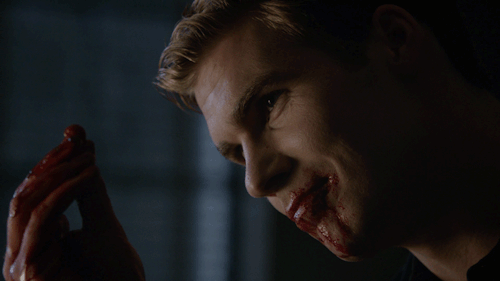 Things are heating up once again in Beacon Hills and we're only 3 episodes in. I can't wait to see where all this leads.
P.S. I'm seriously missing Stiles. Bring him back soon, please, Teen Wolf.
Tune in to Teen Wolf every Tuesday at 9/8c on MTV!
Featured Image: Never Love a Wild Thing