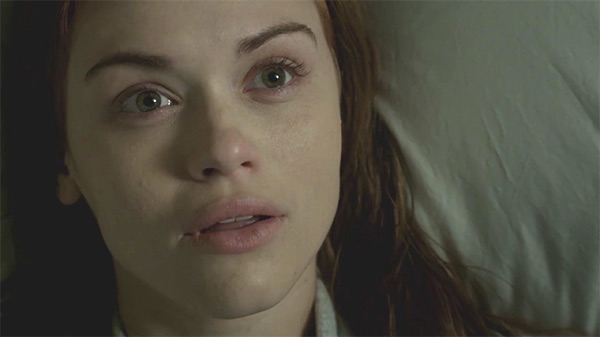 By: Lexie Gerson —July 1, 2015
Last night, Teen Wolf returned with its season 5 premiere.
It's senior year for the Beacon Hills gang! The season 5 premiere introduced us to a series of shocking flashbacks and a surprisingly new character.
The season kicked off at Eichen House where were stunned to find a very naked Lydia (Holland Roden) showering alone. After a few moments a nurse appeared urging her to hurry up, refusing to believe her catatonic ruse. Lydia fails to give a response, leading the nurse to grab her. Lydia is lifeless. She is escorted back to her room where a disturbingly creepy male nurse administers her medication. As he makes his way to Lydia's neck, she bolts up with some new badass ninja moves and makes a run for it. Lydia manages to take down security but as she makes her way outside a familiar face stops her. AIDEN (Max Carver). But he's not there to save her " "Sorry, Lydia, but your treatment's not done. Not yet," he said.  Lydia is tased by officers but manages to utter the following: "Please, I have to tell them. They're going to die. My friends, they're all going to die."
WHAT! According to executive producer, Jeff Davis, this season will be entirely flashbacks, which means we need to take a little journey back in time.
Senior year is quickly approaching and while Stiles (Dylan O'Brien) tries to figure out everyone's plans after high school, Scott (Tyler Posey) is starting to worry about what's in store for them. The past few months have become fairly good and as Dr. Deaton always says life cant ever be all good or all bad there has to be a middle, and Scott has a feeling that something bad is coming their way.
As Scott and Stiles continues their bromance, we see that Liam (Dylan Sprayberry) is chained up to a tree. He pleads with them to let him go but apparently on the last full moon, he caused chaos, running around Beacon Hills naked. Liam promises Scott that he is fine and that it was a slip-up. But we soon learn that's a lie when he is unchained and we catch a glimpse of his bloody hands.
Over at the Sheriff station, we learn that Parrish (Ryan Kelley) has been placed on desk duty. He confronts Sheriff Stilinski (Linden Ashby) about why he's lost his trust. Without a straightforward answer, Stilinski assigns Parrish to what he believes to be a simple noise complaint. But of course, that's not the case.
Parrish makes his way to the residence and finds an empty house. He investigates the basement and hears a noise coming from inside the wall. After retrieving a crowbar from his car he attempts to rescue the person inside. But it doesn't take long for the wolf-like beast with blue eyes to blast through the wall covered in black goo. He grabs Parrish by the throat causing his eye to glow a golden yellow. "You're not a werewolf, but you're something," the guy says. Did we mention the wolf's claws glowed blue? Cause they did. The guy tells Parrish that he will spare his live if he answers a simple question: Where is Scott McCall. Parrish declines and is slammed with the glowing claws.
Across town, Kira (Arden Cho) is making her way back from New York with her parents. They are stuck in traffic and she is unable to get any cell service. That's when we get the first glimpse of the other new guy (Cody Christian, Pretty Little Liars). Time is ticking as Kira tried to meet up with the rest of the gang at the high school for Senior Scribe but it looks like she may miss the entire thing. That is until Scott decides to go and get her himself. Before, he leaves Scott give Liam a pep talk about staying strong and taking pride in the fact that he is one of the strongest young werewolves out there.
Sheriff Stilinski makes his way to the house to check on Parrish. Upon his arrival Parrish sees Lydia but its only a figment of his imagination. He is alive but is badly injured. Stilinski brings Parrish into Mama McCall (Melissa Ponzio) but it doesn't take long for him to lunge back up, fully healed. Parrish tells Mama McCall and Stilinski that the guy is looking for Scott and that he thinks he wants to steal a true alpha's power. They assure him that you can't steal a true alpha's powers but Parrish says that he thinks this guy can.
Stiles and Malia (Shelley Hennig) wait at the school for the others to arrive. He quickly grows anxious and informs Malia that is starting to worry about his friendships and whether or not they will all remain friends for life, after high school. Malia tries to assure Stiles that things will be okay and the two share a kiss. Liam who is mistakenly taken down by Malia quickly interrupts them. After overhearing Parrish at the hospital, Liam tells them that Scott is in trouble.
Scott manages to find Kira in the middle of all the traffic. They kiss in the rain and continue to make-out back at the high school. The moment quickly goes to a halt when the guy with glowing claws appears and they face off. Scott and Kira attempt to fight but fail. That's when the other new guy comes to the rescue and Stiles, Malia and Liam appear. Just as it looks like the mystery wolf with glowing claws is about to drain the life out of Scott, the true alpha comes back with a roar. He threatens the wolf, who flees the scene. As for the other new guy, we learn that his name is Theo, a former fourth grade classmate of Scott and Stiles, he has returned to Beacon Hills to be apart of Scott's pack.
Despite her academic struggles, Malia finally receive the email she has been waiting for, she is officially a senior. The gang heads to the senior scribe and meet up with Lydia to write their initials in the library. Stiles is first and manages to catch a glimpse of Derek Hale's intials, bring on the feels. One by one they write their initials and when it comes to Scott, he writes his own initials and Allison's, now we are crying. "She would have been with us," Stiles said. "She still is," Lydia said.
Jump to a horrifying place, where the guy who attacked Scott meets up with the scientists, Dread Doctors, who are apparently behind the attack. He informs them that he tried but failed. Unfortunately for him there are no second chances. They kill him, prompting crows to fly out of his chest.
Flashback to the present: Lydia is still at Eichen House. The doctor says that "everything" started to happen at the beginning of senior year. Lydia says that she cant remember what happened to her friend but maybe that's because she doesn't want to remember. We see a series of brief glimpses in which: Liam and Scott go it; Mama McCall slaps the Sheriff; Kira leaves Scott behind; Parrish's eyes glow again; Malia gets attacked by the Desert Wolf; and Stiles lies lifeless after a serious car accident. AHHH!! We don't even know what to say!! We need answers!!
Tune in to Teen Wolf Mondays 10/9C on MTV to find out what's in store for our beloved Beacon Hills gang.