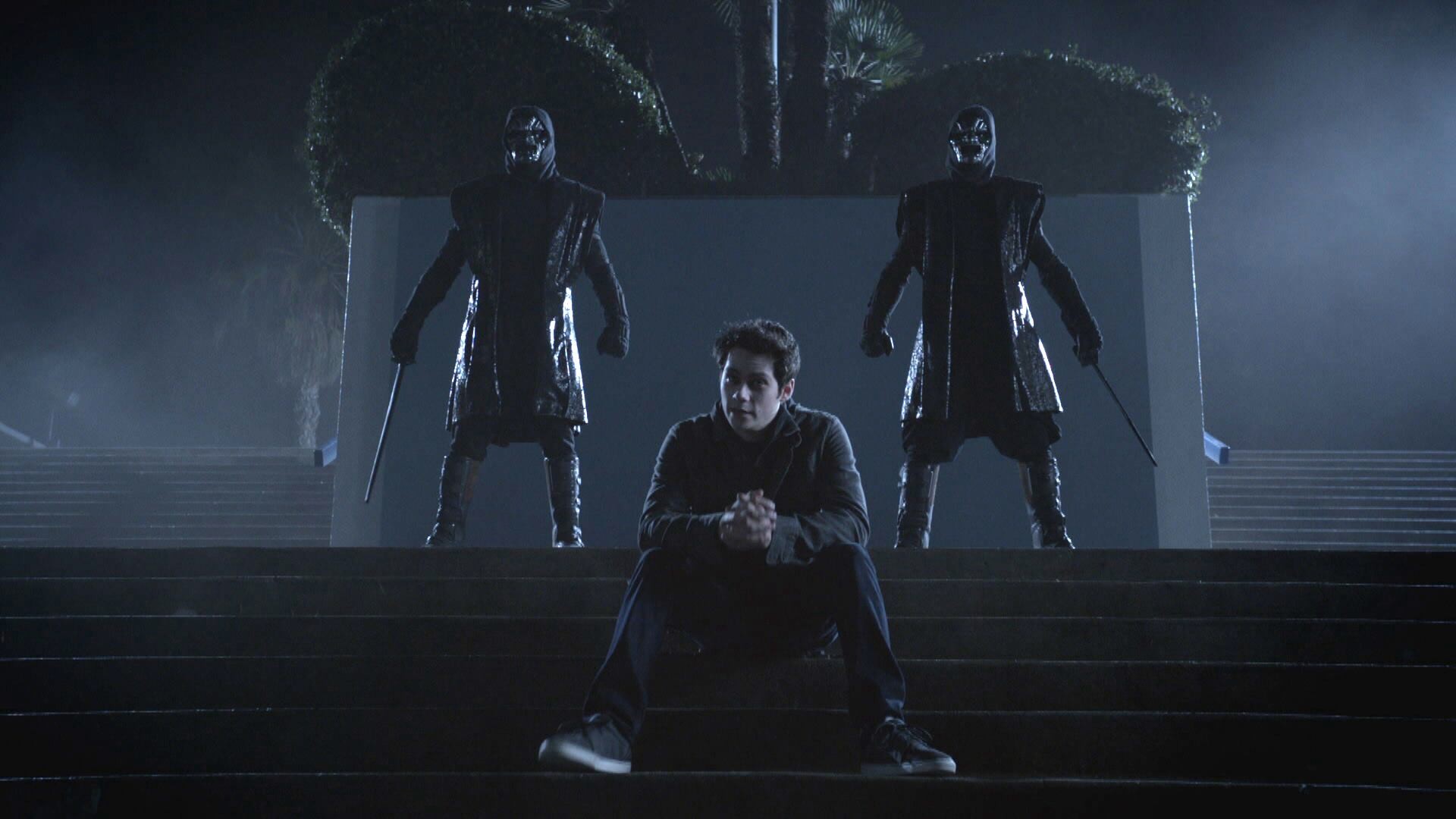 Teen Wolf Season 3 Finale "The Divine Move"
Lexie Gerson —March 24, 2014
Teen Wolf season 3 finale, "The Divine Move," aired last night on MTV. While we still mourning the death of our beloved Allison Argent tonight's episode surely delivered.
Tonight's season finale of begins with off Scott (Tyler Posey) and Papa Argent (JR Bourne) just moments after Allison's (Crystal Reed) death. Argent preps Scott with a story to tell the police. They have put together a story about a car jacking. Meanwhile Sheriff Stilinski (Linden Ashby) interrogates Isaac (Daniel Sharman) who tells the police that "it all happened too fast."
Kira (Arden Cho) and Stiles (Dylan O'Brien) work together to better grasp Allison's death. The Yukimura's (Tom Choi and Tamlyn Tomita) tell them they need a "divine move." In order to change the game, they must find the glass jar with the Nemeton that was buried.
Isaac walks Argent home but Argent tells him that he does not need him to look after him, he can ignore his emotion, he'll be okay. Isaac proceeds to tell Argent that he needs him and the two share a hug. Our hearts melt as these two mourn our beloved badass, Allison.
Derek (Tyler Hoechlin) helps Ethan (Charlie Carver) and Aidan (Max Carver) explains to them that if they want to be apart of Scott's pack, now it the time. They need to stay and help him fight to save his friends.
Scott and Lydia (Holland Roden) pay Dr. Deaton (Seth Gilliam) a visit and ask him how they can defeat the Oni. Deaton tells them that they are not fighting a person they are fighting a spirit in the shape of Stiles. Deaton says that the Nemeton won't work but perhaps that powerful objects carved from the wood will help. He says they need to find Talia Hale's (Alicia Coppola) claws, the ones that Peter (Ian Bohen) had in the wooden box.
At the hospital, Evil Stiles arrives at the hospital in search of Melissa McCall (Melissa Ponzio). Evil Stiles proceeds to order the Oni to attack the entire hospital staff.
Meanwhile at the police station, Stiles and the rest of the cops are battling an Oni of their own. And they quickly learn that bullets will not be of any help.
Melissa and Agent McCall (Matthew Del Negro) are under attack at the hospital, trapped in an elevator. Melissa is severely wounded yet there is no way for them to seek help.
Isaac tells Argent that before Allison died she said something about him. Argent then proceeds to tell Isaac that before she dies, Allison was working on a silver arrowhead. Isaac tells him that he needs to see it but he has a feeling it is already gone.
Lydia informs Scott and Dr. Deaton that she can feel something happening, they are running out of time.
Argent is shocked to see that Allison made five arrowheads, because "she figured it out." Before she died Allison discovered that the silver bullets/arrows could kill the Oni. They are like a poison but need to stay in the Oni's bodies.
Sheriff Stilinski and his deputies are all seriously injured. They have black wounds all over their bodies and have been left to die by the Oni.
Stiles, Scott, Lydia, and Kira search for the Nemeton. As they enter the door of the school they find themselves in a winter wonderland.
Meanwhile, Derek, Ethan, and Aidan pay Evil Stiles a visit.
Back in winter wonderland, an Oni appears and tells them that he is going to kill Stiles and everyone he cares about. He continues to tell them that he has captured all of the territories on the board (the police station, the hospital, and the animal clinic). Here we learn that the Oni has also stabbed Dr. Deaton. Additionally, the Oni reveals that he is going to make Scott, his best friend, kill him and Stiles is going to let him.
As the gang remains in their winter wonderland, Sheriff Stilinski, Dr. Deaton and Melissa McCall are slowly being poisoned to death. Kira and Scott try to defeat the Oni while Lydia and Stiles hide. In the meantime, Derek, Aidan, and Ethan continue to fight Evil Stiles and his men.
Stiles soon realizes that Kira and Scott will not be able to defeat the Oni so he picks up a sword and prepares to sacrifice himself. Before he can go through with it, he has an epiphany; he tells Kira and Scott to stop fighting, "it is an illusion." They walk through the demons and end up with multiple stab wounds but once they push through the door they realize they are fine. Stiles was right, it was an illusion. Just then, Evil Stiles appears, he isn't an allusion.
Argent and Isaac rescue Derek and the twins with their silver arrows. Aidan is badly wounded but they manage to kill the Oni.
Isaac arrives at the school with the canister just as Scott bites Evil Stiles and Kira stabs him with her sword as he is attempting to transform. The fly comes out of his mouth and Isaac traps it in the canister. Evil Stiles then collapses and turns into a pile of soot. He is dead, once and for all.
As Evil Stiles vanishes, all of his victims' begin to heal. This includes Dr. Deaton, Sheriff Stilinski and Melissa McCall. Stiles passes out and falls to the ground. Lydia, Kira, Scott, and Isaac gather around him and he quickly wakes up. Everyone is okay, except Aidan. Derek and Ethan are by his side as he takes his last few breaths. Lydia rushes out of the school in shock, she senses that Aidan had died. Once again, another one of our beloved Beacon Hills characters has fallen.
The next day they all head back to school. Kira shares how horrible she feels about everyone's loss [Allison]. Ethan then reveals that he is leaving town, he can't stay without his brother. Dr. Deaton gives Scott an inspirational speech about "regression to the mean," and explains that everything won't always be bad.
The finale ends with the return of a familiar face, Kate Argent (Jill Wagner) paying Derek a visit, she is alive and a werewolf. Talk about a shocker!!
Thanks to Allison the gang manages to save the day. And while we are sad to see another character [Aidan] go we are excited to see the return of Kate Argent. This season sure was filled with twists and turns but we are thrilled to see what's in store for Teen Wolf season 4.
Be sure to tune in June 23rd for return of Teen Wolf on MTV.