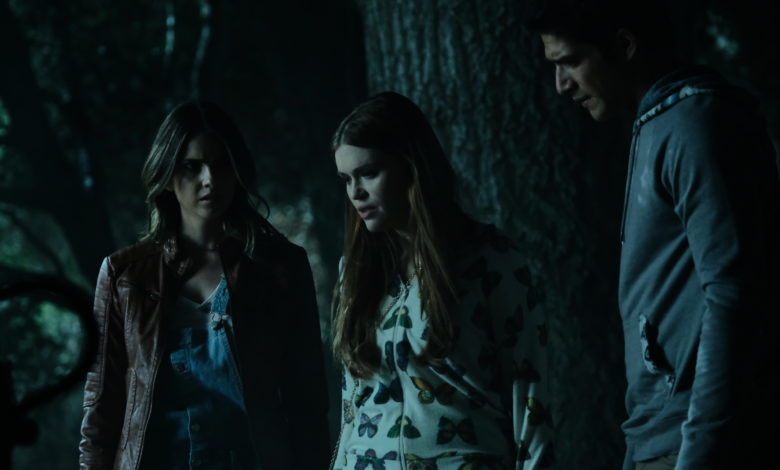 This is it, y'all. The last ever Teen Wolf season premier. Ugh, my heart hurts just thinking about it. We spent all these months waiting on it to finally get here because we missed the show so much, but now that it's officially started, I'm super emotional about it because now there's only NINE more episodes of Teen Wolf left. I'm just not ready to say good-bye to these characters that I've grown to love so much. 🙁
Anyways, this isn't the time for me to get all sappy. The season premier gave us the usual suspense and updates on our favorite characters as we are welcomed back to Beacon Hills at what seems to be the end of summer. This season premier, however, provided us with a different – and emotional – vibe as Scott, Lydia and Malia prepare to move on from Beacon Hills, and Liam, Mason and Corey prepare to take on the roles of being senior leaders (yes, they've skipped a grade to graduate early). But Beacon Hills just isn't Beacon Hills without some supernatural drama to keep everyone from moving on with their lives.
So, let's get to it!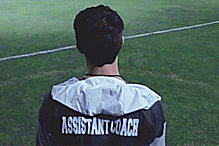 The episode starts off on the lacrosse field, and while we're used to seeing Scott suit up for a game or practice, now he's calling out plays and wearing an assistant coach jacket! Now, before you start wondering what happened to UC Davis and becoming a veterinarian, that's still the plan. Scott only volunteered to help Coach Finstock for the summer. Speaking of our favorite lacrosse coach, he's back! And being his usual comedic relief – forgetting players names, judging Scott's coaching skills, and all. He's wondering where the heck Liam, the team captain, is and starting to question his role as being said captain. Scott really sticks up for Liam, though, by saying he's "a born leader that can handle anything you throw at him."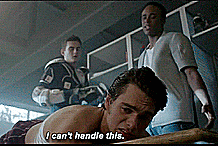 Not so fast, Scotty boy. Liam is in rough shape in the locker room. When I say rough shape, I mean broken-hearted over the fact that Hayden moved (can you really blame her?) and the fact that Scott is leaving. His best friends, Mason and Corey, are there trying to pick him up off the ground and encourage him to be the captain they know he can be. "Going to college is not leaving, okay? It's called growing up." Then they clumsily confess that they're going to college together and poor Liam had no idea. It's not until Mason finds out that Coach is making some other guy captain that Liam puts on his big boy undies and gets his butt back on the field – showing Coach that he is captain material.
That practice gets cut short though when Liam loses control and starts to shift and a bloody wolf walks right on the field snarling his teeth. After a few minutes and Scott glows his alpha eyes at it, the wolf turns and walks away into the woods, and Liam and Scott follow it because why not. By the time they catch up to it, though, the poor thing is dead and SPIDERS COME OUT OF ITS EYES – EW! Then a whole slew of dead wolves are revealed in the woods.
Side note: Dylan O'Brien wasn't in the opening credits and I'm not okay with it. :/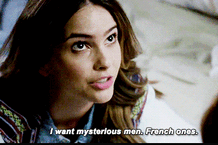 Meanwhile, Malia is so done with Beacon Hills and its "mysterious animal situations." She's ready to put it all in the rearview and jet off to Paris so she can focus on mysterious French men. Hey girl, I don't blame you. I'd much prefer Paris over Beacon Hills and all the supernatural chaos. – Side Note: did anyone else think of her meeting up with Isaac?? – Unfortunately, her flight is delayed due to weather, and the pack is practically begging for her to stay and help figure some things out, but she is still adamant on leaving it all behind and moving on with her life. Sorry, Malia. I don't think you'll be so lucky.
Now, think all the way back to season four when Liam first joined Scott's pack, but he had some serious anger issues and had to learn a mantra to control the shift. "What three things cannot long be hidden? The Sun. The Moon. The Truth." Well, even though Liam says he hasn't had to say the mantra in a long time, Scott still took the time to remind him of it and have him say it since he nearly shifted on the field after getting angry. I thought it was a nice moment between an Alpha and his Beta before Scott goes off to college and leaves Liam to lead his own pack.
A new hellhound, Halwyn, breaks out of Eichen after being literally frozen in there since like 1912 when Eichen first opened. When I say breaks out of, I mean became a literal fireball then walked out like it was no biggie. Good news is, he's a hottie. Bad news is, well, he's bad and about to cause a ruckus all over town. Welcome to Beacon Hills, y'all!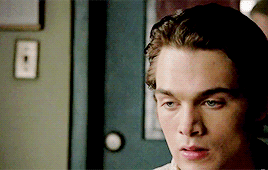 The next day at school Liam, Mason, Corey and (new kid) Nolan each have a chat with the new – and super sketchy – guidance counselor to figure out their schedules for senior year. Liam wants to take Latin because he heard it was an easy A, but she talks him into Spanish instead. Corey needs to learn how to play it cool because he literally was like, "I'm here. You can see me… right?" Chill, Corey. But this guidance counselor gets really suspicious when she talks to Mason, telling him that if he needs to talk about anything, she's there. Clearly, she knows. But Mason doesn't budge on revealing his secrets. Then on Nolan's turn, she flat out asks him about the animal attack in the library months ago, but he says, "everybody knows that was no animal." She tries to push more out of him, but he changes the subject.
Meanwhile, hundreds of rats came out of the vents and decided to crash a classroom. My favorite part (since rats are like my worst nightmare) was when some girl yelled, "Why does this keep happening to our school?!" I hear ya, girl. This leads Mason and Liam down to the tunnels – because everything leads to the tunnels – where they find dead rats… a pile of them called a "rat king"! Excuse me while I vomit.
Back at the school, Natalie Martin is not having any more of these supernatural shenanigans. She's dunzo with them. Lydia tries to give her a list of all the supernatural beings so she can feel somewhat protected, but Natalie is just like nope. You're all going off to college where you'll be safe. It's not our problem anymore. Hahahah so you think, Ms. Martin.
Scott is also trying to make sure Mama McCall is protected. He meets up with her where we all have emotional conversations with our parents – the morgue – and gives her a stun baton and tries to teach her how to use it. She's not too keen on it, but no need to worry, she has all the supernatural herbs she needs to protect herself. So, she tells Scott to go on his merry way to UC Davis so he can save all the cats and dogs.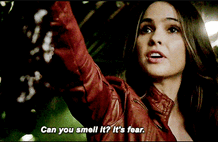 Back to Mason and Liam, they upon Malia for help – told you she was getting dragged into this. She meets up with them in the tunnels and casually picks up one of the dead rats and sniffs it while Mason and Liam are disgusted and terrified (as one should be). They smell like fear. According to her, the rats got freaked out, got all tangled up in their tails, and tore each other apart trying to get out of the tangle resulting in the rat king. Thanks, Malia for that disturbing little lesson.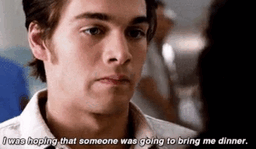 Meanwhile, the new hellhound is making his way around Beacon Hills. First the police station and then the hospital where Melissa is running the whole shebang as usual. When he comes in (as his normal self), she tells him that he needs to sign in if he wants to be checked out, but he totally ignores her and keeps walking. Then Liam and Mason come in with what Melissa hopes is her some dinner, but to her dismay it's a dead rat. Yikes. All the hardworking woman wanted was some food. Is that so much to ask? Anyways, they want her to check out the rat or something, but ain't nobody got time for that. Then, Liam gets into a fight with some random guys causing a ruckus and basically shifts in front of everyone (way to go, buddy), forcing him to get the heck outta dodge.
Lydia is all packed and ready to go to MIT and drop Scott off at UC Davis (at least, that's what I'm assuming was their plans), but when she walks into Scott's house with suitcases in tow she gets one of her creepy premonitions. It starts as soon as she enters Scott's house as she hears the phone ring, then she turns around and she's in the high school that's covered in spider webs. Each web is making a sound, particularly when Lydia touches it. There's screams and gunfire and growling, but it's the final one that emits a clear message: "You let it out. You were supposed to ride with the hunt forever." Ummmm…okayyy???
Who's up for a late-night study hall in the Beacon Hills library? Certainly not me knowing all the crazy things that happen at that school at night. But that's where Mason and Liam were headed until the new hellhound catches up to them in the hallway. Apparently, this guy is on the hunt for someone, and he thought it was Liam. After hearing his heartbeat in the hospital and following his scent, there's an epic throw-down with him, Liam and Parrish. Mason tries to stop him with Stiles' bat, but new hellhound just melts it (RIP Stiles' bat), knocks Parrish out – a lot of people think he might be dead – and severely injured Liam. Once again, though, before he knocks Parrish out, we hear the similar sentiment of "something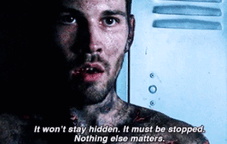 you let out." I'm assuming this relates to Lydia's premonition.
Then new hellhound gets super cryptic once he realizes that Liam's not the one he's after. "It won't stay hidden. It must be stopped. Nothing else matters." Ummm… okay? Care to be a little bit more specific? Who are you looking for and why? And what are you going to do with them?? And how does this relate to the wild hunt?? These are questions I need answered asap please!
So, Scott is all ready to leave for UC Davis. He hops in Roscoe (Stiles' Jeep in case you didn't know) and finds a note from Stiles saying, "be gentle." Awww! P.S. I'm seriously missing Stiles, y'all. But that's beside the point. Just as he cranks the Jeep up and the headlights turn on, Lydia comes out of nowhere and says they can't leave yet. Well, of course not because that would be too easy and nothing in Beacon Hills is ever easy.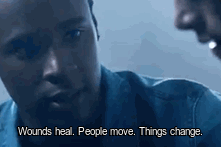 Back with Liam and Mason in the locker room, the new hellhound did some pretty deep damage on Liam, and he's not feeling too great about his abilities. With everyone leaving, he's doubting himself and his ability to protect the town. I mean, let's be honest, he has some big shoes to fill following Scott, but I think he'll manage. Liam and Mason had a really good conversation that I found really relatable. Mason tells him, "Wounds heal. People move. Things change." Then Liam responds with, "Yeah, but it still hurts." Liam's whole arc in this episode made me have this theory that the pack is his anchor. It's what keeps him grounded and human. Now, he's starting to lose it a bit since his alpha and half of the pack are leaving. I have to wonder if this will continue to play out over the next 9 episodes and he'll eventually become stronger and more confident in his abilities – heck, maybe even become an alpha himself. I'm not too invested in the 2.0 pack, but I do want to see Liam be more confident in himself as a werewolf.
Poor Malia just wants to go to Paris, but just as her flight is no longer delayed and she jumps up screaming "Oui Oui!" Scott and Lydia show up at her door saying they need her help with whatever is going on around town. They don't force her to stay, of course, but they sort of guilt her into it by saying that they hoped she'd want to stay and help. Malia even tries walking right past them, only to turn around not even a minute later. We knew you cared, Malia! So, they all hop in the Jeep to try to figure out a plan. Lydia says that they "opened a door to another world, and something came out with us." They conclude that the only one who knows anything is the new Hellhound causing a ruckus. So, that's where they start.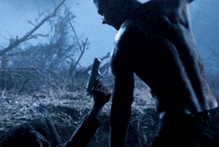 Unfortunately, while they were coming up with this plan, the new guidance counselor was having a throw-down with said new hellhound. She tried shooting him, but that didn't work. It wasn't until he had her pinned that she put a bullet right in his head, seemingly killing him – I don't think he's dead though. And that's how Scott, Malia and Lydia find him in the woods. But guess what they also find… an Argent bullet! Say what?? Lydia realizes that what she heard in the spider-webs was actually right… "the sound of people who've never lifted a hand against another human being… they were killing each other." So, is this going to be like the Deadpool thing in season 4? Guess we'll have to wait and see.
With all this supernatural drama starting back up in Beacon Hills, Scott, Malia and Lydia question if they should call Stiles – the only one to make it out of Beacon Hills before all this started. Lydia, doesn't want to because they nearly lost him last time, but Scott and Malia argue that he'd be upset if they didn't include him. So, Scott plays a voicemail that Stiles recently left him that nearly makes me sob with happiness and pride for Stiles Stilinski.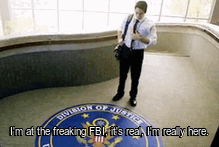 Stiles Stilinski is in the freaking FBI, y'all! And as much as he misses Lydia and told her he couldn't wait to come home, he was clearly happy. In the voicemail that continues to play as we see him walking through the Quantico FBI facility with pride written all over his face, he tells Scott that he hopes he actually gets out of Beacon Hills and doesn't feel the need to stay and protect it. He wanted him to promise that he would just get in the Jeep and go because he knows his best friend and how protective he is of Beacon Hills. Ugh! I love it so so sooo much!
But it's the end of the episode that leaves us with the cliffhanger that we're all used to. The voicemail is over and we're just watching Stiles be a nerd in class as the FBI agent talks. Everything is fine and dandy until a video is played that causes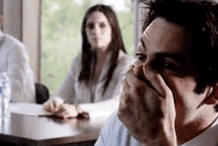 Stiles to literally spit out his water. Derek Hale runs across in the woods (literal season 1 throwback) and the FBI agent talking tells them that that's who they're after. When Stiles asks what he's wanted for, the answer leaves us all shocked… Murder. Mass murder.
Well things just got even more interesting! As much as I'm dreading the series ending, I can't wait to see what these final 9 episodes have in store for us. I have no doubt it will be full of suspense and emotion because I wouldn't expect anything less from Jeff Davis and the Teen Wolf writers.
Be sure to tell me what y'all thought of the episode and your theories on what's going to happen next!
Teen Wolf airs Sunday nights at 8/7c on MTV!

Teen Wolf is only a few months away from premiering its final season. As a way to ease my sadness over it ending, I'm continuing my rewatch and remembering some of the best moments of each season. Season 1 introduced us to the characters, relationships, and the supernatural world while giving us just the right […]