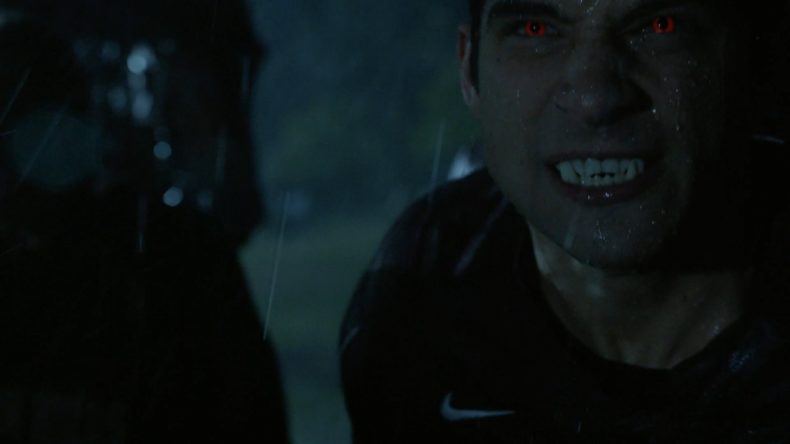 Previously on Teen Wolf a bunch of highschoolers  were "marked" because they saw the Ghost Riders at the party. Now Scott and the pack must find a way to protect all of them from being erased all the while trying to remember their own erased pack member. Shouldn't be too hard for a pack that has survived alphas, a kanima, a darach, onis and a nogitsune, right? Not really. Especially when there's stubborn newbies and a lacrosse game to be played. What I enjoyed about this episode is that things don't work out in the pack's favor because let's be honest… it's not realistic for a small group of teenagers to protect a bunch of highschoolers while simultaneously solving the mystery of Stiles and surviving the Ghost Riders themselves. It's nice to see the heroes fall short sometimes.
Let's talk about this pretty terrifying episode that has the Ghost Riders on a war path.
The episode starts off with one of my new favorite team ups. Argent is out in the woods looking for the powerful werewolf he and Melissa learned was killing and stealing souls when Melissa shows up. She rambles on about how she felt the need to be risking her own life more like everyone else does… and she brought medical supplies and taser. Although, I don't think her supplies will do the two victims that they came across any good. In fact, I know that it won't because one
was already dead and the other coughed up blood and then died.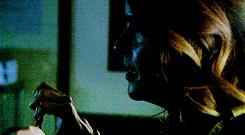 In a somewhat unexpected turn of events, they hear rustling nearby and assume that it's the killer. Argent immediately prepares to shoot. However, it's not the out of control werewolf, it's an out of control werecoyote named Malia! Argent still clips her in the leg though in hopes to calm her down. They take her to the morgue to dig the bullet out where she explains that she wasn't on some crazy killing rampage. She was just out running and she heard screams so she followed it. Seems like a legit excuse. It takes too long to get the bullet out so she takes matters into her own hands and digs it out herself before handing it back to Argent like it's no big deal.
In the meantime, the rest of the pack are at Scott's house trying to figure out how the Ghost Riders got into the mountain ash lined house. They find the point of entry in a giant black marking on the ceiling and realize that it's from a lightning strike. Yup, that's right, the Ghost Riders travel by lightening. Wherever there's a storm with lightening, you can bet that the Ghost Riders aren't far behind. And they can get through Mountain Ash, so nowhere is safe. Fantastic.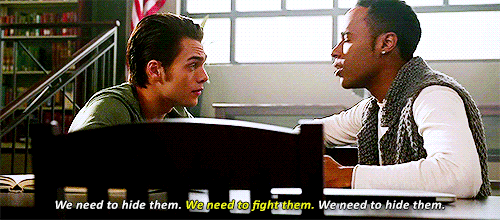 The next day, Hayden is creepily following Gwen around to protect her while Liam and Mason are in the library trying to figure out how to save their fellow classmates from being erased and stop the Ghost Riders. Their research leads them to believe that they can track the Riders by the K-Index of lightning activity. What smarty-pants. Just as they're discussing this though, a storm starts brewing, and it causes them to argue about what to do next. Liam wants to lure the Riders in and catch them off guard, while Mason wants to focus on protecting those who saw the Riders at the party. Scott shows up and asks them what they're arguing about. After they tell him he chooses to go with Mason's plan and hide the students in Argent's underground bunker… safe from lightening and Ghost Riders.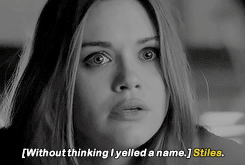 Meanwhile, Lydia examines the library card that that one erased kid left behind and states that it's a relic, a piece of someone that was left behind. They believe that if they can find something of Stiles' that was left behind, then they can somehow bring him back. She decides that she wants to search the Stilinski household to see if she can find a relic of Stiles. The sheriff is on board with the idea, and informs her about how he stubbed his toe on an old baseball bat, and without thinking about it he yelled out a name… Stiles.
So, Scott, Liam, Mason, and Corey take the other students to the Argent bunker, but they soon notice that some of the kids are missing. Once they realize that the ones missing are at the lacrosse game, they leave Argent in charge so that they can go get the others. However, since the rest of the team is already on the field, Scott, Liam, and Corey are pretty much forced to play. Better get ready for a wild ride, boys!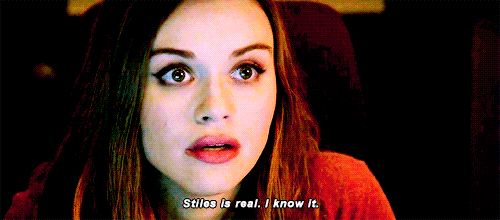 Lydia goes to the Stilinski house and thanks Claudia for agreeing to let her look around. She goes to the hallway where she saw the old woman before, but rather a man asking if she saw something and telling her it's right in front of her face. Instead, she hears things behind the wall, feels around, and starts peeling the wallpaper. Claudia comes storming in and grabs Lydia by the wrist (to the point where it hurts Lydia, might I add) and asks her what she's doing. Lydia apologizes before leaving. Natalie finds her at a desk and informs Lydia about her concerns after hearing what she did at Claudia's. Apparently, they go way back. Lydia responds by telling her that she knows Stiles is real and that she thinks something off about Claudia. Reluctantly, Natalie helps her daughter figure some things out.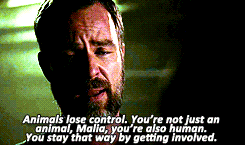 Back at the Argent bunker, Argent calls upon Malia to help babysit the students, but Malia immediately turns down the job. "I can't be a babysitter. Coyotes eat their young." Argent goes all papa bear and tells a heartwarming speech about how she's not a monster and he wants to help her, and that maybe if he had helped Kate a long time ago, then maybe she wouldn't be such a monster now. "Animals lose control. You're not just an animal, Malia. You're also human. You stay that way by getting involved." Malia finally agrees to help, but once they get back to where the students are, she instantly notices that Nathan is missing. Argent says that if he gets out, then the mountain ash seal will be broken and the Ghost Riders will get in.
The lacrosse game is in full force, quite literally. Everyone is playing super aggressive and lashing out more than they should during a lacrosse game. P.S. Gwen is a lacrosse player now? I guess to take Kira's place? Okay, Teen Wolf. Anyways, Scott thinks that the aggression is because of the Wild Hunt. Sure enough, just as Mason realizes that Hellhound Parrish can help protect them, the Ghost Riders storm the field and start making people vanish one by one. There's one being dragged across the field. One Rider has a gun that he shoots at people and it makes them disappear into dust. Everyone starts making a run for it while Scott and Co. prepare to fight and protect, primarily Gwen (she's more special to them than the other students for some reason, I guess). Apparently, she's not afraid of no Ghost Rider because she just offers herself to them, and just like that she's gone. Liam isn't afraid of them either as he tries to take one on, but fails miserably. Surprisingly though, none of the riders take him or Scott (who can see them now). They don't take Hellhound Parrish either after he tries to go after them. A Rider shoots him and he just goes back to his human self.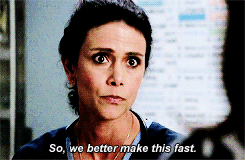 Meanwhile, Natalie and Lydia are still suspicious of Claudia so they head to the hospital and try to convince Melissa to let them see her medical records. Melissa tries to act like she always abides by the law and doesn't let anyone see private records, but then, like always for her friends, she caves and says they have to be really quick. What they find is confusing and shocking to everyone. Claudia has never been pregnant, but her records do show that she had Front Temporal Dementia (the same thing that Stiles was diagnosed with when he was possessed by the nogitsune, and what Claudia actually died of before Stiles was erased) YEARS ago. Melissa is surprised she's even still alive. What in the world is going on with this woman??
As you can probably guess, Nathan escaped the bunker, but to his (and everyone's) unfortunate luck, the Ghost Riders got him and he was erased. The Riders jump into the bunker and Argent and Malia try to fight them, but it's to no avail. Everyone, besides them, is erased. However, Argent is seriously injured, and as Scott, Malia, and Lydia are talking we see Melissa comforting him. Are they a thing or what??
Back at the school, Liam is feeling all sorts of bummed. He walks into the locker room expecting to get yelled at by Coach, especially since he's yelling at (what's left of) the lacrosse team that it wasn't "lacrosse, it was laCRAP!" Gotta love Coach! However, when he turns to Liam he actually makes a good example of him because he stayed and fought and didn't run like the rest of the team. He's so proud that he made him team captain! Way to go, Liam!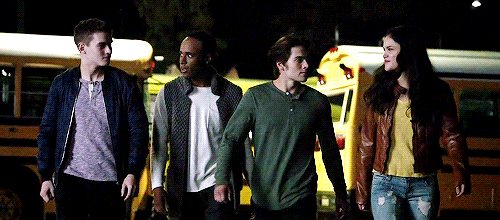 That seemed to be just the confidence boost that Liam needed because he walks out of that locker room with a determined look on his face. He's determined to catch a Ghost Rider, and the 2.0 pack is right behind him to help.
As I said before, Melissa is holding Argent's hand while Malia, Scott, and Lydia talk out in the hall. Scott and Malia seemed to have lost all faith that Stiles ever even existed because there's not a relic of him, they even suggest that they stop looking for him because of how bad they're losing against the Ghost Riders. Lydia is certain that Stiles is real though, and she's not giving up on finding a relic of him. And I am all for that! She knows that her love exists and she's determined to bring it back!
Speaking of Stiles' missing relic, just as Liam and his 2.0 pack are walking through the school parking lot, guess what they pass… Roscoe, Stiles' Jeep! Finally
Questions of the week:
Why do the Ghost Riders only take certain people at a time?
What is up with Claudia??
Do you think Liam and the 2.0 pack can actually catch a Ghost Rider??
Will Lydia finally remember Stiles?
Speaking of, Stiles is finally back in the next episode! Thank goodness!
Catch Teen Wolf every Tuesday at 9/8c on MTV!
GIFs: hollvndroden, argents-allison, shelleyhennig, fytwolf, lydiamccall, stiles-lydia
Featured Image: MTV Teen Wolf