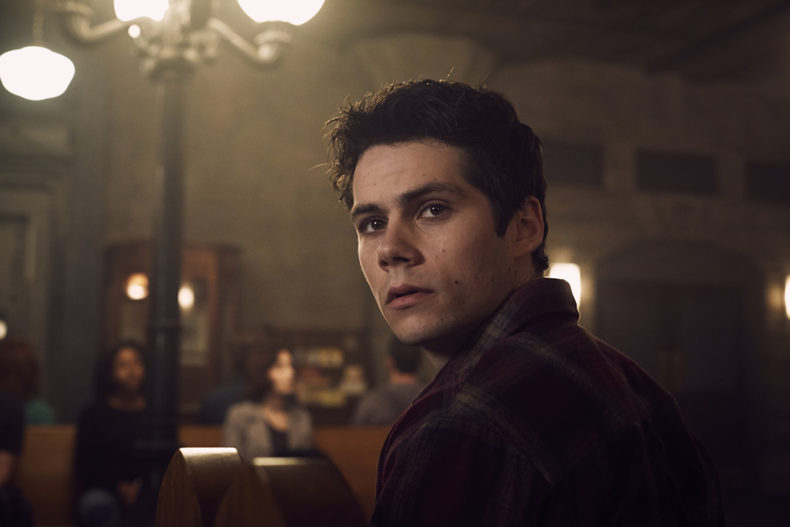 Good news, everyone! Stiles is back!… for this episode at least. That's right, folks, after three long episodes without our favorite baseball bat wielding pack member, we finally know where he is! Better than that, Scott and Lydia had the tiniest bit of contact with him and are realizing more than ever that he's actually real. This was such a good episode, y'all. In my opinion, it had a major early seasons feel to it with Peter being back (yes, you read that right), the banter between him and Stiles, and the focus just being on the core pack members and no secondary 2.0 members. I loved it!
Let's talk about what went down.
The episode opens in a train station with a bunch of people who are seemingly in some sort of trance… including Stiles! We see quite a few familiar people as well, at least, they would be familiar to Lydia as they are the ones she's been having visions of. When Stiles snaps out of it he notices that he's still holding on to his Jeep keys. He starts asking all sorts of questions like where they are and how long they've been there. No one seems to have a clear answer though.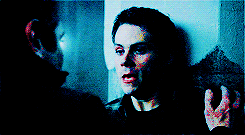 The thing with this "Train Station 137", though, is that it doesn't seem to actually be a running one. Dust is gathering up at the ticket booth. Just as Stiles tries to figure more things out, the Ghost Riders come storming in with the latest of the erased. Stiles attempts to get face-to-face with a Rider, but Peter quickly pulls him out of the way, essentially saving him. Yup, Peter saved Stiles! Who would have thought that we'd see these two becoming allies, which I love because the banter between the two characters is always gold.
How did Peter get erased though? Last we saw, he was locked up in Eichen with Valack. At first, Peter doesn't even remember the Ghost Riders being there minutes ago, but then I guess it comes to him and he tells the story of his escape. We see a flashback of him in his cell carving a large spiral (the werewolf symbol for revenge) into the floor and the power starts flickering out. It's the same night that the pack broke Lydia out of Eichen and Kira had to do a brown out, but ended up cutting all the power. So, Peter was able to just walk right out. I would say that he has it too easy, but it didn't take long for the Ghost Riders to find him and shoot him into non-existence. It's crazy how these Riders have been erasing people in Beacon Hills for so long now and the pack is just now catching on.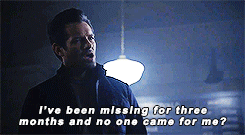 Peter is annoyed that no one noticed he was missing for the last three months, but once Stiles clues Peter in on the Ghost Riders, Peter concludes that they're stuck there because Beacon Hills doesn't have a train station and he knows the Ghost Riders are relentless. Stiles is having none of that though. He's determined to get out of there and back to his friends and family. It's not going to be that easy though as even the doors just lead him back to where he started.
After Stiles tries and fails at the doors a few times, they spot a guy watching them. He seems to be the only other person who isn't stuck in a trance. Stiles and Peter corner him and ask him what the deal is. He tells them that there is only one way out and it's through the tunnel that the Ghost Riders come in and out of. It took a little bit of convincing, pushing, and pulling, but they eventually embark on the tunnel.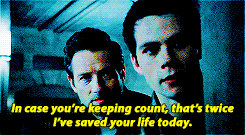 As it turns out, this new guy isn't exactly their best ally. His bright idea to escape is to jump on the back of one of the Riders' horses and ride with them through the portal. Yes, you read that right. A portal is the only way out. They're in some other dimension. Anyways, this idea doesn't even sound that great, and thankfully Peter convinces the guy to try it first before him or Stiles attempt to do it. The guy manages to get on the back of one of the horses, but as soon as the Rider goes through the portal, the guy is blown off and burnt to smithereens!
This just furthers Peter's conclusion that they're stuck in this place. He's seemed to have lost all hope. One of the things that we all know and love about Stiles Stilinski, though, is that he's not quick to give up, especially when it comes to his friends. He knows that Lydia or Scott or Malia will come for him. Then he asks Peter who would ever come for him since no one even noticed he went missing three months ago. It's an intense scene between the pair, but it's powerful. We ultimately see two different sides of the spectrum with these two: Stiles being loved, needed, and missed by many, while Peter has done so much damage to any relationship he ever had that he might just be unredeemable at this point.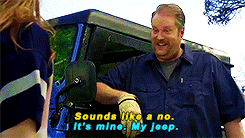 Meanwhile in Beacon Hills, Lydia is too distracted by a seemingly familiar Jeep about to get towed in the parking lot to focus on her only class. The teacher calls her out on it, and Lydia apologizes, but it doesn't last long as she goes running outside to stop the tow. She tries to convince the tow truck driver that he can't take the Jeep, but it's not until Scott runs out and claims it as his own does the driver start to listen. However, Scott and Lydia still end up coughing up $150 to stop the tow even though neither of them know why.
Back at the train station dimension, Stiles discovers a room with some sort of radio call desk (I think). He messes around with it a bit, and ends up sending static through the radio in Stiles' Jeep (yessssss!). Scott, Malia, and Lydia hear it and run out to the Jeep. They break into it and start searching for any clues that could lead them to Stiles, which Malia still believes they should forget about and Lydia is desperate to keep looking. It's Scott who notices that their scents are all over the Jeep, but none of them remember ever being in the thing.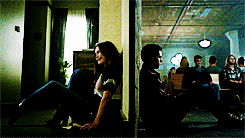 If you thought it would be that simple for the pack to figure out how the Jeep relates to Stiles, you're wrong. There's no record of the Jeep's owner, however, the registration does lead Lydia to the Stilinski house. Unfortunately, Claudia claims the Jeep was stolen 18 years ago, and there's nothing her or the Sheriff can do about fingerprints or anything. Stilinski asks Lydia if this has anything to do with Stiles and she struggles to tell him no. Claudia suggests that it may be time for her to go talk to her mom, to which Lydia slowly agrees before asking to be excused. She goes to the hallway again and slides down against the wall as she finally breaks. She's desperate to solve this mystery of the person she knows she loves, but keeps hitting dead-ends. If only she knew that Stiles was leaning against that same wall in another dimension, desperate for someone to find him. Cue my Stydia-loving heart breaking!
The Ghost Riders drop off more people from Beacon Hills, including Gwen who reunites with her sister, and Peter realizes just how much trouble they're in. Since he's supernatural, he decides that their best bet of getting out of there is for him to go through the portal since he can heal. Stiles knows that he's probably only doing it because of Malia, but he's okay with that, and asks him to talk to his friends. Peter being Peter, agrees to do it… maybe.
He makes it through the portal back to Beacon Hills, but not without being severely burned to the point he can't even talk, but he manages to howl. Scott and Malia hear him and go running. They find him in the woods and take some of his pain away. Malia remembers him first as her father, and then Scott remembers him as the one who bit him. It's then that Malia finds the keys to Stiles' Jeep in his hands. Oh, Peter, I knew you cared in your own weird way.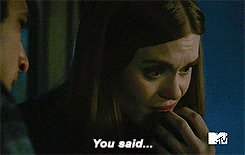 Malia gave the keys to Scott and he met Lydia at the Jeep. It took a few tries, but it finally roared to life, and Stiles found a way to make the radio work in the other dimension long enough to talk to his friends for a minute. It's not much. He quickly asks if they remember him and then asks Lydia if she remembers the last thing he said to her. She does, "You said… you said, "Remember I love you." Ugh! More Stydia feels!
Stiles ends his short chat, and the episode, by telling Scott and Lydia to "Find Canaan" leaving all of us wondering what does "Canaan" have to do with anything?
Teen Wolf returns Tuesday, January 3, 2017 on MTV at 9/8c!
Featured Image: Teen Wolf Tumblr
GIFs: stilinskikissme, lostyanting, lifeisstydia, natasharomanoffs

If there's one thing that I love about the McCall pack, besides their ridiculous good looks and sense of humor, it's that they are insanely smart and they don't miss a beat. When something is weird or off, they do whatever possible to figure it out. That's why I'm not surprised that it's not taking […]